Oregon Red Cross Assisted at Six Metro House Fires Last Week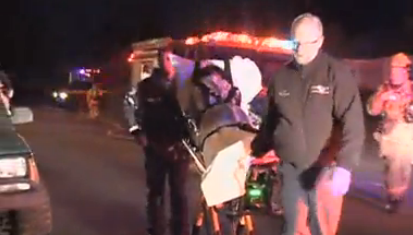 In the past week, Oregon Red Cross Disaster Action Team volunteers responded to six home fires in the Portland Metro area. Our volunteers provided humanitarian assistance, free of charge, to 13 adults, 16 children and four pets displaced by these fires.

Assistance for these families included immediate lodging, food, clothing, comfort kits, and information on health and mental health services. One child required special needs accommodations, and one woman was transported to the hospital, treated for smoke inhalation, and then released.

Home fires are the number one disaster facing families in Oregon and last year, the Oregon Red Cross responded to almost 600 home fires across our state. That's an average of almost twice each day that Red Cross volunteers are assisting families who have no place else to turn in the immediate aftermath of a devastating fire.

Practice fire safety at home


Smoke Alarms
Install smoke alarms on every level of your home, inside bedrooms and outside sleeping areas.

Teach children what smoke alarms sound like and what to do when they hear one.

Once a month check whether each alarm in the home is working properly by pushing the test button.

Replace batteries in smoke alarms at least once a year. Immediately install a new battery if an alarm chirps, warning the battery is low.

Smoke alarms should be replaced every 10 years. Never disable smoke or carbon monoxide alarms.

Carbon monoxide alarms are not substitutes for smoke alarms. Know the difference between the sound of smoke alarms and carbon monoxide alarms.
Fire Escape Planning
Ensure that all household members know two ways to escape from every room of your home.

Make sure everyone knows where to meet outside in case of fire.

Practice escaping from your home at least twice a year and at different times of the day. Practice waking up to smoke alarms, low crawling and meeting outside. Make sure everyone knows how to call 9-1-1.

Teach household members to STOP, DROP and ROLL if their clothes should catch on fire.
For more information, see additional fact sheets on Fire Safety & Prevention.