Oregon Red Cross Helps More than 35 People Displaced by Fires Last Week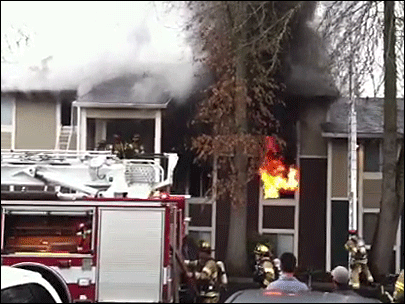 On Sunday, February 26, 2012 at 2:24pm, Oregon Red Cross volunteers responded to a two-alarm multiple family apartment fire, affecting ten units, 22 people and two pets. Red Cross provided assistance of shelter, food, clothing, comfort kits, blankets, and medication needs to families from seven of the units.
The Rolling Hills Community Church was identified as an overnight shelter; a TriMet bus provided evacuation staging for the residents. Red Cross volunteers arranged dinner for all the displaced residents with donated food from California Pizza Kitchen of Tigard. The Oregon Red Cross continues to work with the apartment complex management to identify vacant units, and help those displaced with short and long-term recovery issues.
House fires are devastating for families and the Red Cross responds to these more often than any other emergency. Oregon Red Cross volunteers responded to four home fires and two multi-unit apartment fires in Oregon over the past week. They provided humanitarian assistance to a total of 34 adults, three children and four pets displaced by these fires.
"The volunteers came over really quick; I didn't call," said Tom P. "I didn't even have a toothbrush anymore; I had nothing. But they supplied me with all the necessary stuff a person needs right off the bat. They offered me money, food, a place to stay. They were just so good it was unbelievable. I can't say enough about them."
Red Cross assistance during the week included an evacuation shelter near one of the apartment units, immediate lodging, food, clothing, comfort kits, help with replacing medication, medical supplies and mental health services.
All services are always offered free of charge, as part of the Red Cross mission to provide relief to victims of catastrophe. "Being displaced by fire is already scary enough," said Maree Wacker, Regional Executive of the Oregon Red Cross. "In those moments, when a person or family most needs help, the Red Cross is there."