A Celebration of Local Heroes at Fred Meyer Breakfast of Champions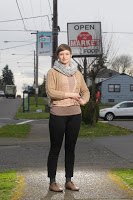 March is Red Cross month and the Oregon Red Cross will be honoring local heroes who have displayed courage and compassion at our March 6th Fred Meyer Breakfast of Champions. This event, which
is the Oregon Red Cross' largest fundraiser of the year,
celebrates the mission of the American Red Cross; the idea that we can all be a part of something bigger than ourselves.
Chelsea Carpenter first learned CPR when she was in 7th grade, but fortunately her training didn't stop there. Two months after renewing her certification, Chelsea heard a woman calling for help. The woman's mother had collapsed in her car while parked in the lot of a local market.
Chelsea ran to where bystanders had carried the distressed woman. Emergency responders were called, and after a quick assessment of the victim, Chelsea began CPR.
EMT's arrived and took over, but Chelsea wasn't through. She comforted the victim's distressed daughter, walked her to the ambulance, retrieved the two women's belongings from their car and offered to call someone to meet the daughter at the hospital.
Chelsea is our hero because she exemplifies American Red Cross mission to offer not only material support, but emotional comfort as well.
In Oregon, the Red Cross responds to an emergency once every 16 hours – but the Red Cross does much more than respond to disasters. We train everyday people in lifesaving skills. We assist members of the military and their families. We provide transportation to essential appointments for the elderly and disabled. We provide warming centers in response to particularly cold nights in the winter. We educate the community about emergency preparedness. And we reconnect families separated by war or disaster.
Each year, the Fred Meyer Breakfast of Champions features an interactive theme. This year, the Fred Meyer Breakfast of Champions will highlight the awesome power of natural disasters and the role of the Red Cross in responding to them.
When you arrive at the Fred Meyer Breakfast of Champions, you will find yourself physically immersed in episodes of tornado, earthquake, wildfire and floods, and witness Red Cross efforts to shelter, feed and care for Oregonians displaced by these disasters. Arrive early to give yourself time to explore this multimedia experience. Then enjoy breakfast and a heartfelt celebration; marvel at the touching stories of local heroes as we honor them for their acts of compassion, bravery, excellence and selflessness.
These individuals are the beacons of hope many see in their most desperate hours. And that's what this event is all about — celebrating those who would put aside their own needs to come to the aid of others.
Please join us at the 2012 Fred Meyer Breakfast of Champions.
Contact

Tracy Madsen

at 503-528-5692 for information regarding attending this charitable event.