Just wanted to pass along this story that exemplifies how,
even by small actions, Red Cross volunteers can make a difference: In this case it was preparedness volunteer Alex Roy who helped to station a Red Cross information booth at a neighborhood street fair last August.
This morning development director Cindy Silveira and I were called out of a
meeting this morning to meet five-year-old Madison and
her mom, Sharon. Madison and Sharon visited us
today to drop off a donation that Madison had collected for the Red Cross. For
her fifth birthday (which was in October), Madison asked friends and
family members to donate quarters to Red Cross in lieu of presents. She decorated a box, made a
slot in it, and started collecting money. Today she delivered a total of $50 in
quarters and one $20 bill, for a total of $70! This is a remarkable amount for
a five-year-old child.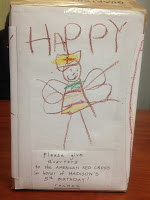 Madison learned about Red Cross while visiting a local summer street fair. Stopping at the Red Cross booth, Alex invited Madison to spin a prize wheel that offered prizes for answering a question about disaster preparedness.
Madison spun the wheel and answered the question "How much water per person per
day should you have in a home emergency preparedness kit?" Having correctly answered
"one gallon," Madison received a prize of a shiny red whistle with an American
Red Cross logo. An early reader, Madison read the words on the whistle, and
proceeded to read the "Together We Prepare" pamphlet that was handed out by Alex. According to her mom, Madison became embroiled in the information and
wanted to know how she could help the Red Cross. Mom suggested the coin box birthday idea.
Cindy did a great job of recognizing Madison and her mom
with vintage first aid kits and introducing them to our CEO, Maree Wacker.
Pinning a Red Cross on Madison, Cindy declared the girl an official donor of
the Red Cross.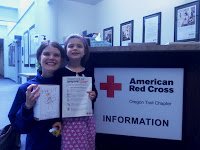 The collection of money for Red Cross was not the first
fundraising endeavor for this young philanthropist, nor is it the family's
first commitment to the American Red Cross. For Madison's fourth birthday in
2010, she collected money to help restore a lighthouse on the Oregon coast.
Sharon said that her dad was a faithful blood donor, marking his calendar
faithfully every 6 weeks to return to the donor center.
Thank you, ladies … and Alex!