Deployed to Colorado – A day in the life of a Red Cross volunteer
submitted by Chuck Bennett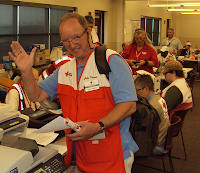 John Venner heads to Colorado Springs
The
alarm clock goes off at 2:30 AM on Wed June 27, it's time for four Red Cross
Volunteers from the Willamette Chapter to start work.

A carpool, plane, and shuttle takes them to
the American Red Cross Disaster Operations center in Loveland, Colorado which
is providing relief to the victims of fires raging throughout the state of
Colorado.

After checking into their
accommodations, a large gym with about 100 sleeping cots, they hit the ground
running, working on their assignments with the American Red Cross.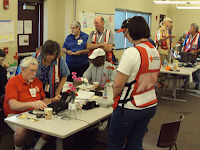 Red Vannis issues transportation
Kirsten
Barnes is working on Disaster Assessment, which include assessing the damages
in the High Park
fire area where hundred of homes were destroyed by just one of the wildfires
currently burning in Colorado.

John Venner is assigned to the Colorado
Springs area to manage staff services for the numerous
volunteers responding there, where over 30,000 people were just evacuated the
previous day.

Red Vannis starts working
in transportation, attempting to get enough vehicles for Red Cross staff to do
get to their jobs.

Chuck Bennett is
assigned to work in Public Affairs, which handles the massive amount of local,
national, and international media interest in what the Red Cross is doing in
the area.

Eric Corliss, acting Executive
Director of the Willamette Chapter, is assigned to assume command of the entire
Red Cross Disaster Relief Operation.
All
five work until well into the evening, ending their long day.

It is time to try to get some sleep before
their early morning wakeup call and 12-14 hour work days to come for at least
the next three weeks.

Many of these Red
Cross workers have been through similar experiences, working at the scene of
other disasters over the past few years.
They do this simply because they want to be there.

All have found contributing to these Red
Cross disaster relief efforts to be an extremely rewarding and memorable
experience.