Jenny Goheen: Southwest Washington Superstar!
Red Cross volunteer profiles are written by communications volunteer Patrick
Wilson and provide a behind-the-scenes look at some of the incredible
people who help to deliver our mission.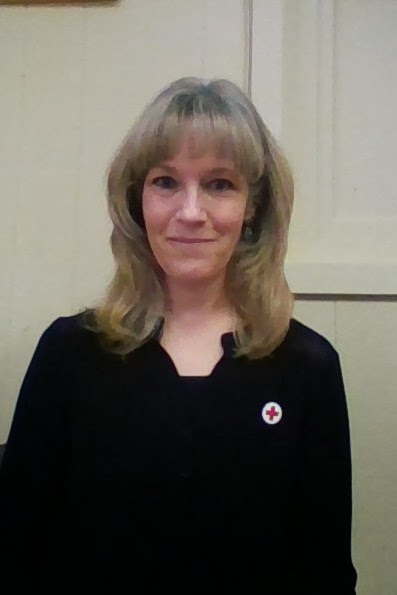 Jenny Goheen joined the Southwest
Washington chapter of the American Red Cross in 2013. She knew she wanted to
serve her community but waited until she knew more about the Red Cross to
determine how she could best accomplish her goal. When she attended her initial
orientation she was surprised at the number of services that the Red Cross
offered, including
blood
services,
S
ervice to Armed Forces, and
R
estoring

F
amily
L
nks.
Her choices were a combination of local and national – joining a disaster action
team, and doing casework to support local needs and assisting with national
relief operations to support major disasters. At the time Jenny became a Red
Cross volunteer, there were several major disasters affecting the United
States. She signed up to assist on a national level by going to New York to
join other relief workers from across the nation rebuilding after Hurricane
Sandy.
Hurricane
Sandy (unofficially known as "Superstorm Sandy") was the deadliest
and most destructive

hurricane

of the

2012 Atlantic hurricane season

. It was
also the second costliest hurricane to strike in the history of the United
States. The storm became the largest

Atlantic hurricane

on record with winds
spanning 1,100 miles. As of June 2013, estimates of assessed
damage
were more than $68 billion, a total
surpassed only by

Hurricane Katrina

.
The
New York operation was dealing with long-term recovery and Jenny was directed
to fly there within 24 hours for a two-week stint. Before departing, she met
with local Red Cross personnel who helped her to understand what she would need
to take with her and assist her in coordinating her travel. In spite of the
short time frame, she left feeling well prepared.
Arriving in Manhattan, she received a briefing on her
assigned job and what to expect. Since the hurricane had struck sometime
earlier, the Red Cross was in disaster recovery mode and there were still huge
piles of debris remaining in many areas. When she reported for work the next
day, she joined a multi-agency team consisting of Red Cross, Federal Emergency
Management Assistance (FEMA) and Salvation Army workers. Her job was to meet
with disaster victims and collect vital background data on their current needs
and existing means. Once
client
needs
were defined,
the task force began assisting individuals
and families.
Jenny was
surprised
at how many people had been
affected
. Some days she
interviewed upwards of 25 people. It
was heartening that all the clients she
interviewed
were very appreciative for the assistance they were receiving. She
e
njoyed
being part of a team of people who had been brought together to assist the
disaster victims. Jenny found the work so rewarding and felt so good about the
help she
was providing
that she signed on for an additional week. She came away from the experience
with a much greater appreciation of the importance of preparedness for major
disasters. Looking ahead, she asked herself, "What can I do to make certain I'm

as prepared
as I can be, to weather major
disasters that may occur in my community?" and "What can our community do?"
Jenny has been able to bring back her
national experiences to help respond and serve back in her local
community.

Being
a part of the Red Cross has given her the opportunity to get to know her
community, respond to local disasters, interact directly with cl
i
ents,
work on a team and meet new people. She highly recommends that those interested
in volunteering at the Red Cross attend a
n
ew
v
olunteer
orientation which will give them an insight to all the opportunities there are
to give back to other
s
!