Volunteer Profile: Eileen Cark, disaster action team coordinator, a proud member of the Southern Oregon Chapter family
Red Cross volunteer
profiles are written by communications volunteer Patrick Wilson and provide a
behind-the-scenes look at some of the incredible people who help to deliver our
mission.
Eileen Clark has been unconsciously preparing to be a Red Cross volunteer for much of her life. Living in hurricane alley for a number of years brought the need for preparedness close to home. Being a conscientious mother she has always been concerned that her children were well cared for including being prepared for disasters. As soon as the children were able to be responsive (about the age of four) she began to teach them the basics…how to drop and roll and how to duck and cover. The children gladly joined in these exercises, always eager to be actively engaged. As the children grew older, the exercises accelerated in difficulty. Mom made certain her home and car always had a good stock of preparedness supplies and often challenged her children to monitor the process.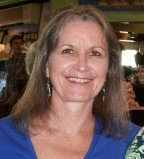 Sometime taking the children with her to buy emergency supplies when a severe storm or disaster threatened, added realism. During these trips Eileen would task her children to monitor what other families were buying and what they were forgetting. Her preparedness attention also included the extended family living with her. At times there were as many as seven cars to care for, so a lot of people got reminded if their gas gages fell low. Over time Eileen decided the practices needed to be more authentic so she would secretly set off a home alarm, hide and then monitor how attentive her children were to the coaching they had received. Did they follow the designated escape routes and collect the critical survival supplies on the way out? Eventually this ploy lost impact because the children grew to suspect the crisis was mom and not a real fire.
To further the learning and increase realism, one day Eileen asked the local fire department to rush to her house in full fire regalia with sirens blasting. The children loved it, but in spite of her preparations Eileen was shocked to discover the younger children were intimidated by the big, burly firemen. This required immediate attention, so she brought the children into personal contact with the fire crew and engaged the family in discussions with them. What do you see as the best escape routes for our family? What safety hazards do you see in our home that we may be unaware of?
As the kids grew older and moved out on their own, Eileen began looking for ways to serve her community. Since she has a strong faith, she said she asked the Lord to point her to where she could best serve. "God recommended the Red Cross," and added "it was a pretty good recommendation, and I've been delighted with the organization I've discovered! " Eileen says she is surprised at how extensive the Red Cross services are. While engaged in an airplane disaster drill last year, she learned that the Red Cross has volunteers that assist disaster survivors with the grief process.
Soon after joining the Southern Oregon Chapter Eileen signed on to be a member of a DAT (Disaster Action Team). When she realized that the Chapter DATs were called out rather infrequently, she started looking around for other opportunities. Her availability was quickly noted, and she was asked to be a DAT coordinator. Her first question was, "What's that?" She has since learned her role is to help make the chapter's DATs more effective and more successful. This currently includes: helping assign team members, scheduling team coverage, and conducting monthly improvement meetings. At one monthly meeting the group spent time sorting through a garage full of items donated to the Red Cross. They needed to determine what was useable and add it to their active inventory and to distribute the other materials to other relief agencies. At their next meeting she plans to help DAT team members understand how to complete the forms required of them when responding to disasters.
Eileen is delighted at how giving and supportive Red Cross volunteers are and says, "This is obvious in the ways the chapter's DATs support local disasters." She was personally impacted by a recent fire responded to by her DAT. A home was completely destroyed and some family members were lost. Survivors were clearly dazed and in shock. She says, "The secret at times like this is to be available but invisible. Really listen to what they are saying and respond accordingly. And, be willing to give a hug where it is needed." Two of the survivors were young husbands who were pretty overwhelmed. Eileen said, "When I hugged them, they really held on." Eileen gets major pleasure seeing people rise above the difficult situations they face but also profits from interacting with other volunteers. She loves the meetings, the discussions, the interactions. She says, "My chapter is like a family."