Ken Rislow: Red Cross Trauma Specialist provides a different kind of support during disasters
Red Cross communications volunteer Patrick Wilson goes behind the scenes to talk with volunteers across the Cascades Region to delve into what they do, and how and why they do it. Take a moment to read some of these wonderful stories and recognize our volunteer heroes!
Ken Rislow joined the Trail Chapter of the American Red Cross in 1995 after attending a trauma workshop where he learned there was a pressing need for trauma volunteers in our area. He serves as a volunteer mental health/trauma specialist, a DAT (disaster action team) responder and an emergency recovery vehicle driver. Ken has served on his chapter's DAT since joining. He has responded to local fire, earth slide, and building collapse disasters from Manzanita to Raymond. Consoling, relocating, feeding and clothing the survivors of each crisis, he proved that they were not alone in their darkest hour.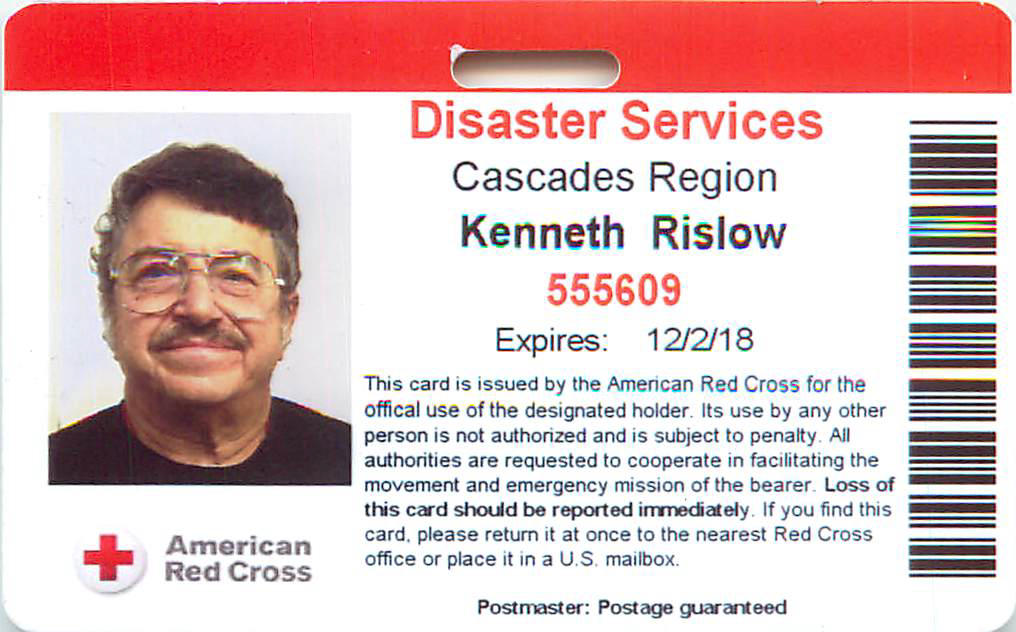 Ken has been a Red Cross volunteer at two of nature's worst storms in Oregon history. The first occurred in 1996, when heavy rains caused record high waters in the Nehalem River Valley and resulted in the Willamette River's worst flooding in history. During Hurricane Katrina in 2005, a national crisis, his role was to triage suddenly dislocated hurricane survivors arriving in Portland. In that role he coordinated their reconnection with loved ones, ensuring their medical, psychological and housing needs were met. He was pressed into action again with the Great Coastal Gale in 2007. This was the result of tropical typhoon winds coming out of Asia and impacting coastal Oregon and Washington. These winds had gusts of over 130 miles per hour and produced flooding throughout the region that was blamed for at least 18 deaths.
In both 1996 and 2007 a large number of communities and citizens in Washington and Oregon were affected when their homes and farms were destroyed by record winds and flood waters. Large segments of the area's highway and communication infrastructure were destroyed, some for extended periods of time. People became stranded by the quickly rising water. Many people were left cold, wet, homeless and isolated. Support and assistance was urgently needed
During the 1996 disaster, Ken and his team worked more than six weeks providing support and counsel to clients and relief workers, eventually integrating with FEMA services. Many of the people in the eye of the storm managed agricultural and dairy farms. Besides the destruction of their homes and farms, many lost nearly all their animals. Some families even faced the loss of their livelihoods. Besides setting up and operating badly needed shelters and food kitchens, a large part of Ken's role was to educate people about what to expect and how to best manage the feelings that resulted from experiencing this level of devastation. He provided support to victims and to relief workers who could become overwhelmed by people's emotional trauma. This enabled responders to be more supportive of disaster victims as well as each other. In some cases Ken and his team delivered food supplies to people in their homes and conducted follow-up home visits to make sure that healing continued.
The damage from the Great Costal Gale saw comparable devastation and hardship along the coast of Oregon and Washington. Again, communication and transportation systems were destroyed, in some cases for lengthy periods of time. People needed to be moved out of the cold and rain immediately. Ken's team established a shelter for more than 100 victims and provided food service for as many as 200 people daily. Some people in the affected area remained without heat for two to three weeks. To build morale, Ken and other relief workers focused on improving communications, particularly regarding disaster and relief information as it became available. "You are not alone!" was a message repeatedly communicated to ensure morale continued to improve.
The relief work was further complicated by the number of aged and disabled victims affected. Patients and the elderly were dropped-off from local convalescent and retirement facilities with little or no possessions, sometimes without any of their critical medications. Because of the necessity created, Ken and his staff coordinated with local hospital and nursing services to ensure medications were made available within 24 hours. Some victims were living in remote areas. These were homes that had never been recorded in county records so relief workers had to find them before providing services.
Ken's expertise in understanding the challenges and behaviors of survivors of these kinds of disasters and sharing these experiences with other volunteers helps to provide critical insight for disaster relief operations. Ken is a valuable resource for the Red Cross, especially with disasters of this magnitude, and we are grateful for his commitment to the organization.