Volunteer Profile: Cathy Kuter – Disaster team responder and leader
Red
Cross communications volunteer Patrick Wilson goes behind the scenes to
talk with volunteers across the Cascades Region to delve into what they
do, and how and why they do it. Take a moment to read some of these
wonderful stories and recognize our volunteer heroes!
Cathy Kuter and
her husband joined the Southwest Washington Chapter of the American Red Cross
in February, 2010. Before retiring, Cathy was in a customer service position at
a health insurance company. One of the elements of volunteering for the Red
Cross she found particularly appealing was the opportunity to continue
providing customer service, but in a much more exciting and flexible
environment.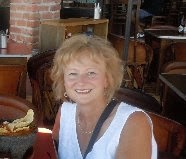 Cathy is a DAT
team Captain/Coordinator who responds to disasters both locally and nationally.
She also assists with recruiting and the deployment of fellow volunteers to
national disasters.
When Cathy
first joined the chapter, it was rewarding for her to find a very experienced
and supportive leadership group. However, as happens periodically at the Red Cross,
major staff changes occurred shortly thereafter. This caused a number of
volunteers
discouraged by the
changes to depart. Cathy says,
"
I
'
m glad I chose to
stick with it because I was challenged to step up and take on new responsibilities
that were out of my comfort zone
"
. She believes some of her most
rewarding experiences with the Red Cross have resulted from the most
challenging situations.
As a DAT
leader, Cathy focuses on mentoring and encouraging team members toward
opportunities that will help them reach their full potential.
"
I
think my experiences early on helped give me good insight into the needs of a
DAT member. It
'
s been fun learning and growing together.
"
Cathy talks a
lot about the camaraderie created when teams work together to conquer
significant challenges. She reported on one memorable period of service, when,
in a 36-hour period, the team was called upon to respond to four house fires,
an apartment fire and a request from the State Highway Patrol to canteen during
a major highway accident.
"
This was our team
'
s
first big test and it was very rewarding to see how we all came together to
successfully assist the many clients who needed our help that day
"
.
Since joining the Red Cross, Cathy feels she
has become much more aware of those in need of help, as well as those who
unselfishly volunteer their time and energy to help others.
"
Volunteering is the perfect way to
meet new friends and add structure, self worth and adventure to your life
"
.
It
'
s good to know that retiring doesn
'
t have to mean the
end of significant personal growth.