Regional "All Hands" Meeting: Information, inspiration and awards!
To start off the new year, new CEO Amy Shlossman called an "all-hands"
meeting of Red Cross Cascades Region staff and key volunteers for a mid-year
review of programs and activities, including the Home Fire Preparedness Campaign, Business
Leader Resilience Events and Fire Hurts Red Cross Helps. During the
six-hour meeting, information was exchanged, ideas were generated and the group
heard a presentation by Jeff Allen, CEO of the Red Cross Pacific Northwest
Blood Region.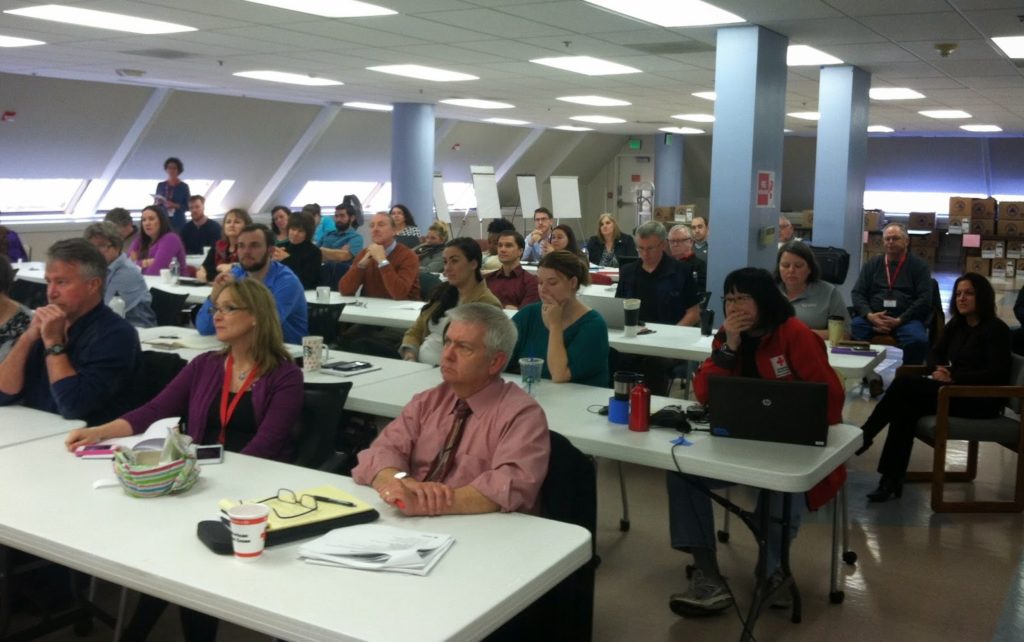 Several Red Crossers were recognized by Amy for outstanding service and
awarded certificates of achievement. Join us in congratulating these team
members, and thanking them for their dedication and service.
Michelle Taylor – Rookie of the Year
Michelle
jumped into her role as a disaster program manager, bringing energy and
leadership to her team and managing through staff changes and a chapter
consolidation. She has constantly excelled in her daily activities and
management of disaster responses (big and small) while empowering and engaging
volunteers at all levels of the organization.
Michelle Domenico – Embracing Vision
2017
To be
successful with the 2017 Vision, the Red Cross must be the organization of
choice for volunteers. To that end, Michelle Domenico has worked
tirelessly with her colleagues throughout the region to implement programs to
improve the volunteer experience here at the Red Cross. This includes
"live" orientations across the region, including very remote areas; the
implementation of a volunteer mentor program which will be rolled out
region wide; and the development of new processes which have reduced new
volunteer intake times substantially. Michelle truly respects the gift
that our volunteers give us and goes above and beyond to make certain the gift
of volunteer time is well used and appreciated.

Marlia Cha – All-Star Intern
Marlia Cha
just celebrated her one-year anniversary as a volunteer with the Cascades
Region Red Cross. She began volunteering in Volunteer Services doing
intake of new volunteers and in September stood up an internship program that
has been incredibly successful. Marlia actually created the position that
she holds – a great lesson for all of us! Marlia works with regional
leadership to identify needs that interns can fill, writes great job
descriptions, advertises the positions at colleges and Universities throughout
our region, screens and interviews candidates and then presents them to
department leads and directors. In three short months, she has
successfully placed five interns and in six of the other nine internship
positions that are vacant she has candidates in the screening process.
George & Virginia Roth – Community
Building
George and
Virginia have constantly demonstrated dedication, compassion, and leadership in
furthering the Red Cross mission both locally and nationally. The Roths
continued to further that mission this year by identifying, recruiting,
engaging and a team of 12 in Reedsport that continue to grow and flourish. They
also led informative and fun training during Camp Prepare!
Troy Jenkins – National Leader
Troy has done
tremendous work increasing volunteer utilization in our health and safety
classrooms. The more volunteer instructors we can use, the more resources
we can direct towards our mission. The national goal is to have 40 percent of
the classes taught by volunteers and the Pacific Northwest Territory is at 53
percent YTD. At this time last year we were at 13 percent. There
are 19 territories in the country and thanks to Troy, PNW is ranked #2 . Troy
manages over 100 volunteer instructors. Each month, we have more than100
classes, and at peak training months over 200 classes in OR/ WA. To have
over half of these classes taught by volunteers is an amazing accomplishment!
Dianne Mekkers/ Kirsten Barnes –
Innovative Initiative
Amy heard about
Dianne and Kirsten well before she ever got on the ground. She says "The more I get to
work with them and have the opportunity to see them in action, the more
impressed I am and grateful that they're part of our leadership team." They
developed the concept of the Disaster Academy three years ago and have led a
volunteer team to fully manage each of our events. The concept was such a success
with a division leadership we are rolling out 10 academies across the Pacific
Division this year. Last year's academy had over 220 participants and offered
over 70 classes – this event is critical in building our readiness each year,
especially before wildfire season.
Paula Negele/Laurie Conroy/Cara
Sloman/Steve Eberlein – Regional Leadership
Amy offered
personal thanks to Paula, Laurie, Cara, and Steve for their outstanding
leadership during the transition this past year. Our regional leadership
team really stepped up, going well above and beyond their day jobs to keep
things running smoothly – from supporting the Oso Mudslide, to responding to
the school shooting at Reynolds High School and wildfires throughout the
summer, and innovative initiatives like Disaster Academy and Camp Prepare.


Kisa
Walsh – Certificate of Merit
On
September 25, 2014, Kisa Walsh, trained in American Red Cross First
Aid//CPR/AED, helped to save the life of a fellow commuter who suffered a
seizure on her way home from work. While waiting at a red light, Kisa noticed
that the car next to her was rolling backward when the driver behind them
started honking. After the car jolted to a stop, Kisa saw that the driver was
convulsing, beginning what appeared to be a violent seizure. After parking her
car and quickly assessing the victim, Kisa yelled for a driver nearby to call
911. She then recalled skills learned from her Red Cross instructor, and held
the seizing woman steady to prevent further injury. The victim's seizure
subsided and EMS arrived and continued to provide care. The victim was transported
to a nearby hospital for further care. Without a doubt, the skills learned in
the American Red Cross course helped to save the life of this person. This action exemplifies the highest degree of
concern of one human being for another who is in distress.
For
this act, Kisa has been awarded the American Red Cross Certificate of Merit.
This is the highest award given by the American Red Cross to an individual or
team of individuals who saves or sustains a life by using skills and knowledge
learned in an American Red Cross Health and Safety Services course. The
certificate bears the signature of the President of the United States, who is
the honorary chairman of the American Red Cross, and the signature of the
chairman of the American Red Cross.