Volunteer Profle: Jim Boline – Ambassador extraordinaire!
When Jim Boline joined the Southwest
Washington Chapter of the American Red Cross following his retirement in early
2010, he already had two blossoming interests, working with youth and blood
services. In addition, it was natural he would also form a media team for his
chapter, since media had been part of his job in business. Jim has remained a
Blood Ambassador and now also sits on the Blood Advisory Board of Directors. In
this capacity he meets five times a year with other local business people to
help define the direction for blood services. Jim obviously wasn't content to
just retire and his interests were further piqued when he initially met with
the Director of Volunteer Services. "She told me, 'Anything you can do, we have
an opening for,'" says Jim.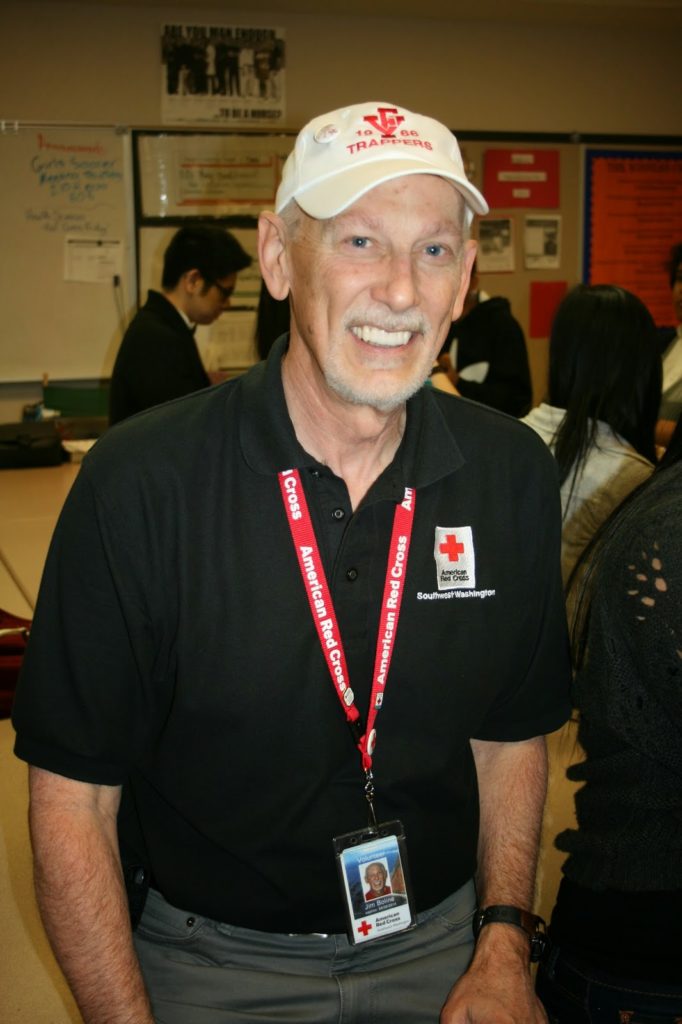 As a Youth Ambassador, Jim has
supported the young people in his community for more than four years. He works
with the high schools in Clark County that have Red Cross clubs and serves as
an advisor to the Youth Council. In this role, he helps local youth to engage
with the five services of the Red Cross. These include helping disaster
services to collect donations through Trick or Treat for Disaster, baking
cookies to send to military members overseas, bringing warmth and cheer into
veteran hospitals by conducting holiday caroling, and marching in the Veteran's
Day parades. Through these activities he engages with many students
representing 11 local high schools. Jim says, "Even though we bring a lot of
youth together from several different schools, school allegiances quickly break
down and the students become fast friends. It is quite a joy watching the
students grow. The young people we have in the clubs are already the leaders in
their schools and it's clear these kids are going to be future business and
community leaders." Even after these youths move on to college, many of them
continue as Red Cross volunteers. By the time they have completed high school
they already have a solid understanding of the different roles of the Red Cross
in their communities.
Jim recalled his initial chapter
exposure by citing an early interview with Vickie Su, the president of the
Youth Council at that time. She told Jim, "Youth can do the same things adults
can do."
As Jim has discovered, when they are
given the opportunity and freedom, students perform wonders. "The most
difficult thing about working with these young people is just keeping my mouth
shut," says Jim enthusiastically. "They have a lot of good ideas, and the
challenge for me is to stay out of the way."
One of the group's most impressive
initiatives is the Leadership Conference. The youth organize, plan and develop
the curriculum for this annual two-day event. In addition to planning and
organizing skills, once the conference is underway, they serve as instructors
for the workshops for First Aid/CPR training attended by 60-70 high school and
middle school students. They not only help their peers to grow their own
leadership capabilities, they provide a model for the maturing youth.
If you have a knack for working with
youth, Jim recommends this is an arena to pursue with the Red Cross.
Our Volunteer
Profile series offers a weekly look at some of the amazing volunteers who help
drive the American Red Cross mission forward. Approximately 1,700 volunteers in
the region serve as the backbone of our organization. This series is written by
our communications volunteer, Patrick Wilson.