Volunteer Profile: Cindy and David Morman – Mates with a mission
Cindy and David Morman joined the
Willamette Chapter of The American Red Cross in the spring of 2012, shortly
after retiring. David had spent 30 years with the Oregon Department of Forestry
and Cindy enjoyed a full career as an elementary teacher, mostly with the
Silver Falls School District. News reports featuring Red Cross responders
dealing with national disasters and local requests for additional disaster
services volunteers drew their attention. In addition, as Cindy says, "Helping people is part of our
character and working with the Red Cross just sounded interesting." A short
time later they moved to Bend and joined the Oregon Mountain River Chapter.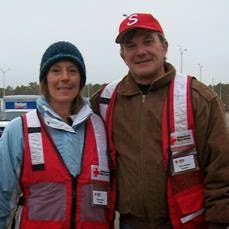 Working
in a chapter with a large geographic base and a
sparse
population presents some unique
challenges. Both Cindy and David are on Disaster Assistance Teams (DATs) with
Cindy serving as a DAT Area Coordinator. Many of these teams struggle to
maintain minimum membership. Cindy's on-going priority is recruitment. As soon
as new members are recruited, they participate in Red Cross
training activities. These
trainings try to maximize instructor resources, but in less populated areas,
getting a large enough group together to participate in the training can be a
challenge. To assure that trainings are held regularly, Cindy is taking classes
to become an instructor, allowing her to teach smaller groups in a timely
manner.
In addition to helping Cindy with
DAT team commitments, David puts his prior experience with government and in
wildfire suppression to good use
as a Red Cross government liaison. His priority has been to build strong
relations with all the agencies that are deployed when an Emergency Operations
Center or Incident Management Team is created to handle a disaster, such as the
frequent wildfires that occur in their area. "You can't wait for a disaster to happen
to begin building relationships. In the midst of a disaster you need reasonable
familiarity with the people and processes you rely on," says David. "A good
liaison understands the incident management organization, is a good observer
and communicator, and knows who to contact to receive and transmit critical
disaster information in a timely manner."
As part of his liaison work, David
represents the Red Cross at monthly Deschutes County Project Wildfire meetings
which focus on reducing the wildfire risk to landowners and homeowners and
preparing them to deal with these threats. David also participated as an active
member of a recent Central Oregon Citizen Fire Academy. He worked with that
group to define the curriculum and training needed to prepare attendees to
perform more effectively when preparing for, and responding to, area wildfires.
The couple discovered early on there
were definite advantages to working together, both responding to DAT calls and
handling national commitments. "When
we were called to help the Red Cross to respond to Hurricane Sandy, it was
great to work as a team," says David. "I drove the supply vehicle and Cindy
navigated. Fortunately I had just bought her a GPS for her birthday." "Many
people had little to keep them going and were overjoyed to see us arrive with
critically needed resources," says Cindy. "Besides, when you go on a national
commitment, it is nice to already have your roommate defined before you deploy!"
Our Volunteer Profile series offers a weekly look
at some of the amazing volunteers who help drive the American Red Cross mission
forward. Approximately 1,700 volunteers in the region serve as the backbone of
our organization. This series is written by our communications volunteer,
Patrick Wilson.