Volunteer Profile: Doris Rains – Skilled in CPR and commitment
Doris
Rains joined the American Red Cross in February 2014 following her retirement
from nursing, which spanned several decades. She began her career working in
hospitals in Eugene and Portland before spending 19 years as a school nurse.
She saw the Red Cross as a logical extension of her nursing career and an
opportunity to further contribute to her community.
"As
a Red Cross volunteer I am able to use my nursing knowledge and experience and
still connect with people," says Doris. "It's a good fit."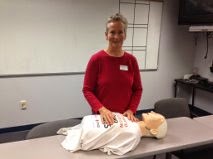 She
began her volunteer work
as a health and safety instructor. Her first role was a model of how the Red
Cross likes to introduce volunteers to new challenges. Initially she worked
with a very skilled instructor.
"She
left me a bit overwhelmed with her expertise, in spite of my years of work," says
Doris. "I just knew I could never be as polished." In spite of her anxiety, she
pursued the task at hand. She was encouraged to work with her coach for several
classes before she was asked to perform solo.
As a health and safety instructor, Doris is committed to ensuring students can
perform as needed and demonstrate all the required skills. During the early
part of each CPR workshop she emphasizes that students must be able to get down
on the floor and perform the needed life-saving skills. "While they dutifully
nod their recognition, I wonder about their real acceptance." One student
really struggled to perform all the required actions, so she spoke to her
supervisor about the situation. It meant a lot when the supervisor asked if
Doris would be comfortable putting her life in this person's hands. At the end
of the morning session she sent the rest of the group off to lunch and spent
dedicated time with the student, exploring how she could best assist her. "I
recognized this was not about the student's commitment, it was about whether
the student would be capable of performing. "I wasn't content to simply hope I
had done the best I could or hanging my hopes on the student's positive
attitude." When Doris was done, she knew she had met her commitment as a Red
Cross instructor.
At
times these commitments present special challenges. One of my early students
struggled with English. From the moment she arrived at class, she looked
anxious. Because of the language challenges, Doris ask her to stay after the
session so she could work with her individually and better assess her
capability. She carefully explained to the woman the importance of the skills
she needed to master. "I was concerned the woman might feel set apart by being
asked to stay after the other students," Doris says. The detailed one-on-one
session provided the needed momentum. When the two completed their time
together, Doris felt assured the woman could perform as required.
One
day her supervisor asked her if she would fill in for a television interview
and demonstrate the nature and criticality of the life-saving skills she was
teaching to the public. Surprisingly, she agreed. After a period of anxiously
awaiting the scheduled session, she completed the interview and demonstration
with flying colors. She says, "Being able to demonstrate the critical skills
effectively was an important accomplishment for me and added to my personal
growth."
Red
Cross volunteer profiles are written by communications volunteer Patrick Wilson
and provide a behind-the-scenes look at some of the incredible people who help
to deliver our mission.