Red Cross Volunteer: John Parrish – Military man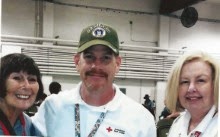 John Parrish with SAF team Donna (left) and Linda (right).
John Parrish has a history of service. He was career Air Force and now
looks forward to providing a history of service to the Red Cross. A "service
person by nature," John's father was career military, meaning John moved around
a lot as a youth. In all those moves, he has a special fondness for Germany.
The strong culture and the warmth of the German people were a real attraction
for him. He attended Air University and specialized in health services and
Special Operations. (Get in, perform miracles, and get out.) John says, "In
Special Operations helping save lives and stamping out disease provided a
special appeal."
John joined the American Red Cross Cascades Region about a year and a
half ago and was rapidly scooped up by Donna Winkler to work in Services to the
Armed Forces. John expresses a lot of respect and devotion for Donna. "She
knows what is required, what she wants and tells you clearly what she needs you
to do." John had significant exposure to the Red Cross while in the military.
"We got a lot of our intelligence from Red Cross teams. They were close to
the combat and many hazardous locations, and could clue us in about where
special danger existed. I gained a lot of respect for these people who were
focused on providing valuable humanitarian services and willing to do so in
spite of the danger."
John says he is valued in Services to the Armed Forces for his knowledge
of the military – his ability to translate, his ability to connect with other
military personnel, and his willingness to help with the physical work that
needs done. Volunteers in this group are often female and older, so having a
youngster to help 'lift and tote' is valuable. Besides being appreciated for his knowledge and past experience,
John enjoys the freedom he is given to get things done.
One major task John accomplished was to supervise the support for one of
the Veteran Stand-downs last year. During these events, returning veterans
receive major assistance as they are processed out of the military and re-enter
civilian life. Significant thought and planning are given to having the full
gamut of services and support available; everything from barbers and dentists
who can provide for needs long neglected
to ensuring veterans have the necessary resources to start anew. This
can mean additional cold weather clothing if they are returning during the
winter months and assistance from Men's Warehouse, suiting them up to interview
for jobs.
"We had 150 volunteers spend the day with the veterans, fed 500 meals,
handed out hygiene kits to every veteran and provided more than 300 care kits,
tailored to the needs of each veteran."
John has a lot of positive regard for his fellow volunteers. "Giving money
to support the Red Cross is always appreciated. What really makes a difference
to me is giving time. People remember who helped them, much better than what
they were given."
Our Volunteer Profile series offers a weekly look at
some of the amazing volunteers who help drive the American Red Cross mission
forward. Approximately 1,700 volunteers in the region serve as the backbone of
our organization. This series is written by our communications volunteer, Patrick
Wilson.