Volunteer Profile: Darin "Preparedness" Furry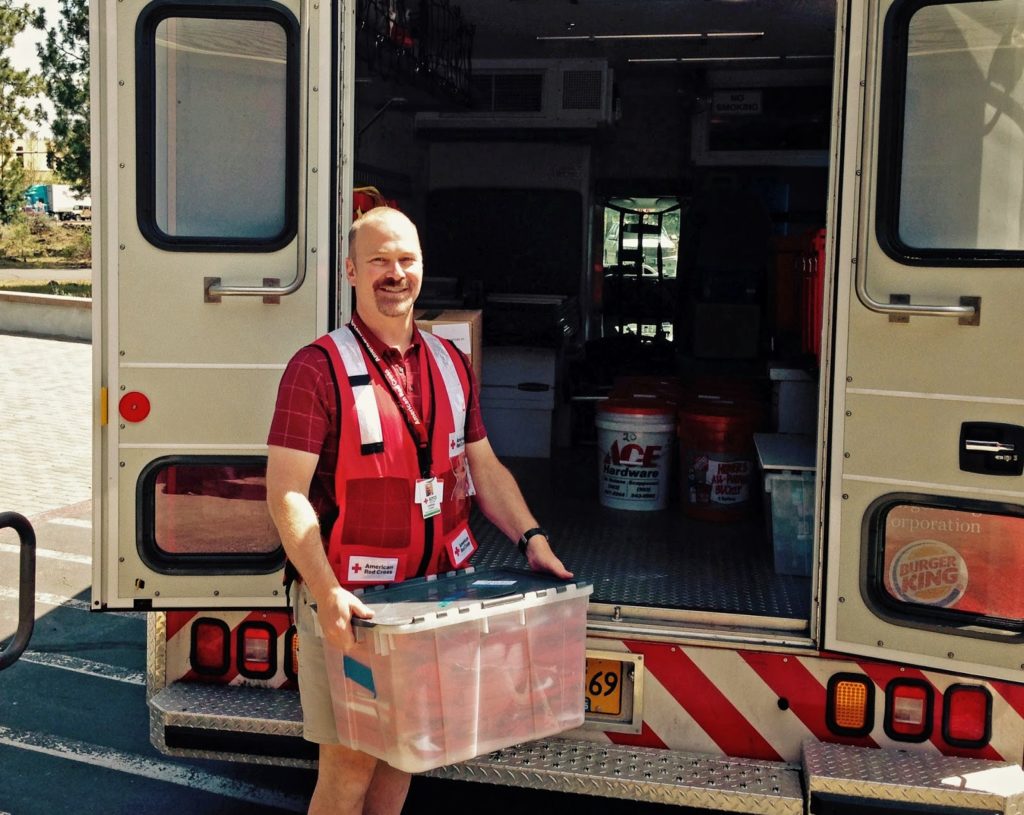 Darin Furry was born in San Francisco. He received a
degree in Biology from U.C. Davis and then turned his talents to being a park ranger
at Bonneville Dam. That role interested him because it included significant
focus on teaching. After eight years working with people, he began working in
IT where one of his concerns was disaster recovery with computer networks. This was
his early introduction to disaster preparedness, being ready for the unexpected
and responding quickly and effectively. So it is of little surprise that when
he joined the Oregon Mountain River Chapter (now the Central and Eastern Oregon
Chapter) of the American Red Cross two years ago, his foremost interest became disaster
preparedness, a role that involves significant training. The Red Cross
attracted him because he found the organization to be so responsive to
volunteers.
As a Red Cross volunteer, Darin has dedicated the
majority of his time to introducing the disaster preparedness program to adults
in his chapter area, and the Pillowcase program to young people. The Pillowcase
program was started after Hurricane Katrina. Because of the urgency of the
evacuations in that disaster, young people showed up at Red Cross shelters with
their belongings packed in pillowcases. The program is presented to children in
grades 3 to 5, and offers information and coping skills that would prove valuable
in a disaster. One skill, relaxation breathing, teaches children how to calm themselves
in stressful situations. The children react very positively to the program and
coping skills because they are highly interactive. Darin says, "You can actually
see the kids relax during the breathing exercise."
"In disaster preparedness it is not essential that
all the details be mastered in one session," says Darin. These details are in
the Prepare! guides that people take with them when they leave. It is more
important that they
remember the fundamental
co
n
cepts of:
Get
Informed, Make a Plan,
Build a Kit."
Darin estimates that he has trained about 500
children and 300 adults. He says one of the secrets to the success of his
training is to incorporate short stories
"with a twist" he has collected over time, like
talking about the
1906 San Francisco Earthquake and explaining that,
in that disaster, resulting fires did far more damage than the earthquake itself.
He also shares stories about how he bought a collapsible escape ladder for
getting out of the second floor of his house but failed to test it out. He
realized he hadn't followed
his own advice of "practice your plan" and discovered
the i
m
portance of doing so.
From the way things are going, Darin will be a Red
Crosser for a long time. He was recently promoted to leader of disaster preparedness
outreach. "I was delighted to see this level of confidence in me, and the
amount of freedom I am being given to do the work."
Our Volunteer
Profile series offers a weekly look at some of the amazing volunteers who help
drive the American Red Cross mission forward. Approximately 1,700 volunteers in
the region serve as the backbone of our organization. This series is written by
our communications volunteer, Patrick Wilson.