Volunteer Profile: Polly Alexander – Three decades of diverse service
Paulette (Polly) Alexander
was born in Klamath Falls in southern Oregon, attended college in Portland and
has spent her life in Oregon. She began volunteering with the American Red
Cross in 1979 at the Oregon Trail Chapter, now called the Northwest Oregon
Chapter.
Polly
started as a chapter health and safety volunteer. She began to work in
emergency services and was a disaster action team member, leader and
coordinator – the latter for eight years.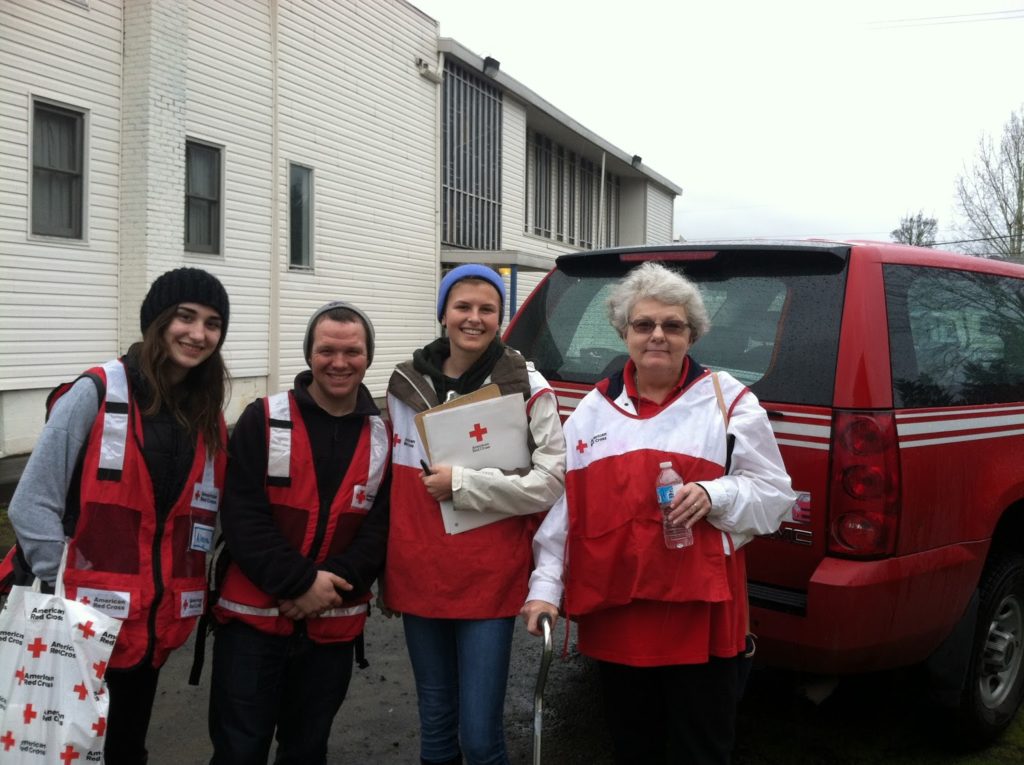 Polly (far right) and home fire preparedness team in Portland ZIP 97266.
Polly
worked in the Plasma Center in Red Cross blood services for a time and, when it
closed, she became a caseworker and instructor. As a case worker she assisted
with correspondence between people in other parts of the world who had become
disconnected because of storm disasters and armed conflict. These are people
who could not use conventional methods (normal correspondence or telephone
service) to reestablish or maintain contact with family and friends because of
conflicts in their country. Because of this part of her job, she became
interested in American Red Cross International Services, and became an
International Humanitarian Law Instructor. These instructors work to enlighten
our citizens about the requirements of the Geneva Convention and how the United
States is a good international citizen.
"It
doesn't seem like many people realize the Red Cross got its start on the
international battlefields and its growth was fostered by the Geneva
Convention," says Polly. "The laws of the four Geneva Conventions were designed
to protect civilians and combatants who are no longer part of the conflict."
The
American Red Cross has been part of Polly's life for more than three decades.
Last year when International Humanitarian Law became a class called Born on the
Battlefield she saw a new opportunity and signed up to instruct. This is a
class for Red Cross staff, volunteers and employees. There is also a one-hour
presentation for the general public. Polly says "Working as an instructor in
International law has made me more informed of world events and made me a
better world citizen."
Polly
has also volunteered at the emergency warming center, and has participated in the
Red Cross Home Fire Preparedness Campaign which installs free smoke alarms
throughout the Cascades Region in homes that need them.
Our Volunteer Profile series offers a weekly look
at some of the amazing volunteers who help drive the American Red Cross mission
forward. Approximately 1,700 volunteers in the region serve as the backbone of
our organization. This series is written by our communications volunteer,
Patrick Wilson.