Volunteer Perspective: Third Annual Disaster Academy
Submitted by Stephanie
Watson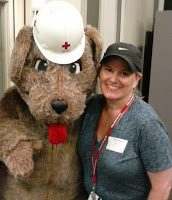 The weekend
of May 29-31, I attended the third annual American Red Cross
Cascades Disaster Academy. In all, 242 Red Crossers attended the event at the
beautiful, historic Willamette University in the heart of Salem, Ore.
As a new
volunteer Red Crosser, I had no idea what to expect from the long training
weekend. Thursday afternoon, I showed up on campus with my suitcase, sleeping
bag and pillow ready to hit the ground running. My academy experience began
with Defensive Driving, an instructor-led classroom course. I'm happy to report
I passed the class and can now drive a Red Cross vehicle or cargo van.
Next came
"Born on the Battlefield," a jam-packed class which provided the common origins
of the Red Cross and The Geneva Conventions. I learned when (1859) and where
(the Battle of Solferino in Italy) the Red Cross began and who (Henry Dunant)
founded the organization. And, I learned about International Humanitarian Law
and the groups protect by The Geneva Conventions. The class also covered the
work of the International Committee of the Red Cross (ICRC) and the Red Crescent
Movement.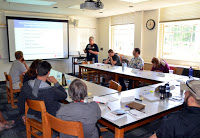 Days two and
three for me were focused on collaborating essentials, public affairs, external
relations and tribal relations. The classes were dynamic and the content very
valuable. As a Red Cross volunteer:
·
It's
my role to positively represent and promote the Red Cross brand (at shelters,
volunteer events, with friends and in the community);
I
should actively share what I do as a volunteer and to tell stories about how
I've helped people in need (at home and abroad);
Being
a student of the American Red Cross helps me to fully understand what the
organization does, who it helps, how it helps, and why people support us.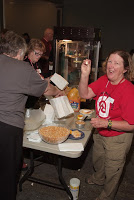 During the
"popcorn extravaganza" on Friday night, I heard about something called "GAP,"
which stands for Group, Activity and Position. To be honest, it took me a while
and two bags of popcorn to understand
why I would want a GAP. What I found out is that a GAP designates the jobs that
a volunteer is able to perform during a disaster relief operation. It's also a
genius way to plan the training one needs to ensure he/she is qualified for
deployment. The bottom line: a Red Cross volunteer must have a GAP to be
deployed.
The two
general sessions were informative and inspiring. I especially enjoyed Jono Anzalone's
story about working in Liberia during the Ebola outbreak this past
February.

Jono, who is division disaster
executive in the Red Cross North Central Division, was an amazing speaker and
gave a very uplifting talk. While I'm not sure I'd want to be deployed to
Liberia even if I was qualified, Jono reminded the audience that as a Red Cross
volunteer, each of us helps to alleviate human suffering, and we should feel
very good about that. You know what? I do feel good about my work with the Red
Cross!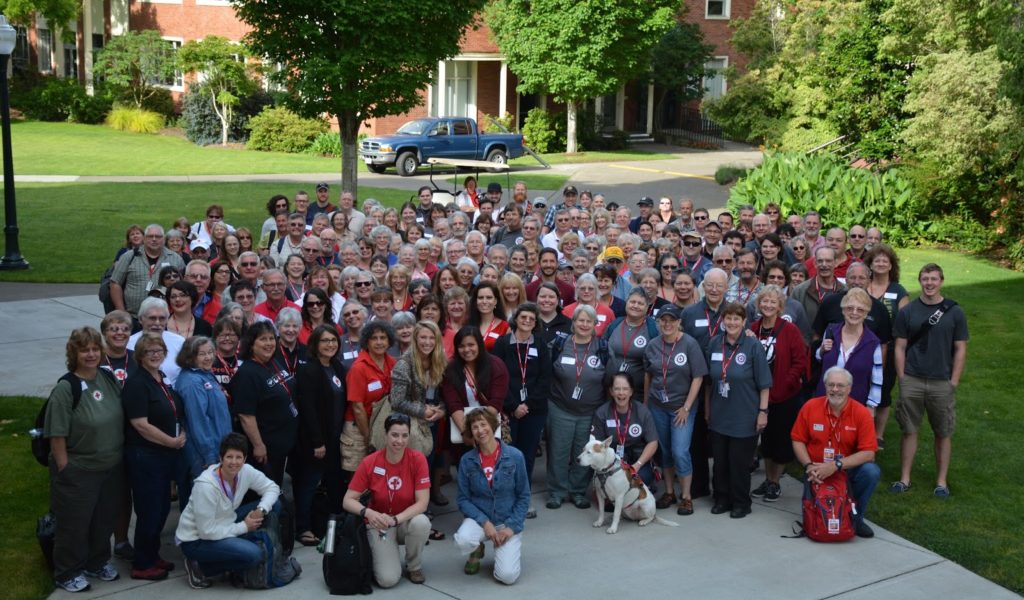 I've got my
certificates of completion, a GAP and a renewed vigor for learning all I can
about the Red Cross. I'll see you at the fourth annual American Red Cross
Cascades Disaster Academy!
Stephanie
Watson has been a Red Cross communications volunteer since December 2014, and
has helped to coordinate various elements of the Home Fire Preparedness
Campaign.