Volunteer Profile: Vicki Weaver – Wearing a variety of volunteer hats
Vicki Weaver
joined the American Red Cross in 1994, and is currently a volunteer in the Southwest
Oregon chapter. She
worked on a disaster assistance team (DAT) for six years, five of those years
as a DAT leader. During her more recent service she has worked in sheltering,
logistics and government liaison.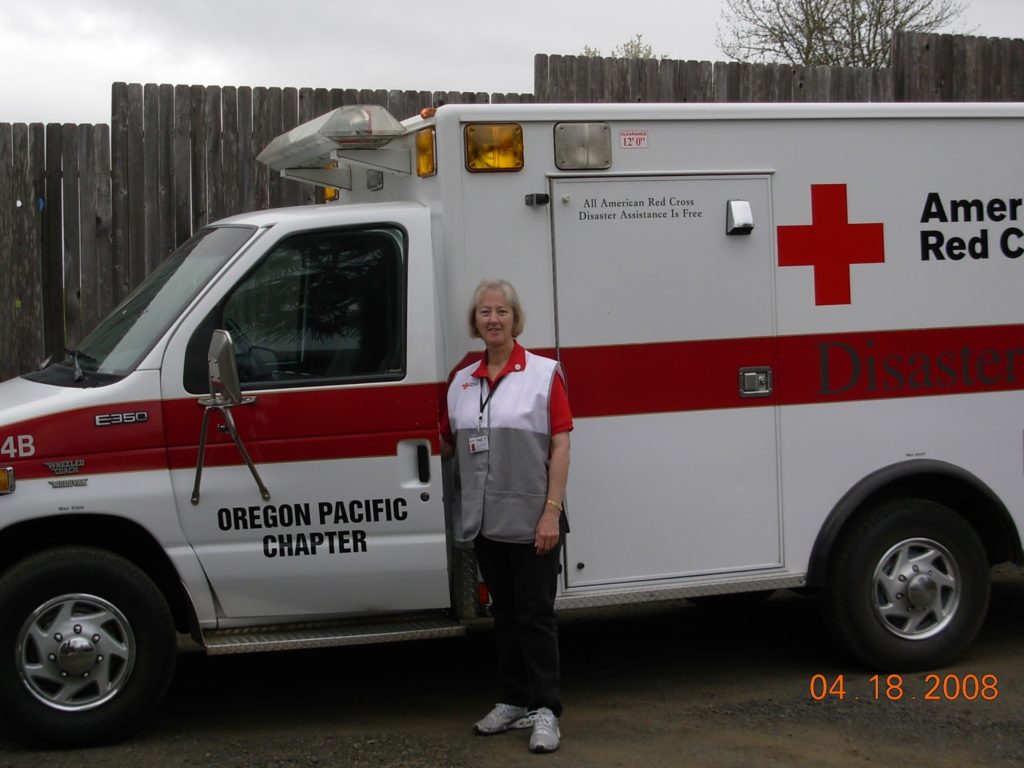 Vicki's logistics
work has been in and around Douglas County, Oregon. She ensures DAT inventories
are maintained and helps keep shelter boxes fully stocked. She also served as logistics
lead for the Cascade Region's Home Fire Preparedness Campaign in Roseburg. In
this role, Vicki secured the necessary materials for the June 13 outreach
event.

Coordination was done mostly by
email which presented some challenges.
"It's hard to
manage materials when you're remote and can't physically inspect and manage
your inventory," says Vicki.

An
additional aspect of the Home Fire Campaign was to assist in coordinating the
feeding of volunteers. In order to manage the cost of this event, in-kind
donations were requested from local restaurants and stores. "Keeping track of
all the aspects of the program was a bit fraying at times. Finally, it became
apparent we are a good team of dedicated, trained volunteers who work well
together. No major problems occurred and I realized we aren`t involved in a
life or death situation. The work has been more enjoyable once I settled down
and accepted these facts."
Government
Relations has been another major focus for Vicki. During the wildfires in
eastern Oregon last summer, she was sent to support the disaster relief.
Initially she was directed to open a shelter but given the resilience of the
people in that area, no one turned to the shelter for accommodations. This gave
her the opportunity to experience an Incident Command Center for the first
time. She shadowed a more experienced Red Crosser, Kyle Henning, helping to coordinate
the morning and midday briefings in which the latest data on the fire and
disaster relief efforts was shared, and then relayed back to incident headquarters
in Bend and
Prineville
.
Vicki says, "The secret to being successful in that role was to be a good
listener and ask good questions. It`s vital all your reports are accurate,
thorough and completed on time. There were many rumors about road closings and
limited access. Our job was to verify the rumors and ensure accurate data was
shared with Red Cross personnel and local citizens."
While Vicki has
been involved in a lot of Red Cross work, she remembers one DAT response
vividly. She responded to an apartment fire assisting an elderly lady that had
lost her apartment and was venting her frustration with her landlord, who she
saw as at least partially responsible for her fire damage. All Vicki could do
was listen to the woman's complaints and show compassion for her situation.

"I must have done a good job because later our
local Red Cross office received several beautifully written poems, the lady
wrote about the experience. Her basic message was, no matter how bad things
get, people will always step up and help, and because my training I was able to
be that person."
Our Volunteer Profile series offers
a weekly look at some of the amazing volunteers who help drive the American Red
Cross mission forward. Approximately 1,700 volunteers in the region serve as
the backbone of our organization. This series is written by our communications
volunteer, Patrick Wilson.