Red Cross Cascades Volunteer John Vinje Uses Lifesaving First Aid Training While Deployed to Texas Floods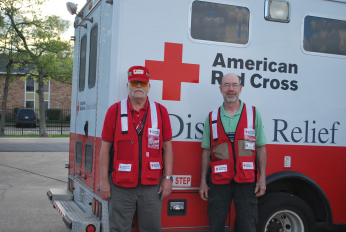 Red Cross volunteers John Vinje (L) and Gordon Howard provide lifesaving first aid after witnessing a car accident upon return from a disaster assessment assignment for the Texas floods.
John
Vinje started volunteering for the Red Cross as a way to give back after he
and his family were impacted by a home fire years ago that the Red Cross
responded to. Since volunteering with the Red Cross, John has deployed to a
number of disaster relief operations.
Most recently, he deployed to the Texas floods to help with
disaster assessment. While on his way back from an assignment, he and fellow volunteer Gordon Howard of New York witnessed a truck swerve off the
road and into trees. John and Gordon responded immediately, using their Red
Cross First Aid training until emergency responders arrived. Read
the full story, captured by the Texas Gulf Coast Red Cross.
Are you first aid and CPR certified? Sign up for a class today.
Don't stop there! Download the
FREE
Red Cross First Aid
app to have lifesaving information at your fingertips.