Local Red Cross Sends Disaster Responders to California Wildfires, West Virginia Floods and Texas Floods
Local
Red Cross Sends Disaster Responders to California Wildfires, West
Virginia Floods and Texas Floods
Seventeen Red Cross Cascades Region (Oregon and Southwest Washington)
disaster responders have deployed to disaster-affected areas to assist thousands
of people.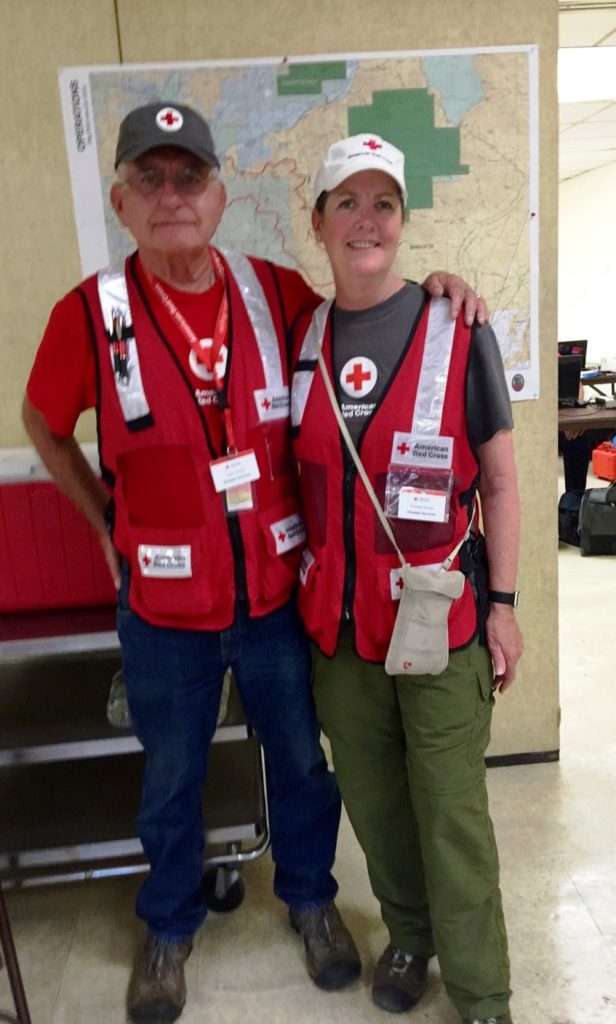 T
he American Red Cross Cascades Region is responding to three massive
disasters throughout the United States, helping people who have lost everything
in the raging wildfires in California, the devastating floods in West Virginia
and the catastrophic floods in Texas.
Responders from Portland,
Salem, Nehalem, Beaverton, Williams, Turner, Kei
zer, Bend, Medford and Eugene, Oregon are on the ground in West Virginia, California and Texas. They are assisting affected communities by managing shelters, providing emergency financial assistance, health and mental health services, transportation services, and coordinating with local government entities to help deliver assistance.
"Whenever, wherever help is needed, Red Cross volunteers step up and assist people who are suffering across the country," said Amy Shlossman, CEO of the Red Cross Cascades Region. "One of our volunteers deployed to West Virginia directly from another a relief operation in Texas and another cancelled his birthday plans to respond to the California wildfires. We have remarkable people doing remarkable things to help others in their greatest time of need."


WEST VIRGINIA: Thousands of people are without power and gas service. As many as 60 roads are closed to flooding and flood damage. There are 20 Red Cross and community shelters open across the affected counties where hundreds of people are taking refuge from the flooding. Red Cross workers are providing meals, relief supplies and other assistance to those affected as well as meals for first responders. Red Cross disaster mental health workers are helping people cope. Health workers are helping to replace needed items like prescription medications and eyeglasses. The Red Cross is monitoring the situation and working with state and local officials and partners to help ensure people get the help they need. Find Red Cross flood safety information here.
CALIFORNIA: The Erskine Fire in Kern County started last week and firefighters are working around the clock to contain the blaze, which has already destroyed 150 homes, burned 35,000 acres and forced almost 3,000 people to evacuate. Red Cross workers have shelters open, are providing food and relief supplies, and health and mental health services. People in the path of the fire can find vital safety information here.
TEXAS: Since the beginning of the year, numerous storms have ravaged the state, displacing thousands of families and devastating homes and businesses. Some parts of Texas have received two feet of rain. Emergency officials estimate that some 6,000 homes may be affected.
OTHER RED CROSS RESOURCES:
SAFE AND WELL: Register on the Red Cross Safe and Well website so loved ones can see if you are safe and well. Those who can't access a computer can call 1-800-RED CROSS (1-800-733-2767) and a Red Cross operator can help them register. They can also update their Facebook and Twitter status through the Safe and Well website or visit www.redcross.org/safeandwell on their smart phone and click on the "List Yourself as Safe and Well" or "Search for friends and family" link.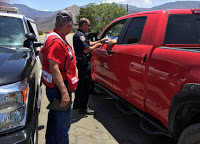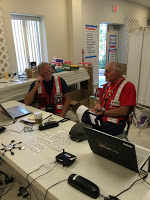 EMERGENCY APP

:

Download the free

Red Cross Emergency App

to receive emergency alerts and information about what to do in case of flooding, wildfires and other disasters, as well as locations of shelters. The App also includes emergency first aid information and a Family Safe feature which allows people to instantly see if loved ones are okay. The free Emergency App is available in app stores by searching for the American Red Cross or going to

redcross.org/apps

.
HOW TO HELP: These are large relief responses and the Red Cross needs the public's support now. Those who would like to help people affected by disasters like flooding, wildfires and countless other crises can make a donation to Red Cross Disaster Relief. People can donate by visiting redcross.org, calling 1-800-RED CROSS or texting the word REDCROSS to 90999 to make a $10 donation. These donations enable the Red Cross to prepare for, respond to and help people recover from disasters big and small.