Giving Help and Hope: Stories from Red Cross Responders in Louisiana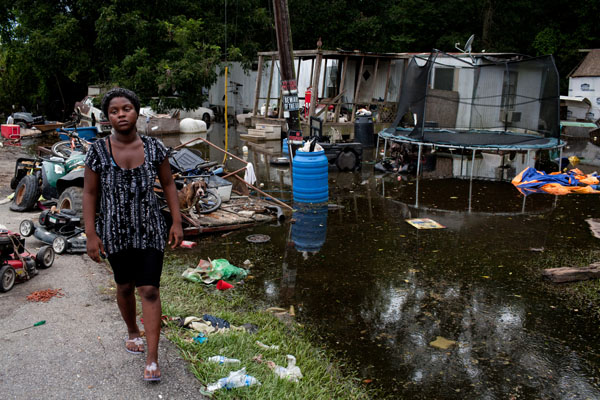 The magnitude
of the devastation in Louisiana is hard to fathom. More than 110,000 homes have
been damaged in and around Baton Rouge. At the peak of the flooding, more than
10,000 people sought refuge in Red Cross shelters. Thousands still remain in those
shelters, with no place else to go. Their homes have been destroyed, their
worldly possessions are gone and their lives have been completely uprooted.
But the
nation is rising up to help, as volunteers and supplies are descending on the
area in a wave of compassion. They've never met the individuals they're helping.
They just want to give of their time to deliver food, shelter and comfort
during a time of great need.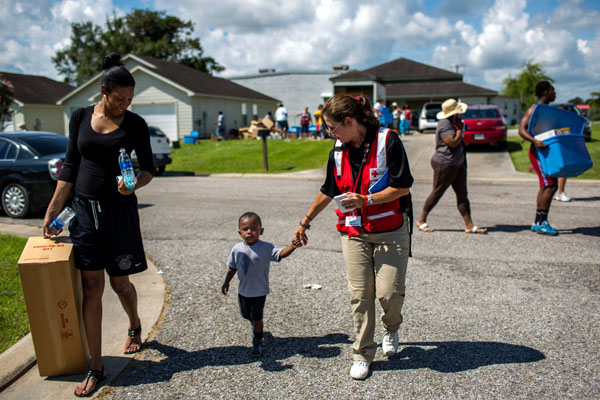 To date, 27
responders from Oregon and Southwest Washington are on the ground offering aid.
Others are assisting virtually, talking with people in need and helping them to
connect with resources to assist in their recovery process.
Patty and
Chuck Albin, of Medford, Oregon, are some of those volunteers on the ground transporting
relief supplies, such as water and clean up kits, into affected neighborhoods. "You
see the pictures on the news and it's horrible. But you don't really realize
until you go through neighborhoods just how catastrophic this is," Patty said. "A
family from Baton Rouge came to us to get help — a woman, man and two small
children. They had stayed at a hotel until their money ran out and since then have
been living in their car. We helped to make sure they got to a Red Cross
shelter," Patty said. "Just before they left, the woman mentioned it was the
little boy's seventh birthday. We brought him a stuffed Mickey Mouse toy and he
lit up. This is why we're here. To give comfort and help people connect with
the resources they need,"
This story of Oregon and Washington responders going the extra mile to
help people who are suffering is one of many coming out of Louisiana. Scott Fine,
from Lake Oswego, Oregon, met a woman staying at a Red Cross shelter. She was
in great physical pain in addition to the emotional agony of losing her home
and possessions. She had a fused disc in her back, was recovering from cancer
treatment and just had a double mastectomy. "She was in a lot of pain sleeping
on the cot provided at the shelter. I found a comfortable mattress for her so
she could sleep pain free. She was so grateful that she gave me a huge hug,"
Fine recalls.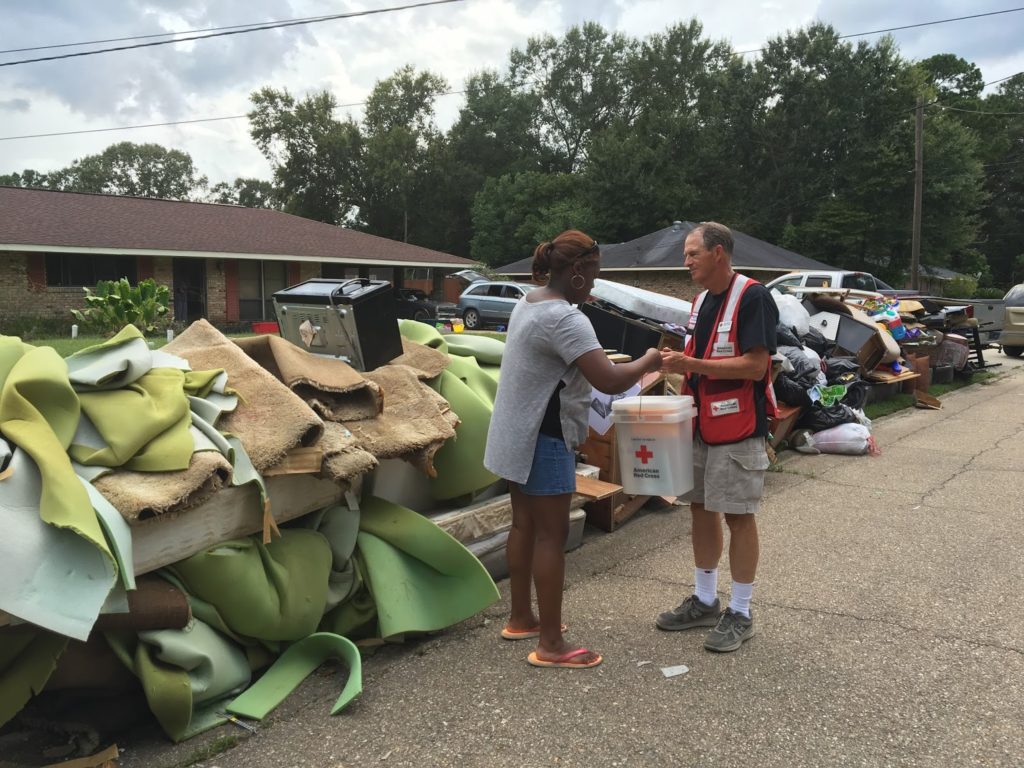 Everywhere
they go, Patty Albin says she meets people who have lost all of their worldly
possessions; however, their determination to survive remains. "We were
going through a neighborhood near Baton Rouge handing out clean up kits – work
gloves, brooms, cleaning supplies. I met a woman who was putting everything she
could salvage from her home on her lawn. She had lost everything. Absolutely
everything. She told me 'We will clean up, pick up and move on. That's all we
can do," With a catch in her throat, Patty related the devastation was so great
"It took my breath away. People need to know what this lady and others are
going through.'"
Other Baton
Rouge residents describe tales of loss we can only imagine. A man pointed to a
car with a dented roof and said his mother and grandmother waited on top of the
car for 12 hours before being rescued from the ravaging floodwaters. Another man tearfully
recounted that he owned a small business and the 30 people he employed are out
of a job because his business is gone.
The stories
told to Red Cross volunteers vividly paint a stark picture of a long and
tedious recovery process for the state. The Red Cross is just beginning work
there and will be on the ground for weeks and months to come, helping the
community to recover.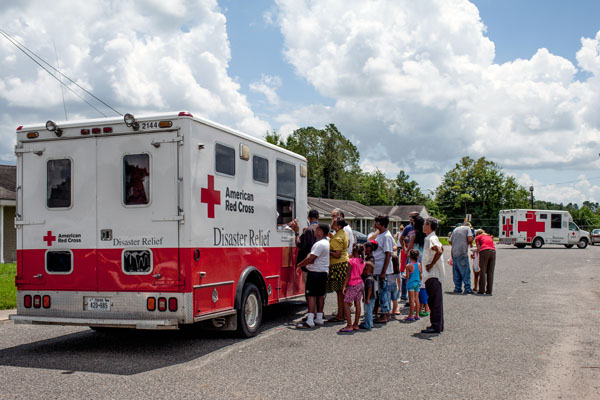 One week into this disaster, the Red Cross has
mobilized the largest sheltering and feeding effort since Superstorm Sandy in
2012.
This is the largest volume of people in need of
emergency shelter in the last four years. And, early planning estimates
indicate more than one million meals may need to be served over the next few
weeks. Already,
Red Cross has served 260,000 meals and snacks and distributed nearly 60,000
relief items. Nearly 90 emergency response vehicles are fanning out through
affected neighborhoods to distribute food, water and supplies such as personal
hygiene items, insect repellant, cleaning kits and bleach. Mental health
disaster responders are visiting shelters to offer comfort. Health services
volunteers are assisting with things like lost eyeglasses and medications. Red
Cross has provided more than 40,000 overnight stays in
emergency shelters. At the peak of the flooding, more than 50 shelters provided
safety for more than 10,000 people.
As a comparison, during Superstorm Sandy the Red
Cross served more than 17 million meals and snacks, and 74,000 overnight stays
in shelters. During Hurricane Katrina (2005), the Red Cross served 68 million
meals and snacks and provided 3.8 million overnight stays in shelters across 27
states.
After a
disaster, financial donations are the quickest and best way to get help to the
people who need it most. Entire families have lost their homes and everything
they own in this flood.
Join the Red
Cross in supporting Louisiana by making a financial donation today. Help people
affected by the Louisiana Floods by visiting

www.redcross.org


or calling 1-800-RED CROSS. Donations enable the Red Cross to prepare for,
respond to and help people recovery from these disasters.