Local Red Cross Sends Eight Responders to Help With California Wildfires; Others Continue to Help in Louisiana
Local Red Cross Sends Eight Responders to Help With California Wildfires; Others Continue to Help in Louisiana
PORTLAND, Ore., August 18, 2016 — The American Red Cross Cascades Region (Oregon and Southwest Washington) is responding to the massive wildfires in California by deploying eight volunteers to help with relief efforts.
Responders from Nehalem, Beaverton, Portland, Keizer, Gresham and John Day, Oregon as well as Battle Ground, Washington are assisting affected communities by managing shelters, providing emergency financial assistance, health and mental health services, transportation services, and coordinating with local government entities to help deliver assistance.
Two of the responders include Cascades Region CEO, Amy Shlossman and Regional Disaster Officer, Cara Sloman. Additional responders include:
Brenda Ramsdell – Eugene, OR

Julius Vanis – Keizer, OR

George Booth – Nehalem, OR

Louise Lipe – Battle Ground, WA

Jorge Londono – Beaverton, OR

Louis Maceira – Keizer, OR

Tyler Marriott – Gresham, OR

James P Spell – John Day, OR

Chuck Albin – Medford, OR

Kirsten Barnes – Silverton, OR

Patrick Beckham – Florence, OR

Charles E Bennett – Turner, OR

Timothy Beringer – Salem, OR

Jill L Brueckner – Silverton, OR

Kelley Caudell – Williams, OR

Dorothy Day – Portland, OR

Scott Fine – Lake Oswego, OR

John Charles Holt – Tigard, OR

Judith Kimmons – Medford, OR

Sherry E Lanning – Salem, OR

David N Maranov – Wolf Creek, OR

Dianne K Mekkers – Salem, OR

Thomas Pelham – Vancouver, WA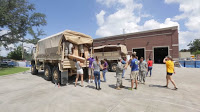 "Communities across Louisiana and California have been devastated by fires and floods and many families have lost everything," said Amy Shlossman, CEO of the Red Cross Cascades Region. "Our ability to respond and help people when they need it most depends upon the generosity of our donors. Please help support our disaster response efforts across the country by visiting redcross.org."
THE SITUATION IN CALIFORNIA:
Explosive brush fires have ripped through more than 30,000 acres in San Bernardino County. More than 86,000 people have been forced to leave their homes. An unknown number of homes could be destroyed, and there is no containment in sight. Two Red Cross shelters provided refuge to 173 individuals affected by the Blue Cut Fire. In Lake County, three additional shelters are open to support families in need of lodging and support services. And in Kern County, the Red Cross is ready to open an evacuation center should it be needed. For all these wildfires, Red Cross shelters are providing for the immediate needs of those affected. Services include a safe and clean place to stay, food, hydration, emotional support and health services. All facilities will remain open for as long as there is a need.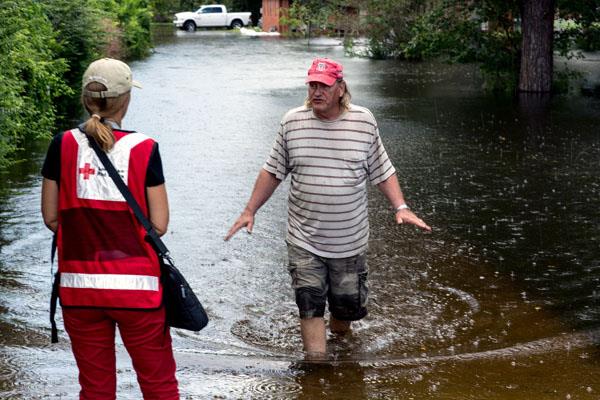 THE SITUATION IN LOUISIANA: The Red Cross continues to help thousands of people impacted by the flooding in Louisiana where the situation remains dire. On Wednesday night, more than 4,100 people were still seeking refuge in 30 Red Cross and community shelters. At the peak of the floods, more than 50 shelters provided safety for more than 10,000 people. The Red Cross and partners have served nearly 138,000 meals and snacks since the onset of the flooding. Mental health disaster workers are visiting shelters to offer comfort. Health services volunteers are helping with things like lost eyeglasses and medications. The flooding danger is not over. More rain is falling in Louisiana and flood waters are moving down-river, which could cause damage in new areas. The Red Cross is closely monitoring the situation to be ready to mount an additional response if necessary. According to meteorologists, more than 6.9 trillion gallons of rain — enough water to fill 10.4 million Olympic pools — deluged Louisiana this week.
HOW TO HELP: Donations are urgently needed. To help people affected by the Louisiana Floods or the California Wildfires visit redcross.org or call 1-800-RED CROSS. These donations enable the Red Cross to prepare for, respond to and help people recover from disasters big and small.
About the American Red Cross The American Red Cross shelters, feeds and provides emotional support to victims of disasters; supplies about 40 percent of the nation's blood; teaches skills that save lives; provides international humanitarian aid; and supports military members and their families. The Red Cross is a not-for-profit organization that depends on volunteers and the generosity of the American public to perform its mission. For more information, please visit redcross.org/Cascades or visit us on Twitter at @RedCrossCasc.