Cascades Region Volunteers Deploy Across the Nation to Aid People Affected by Hurricane Matthew
Long after Hurricane Matthew has disappeared from the media headlines, the local Red Cross is still hard at work helping communities recover from devastating floods and damage. In total, more than 100 volunteers have deployed from the Red Cross Cascades Region (Oregon and Southwest Washington), taking time away from work and their families to help people on the opposite side of the country who have been affected by the hurricane.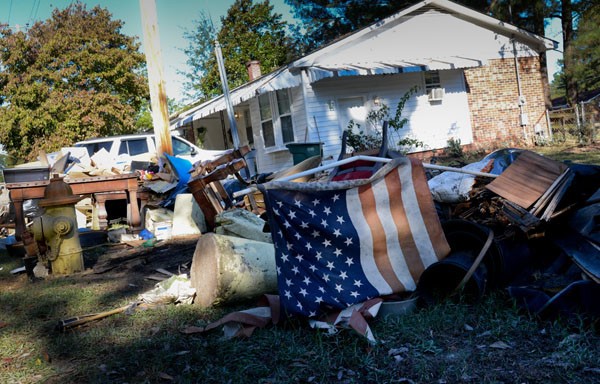 Recovery after a large-scale disaster such as Hurricane Matthew may go on for days, months or even years. That's why the Red Cross continues to operate shelters, serve meals and provide critical relief supplies to help residents get back to where they were before the storm.
Local volunteers (yes volunteers, not paid staff) started their trek to the Southeast Coast back when airports were still closed in preparation for the storm. Some travelled more than 3,000 miles in emergency response vehicles to help at a time when travel was otherwise impossible. When airports finally reopened, the Red Cross Cascades Region sent out another surge of volunteers and we continue to send people to assist in the recovery effort a month after Hurricane Matthew initially made landfall.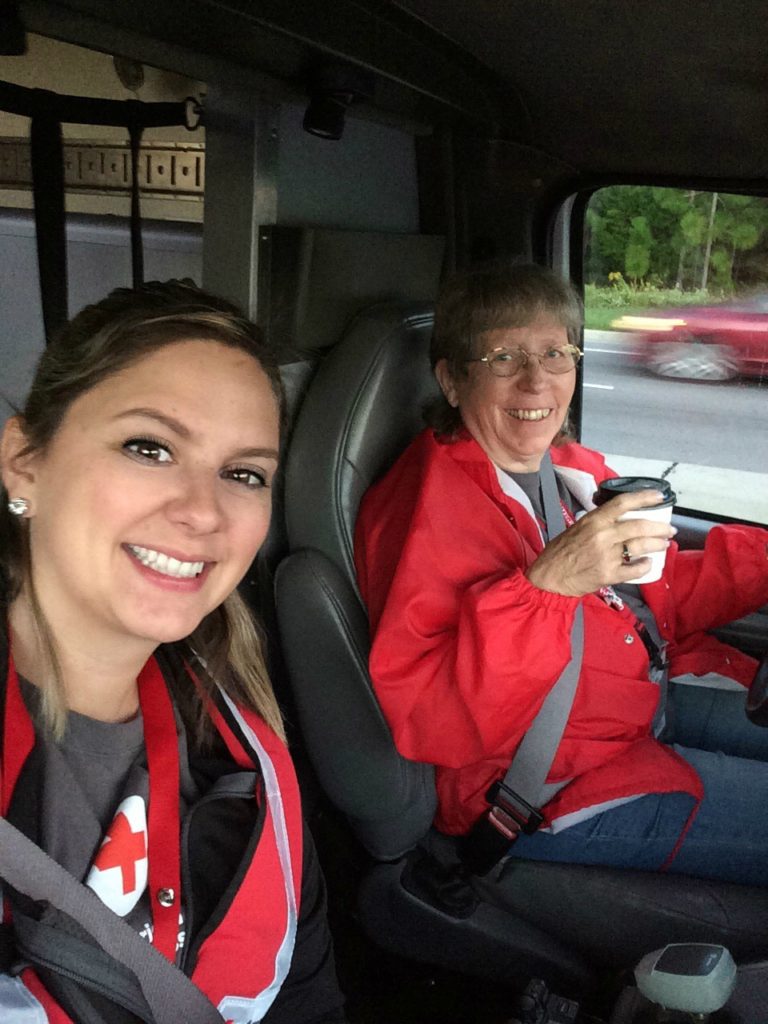 Jillian Bohrer, a Red Cross volunteer from Portland on her first deployment, travelled with fellow volunteer Linda Stent to Whiteville, North Carolina in a Red Cross emergency response vehicle. After driving thousands of miles in the rig, they helped to get food and water to affected people who were stranded and unable to leave their homes because of the storm. Immediately after the hurricane, it was difficult to determine which communities were in need. Volunteers worked closely with firefighters and EMTs to get food and water to affected residents quickly.
"The Red Cross helped bridge the gap between the victims and available resources," Jillian said. "Red Cross involvement in the relief efforts following Hurricane Matthew meant warm meals, a safe place to sleep and access to resources to rebuild. Many of those affected by the disaster did not know who to call or where to go to get assistance until we showed up."
One neighborhood in particular had been without power for five days when Jillian and Linda arrived. Residents reported they were afraid of getting stranded on a country road and for that reason, didn't leave their homes for help. With the help of the emergency response vehicles loaded with food and water, Jillian, Linda and other volunteers traveled into affected neighborhoods to distribute meals and information on when utilities would be restored.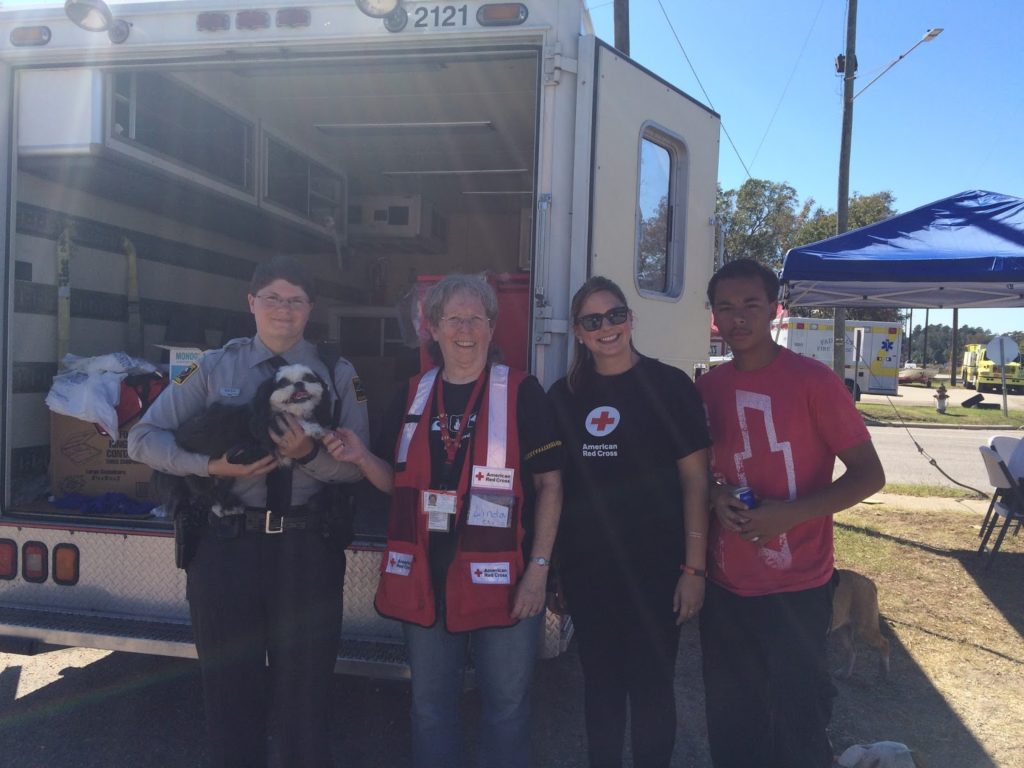 "We made sure to tell the people we were bringing food, that we would return again the next day, and the day after until they no longer needed us," Jillian said. "You could see the relief on their faces knowing that they had something they could depend on and look forward to."
Another volunteer Steve Sirkin and fellow responder Nathan Holtorf drove an emergency response vehicle nearly 3,000 miles to Greenville, North Carolina, where they helped deliver meals and supplies to stranded residents.
Steve said he met a woman who had already been through this same kind of trauma in 1999 following Hurricane Floyd. She wasn't sure how she was going to handle another round of rebuilding. Steve assured her the Red Cross would be there to help.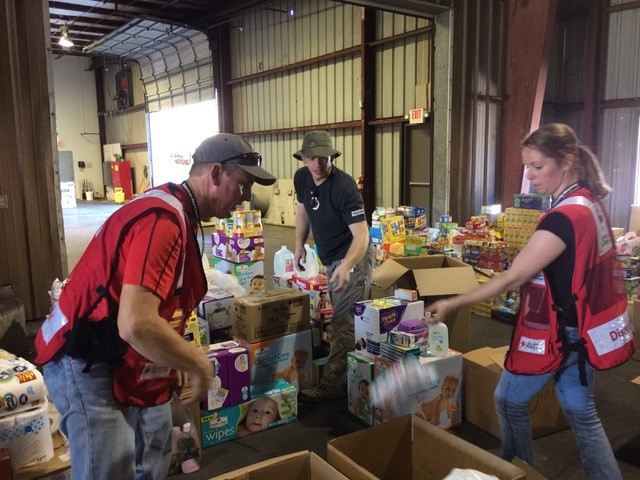 "The relief effort was massive," Steve said. "There were literally hundreds of volunteers in the Greenville area alone administering the massive effort of the Red Cross. All this was being replicated in communities across North Carolina, South Carolina, Georgia and Florida."
Another ERV driver, Esta Carter, was in awe of the Red Cross response and her part in it. "Initially we were assigned to help feed people, but we ended up helping with just about everything," Esta said. "We were couriers, we distributed supplies, and we even worked on opening a new shelter at the fairgrounds. We did anything that needed to be done."
Volunteers reported the community was warm and welcoming. "It was wonderful to interact with the people there and see how supportive they were of one another," Jillian said.
In one instance, an emergency response vehicle driver asked a little boy if his family had enough food. He said "No, we don't and our neighbors don't either. They need your help, too."
After several days of traveling into neighborhoods to deliver relief supplies, Jillian and Linda received information that a community about 45 minutes away near Lumberton, North Carolina needed Red Cross help. The volunteer pair, who were strangers before deploying with the Red Cross and driving thousands of miles together in a response vehicle, hopped in their rig and hit the road to help another group of stranded residents.
It was there that they met an 85-year-old resident, Wilma, who knew nearly everyone in her neighborhood and was able to provide a wealth of information on where help was needed the most. Wilma drove with Jillian and Linda up and down the neighborhood streets, knocking on doors and greeting residents with a friendly and familiar face. If a resident was afraid, Wilma helped to comfort them as Red Crossers delivered needed supplies.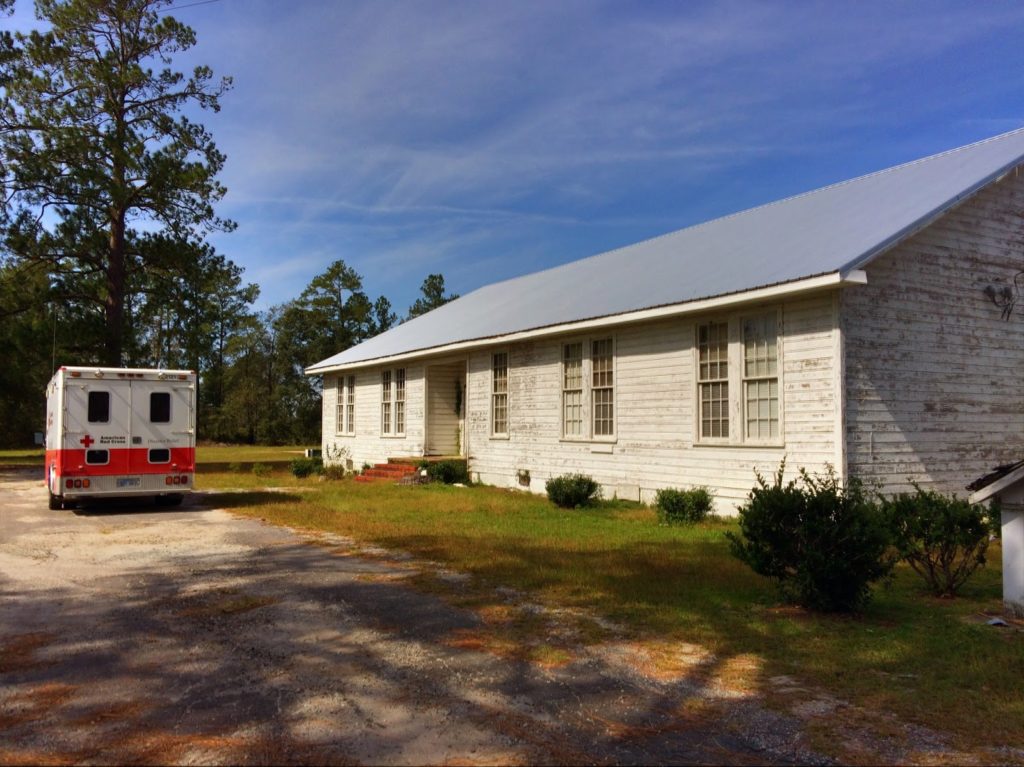 "ERV teams were critical in providing meals to those who were unable to leave their neighborhoods due to high waters," Jillian said. At one home volunteers found a single mother with eight children. The family had been without power for days and were in need of food and water. In another home, an elderly woman hadn't had food prepared for her for several days because her daughter, who usually makes her meals, wasn't able to get into the neighborhood to continue their meal routine. With Wilma's help, Linda and Jillian stayed in the neighborhood until 10 p.m. that night and served nearly 90 meals to people in need of nourishment.
As Jillian and Linda's two-week deployment came to a close, nurses joined them on the ERV. Many displaced individuals had infections from wounds being exposed to floodwaters. Others were unable to reenter their flooded homes to retrieve medications.
"Red Crossers and nurses helped to provide seniors with new prescriptions as many pharmacies were closed and refilling their prescriptions was often overlooked amid the devastation," Jillian said. Together, Red Cross volunteers and medical personnel traveled into neighborhoods in emergency response vehicles and were able to treat people in the wake of the storm.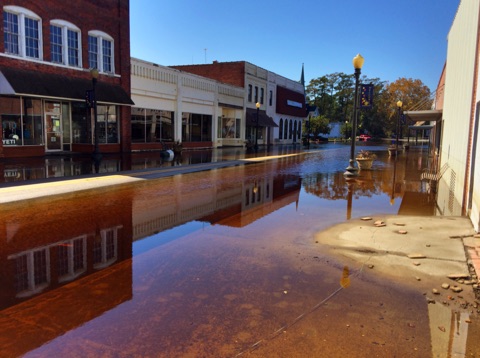 "We also provided recovery updates and emotional stability. It was hard to miss our convoy of red and white vehicles, which sent a clear message that help was on the way," Jillian said.
Recovery in affected communities along the Southeast Coast will take time and resources. The Red Cross is committed to helping communities rebuild now and in the future. From delivering meals, to providing individual financial assistance, to connecting families with local resources for long-term recovery, the Red Cross will be there to help every step of the way.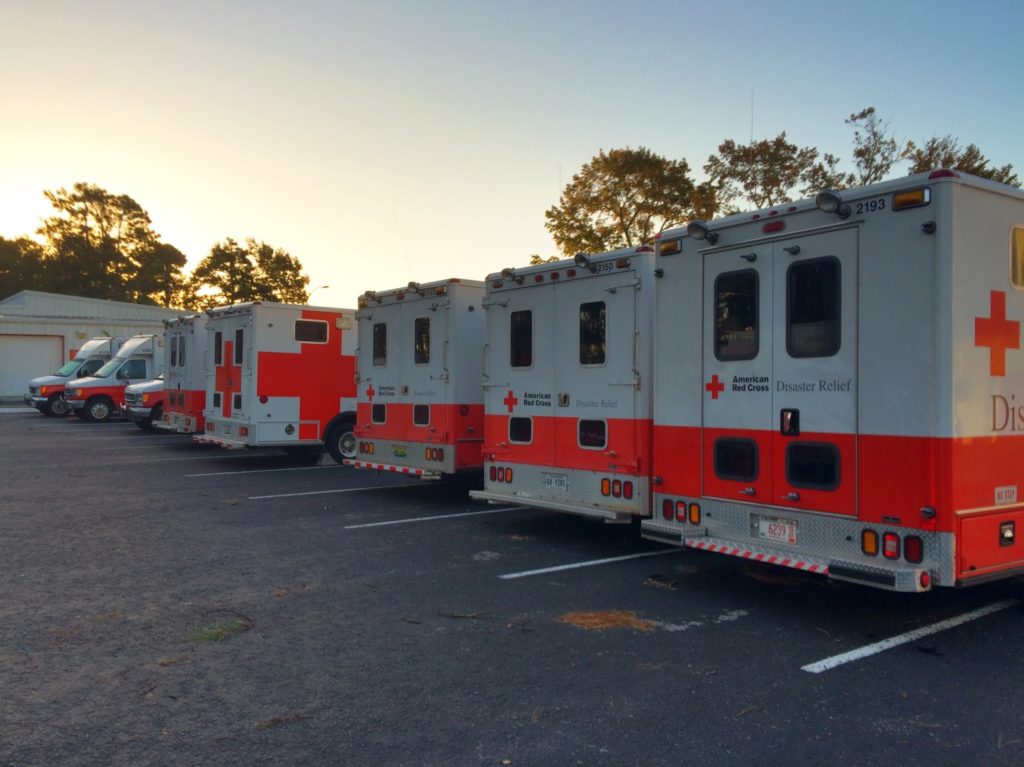 "As I prepared to head home after a two-week deployment the need had not gone away," Steve said. "As the waters were receding, people were and would be, returning to their damaged homes. They need clean up supplies, food, water and ongoing support. The Red Cross will be there to help with the process of getting financial assistance to rebuild, with psychological support to help people make it through the difficult times ahead and with comforting words to make sure the community is aware that they will not be forgotten."