Celebrating a Century: Linda Jager Five Decades of Service and Counting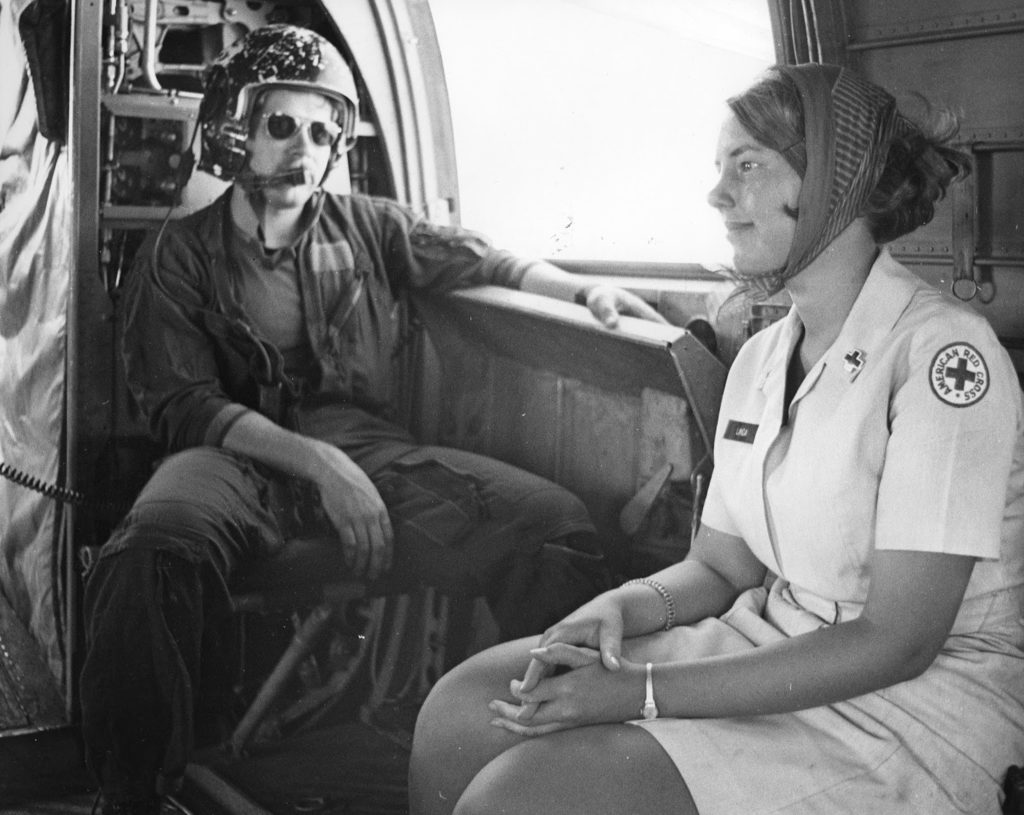 An iconic picture of Linda Jager alongside an airman in Vietnam
Over the years, the Red Cross in Oregon and Southwest Washington has
been extremely fortunate to work with countless volunteers who offer a wealth
of expertise, commitment and a strong desire to help others. Throughout our
year-long centennial celebration in 2017, we will be publishing stories that
highlight our


volunteers and the work they do and have done in our
community over the years. Today we celebrate Linda Jager, a Service to the
Armed Forces volunteer who has worked with the Red Cross for more than five
decades!
Jager, a Portland-native, was hired for a one-year tour with the
Red Cross in Vietnam in 1969. She was one of five young women who were assigned
to work in Pleiku, a city about 300 miles northwest of Saigon. ­Pleiku was
strategically important because it was the primary terminus for a military
supply logistics corridor.
Linda fondly remembers her time planning activities for service
members. "My first program was on the 'Wild West' and our job was to bring a
bit of fun and diversion into the servicemen's daily routines. There were six
activities and each one was patterned after a game, stunt or quiz. Our goal was
to hear laughter and see smiles from these battle-weary men."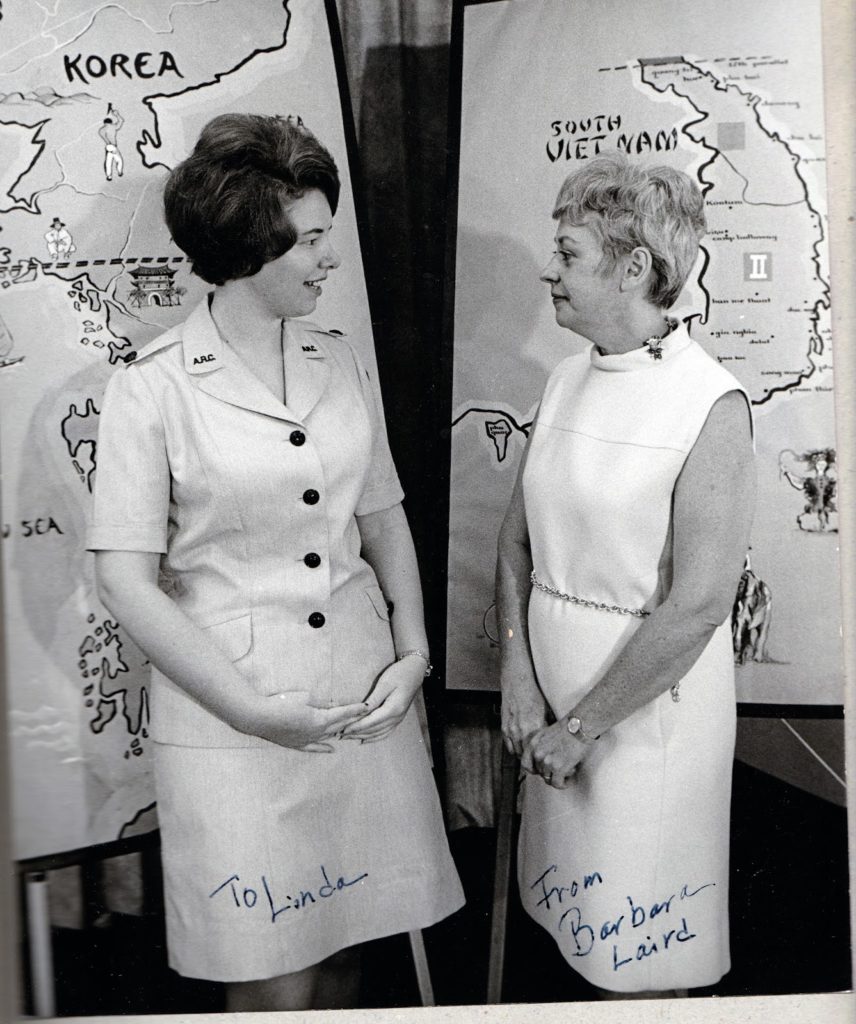 Linda Jager posing with a fellow Red Cross worker in Vietnam
According to Linda, the programs took weeks of preparation since
the women had to create their own scripts and props. The programs Linda and others provided to servicemen overseas in
Vietnam were not unlike those provided by other groups of Red Cross women volunteers,
known as the Gray Ladies, throughout World War I and World War II. The Gray
Ladies were domestic volunteers who visited returned servicemen in veterans
hospitals and provided them with recreational services such as game playing and
letter writing. The Gray Ladies, officially known as the Hospital and
Recreation Corps, were a great relief to servicemen who had returned home from
war in need of extended medical care.
"I will never forget the men at those remote firebases when they
saw us disembark from the helicopter with our props clutched in one hand…as we
ran from the chopper," Linda recalls. "They'd wave or give us the peace sign.
Some would shout out how many days they had left in [serving in the] country."
While most of the activities that she helped organize for
servicemen were presented at recreation centers and military sites, Linda would
occasionally visit hospitals, serve lunch at military camps or just visit with
people, trying to take their minds off of the war even for a short amount of
time.
"My experience in Vietnam with the Red Cross changed my
life," states Linda. It set her on a path to obtaining a teaching degree
and continuing her work with U.S. troops. In fact, Linda spent 35 years working
for the Army and then the Air Force, all in roles that supported soldiers while
they served overseas and after they returned home.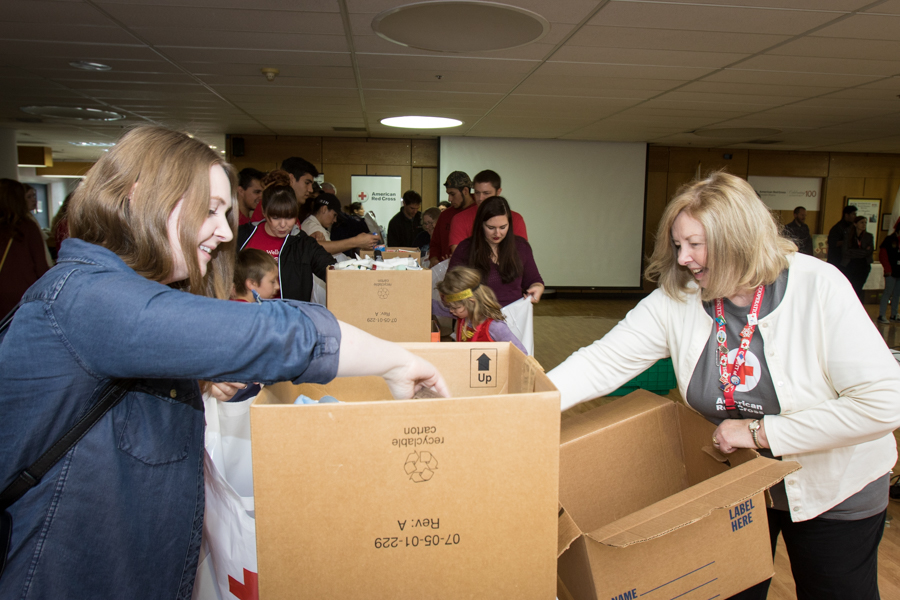 When she retired in 2012, Linda returned to the Red Cross in
Portland where she has volunteered for the Service to Armed Forces (SAF)
division ever since.
As part of the SAF division, Linda helped the Cascades Region
catch up on communication needs of service members overseas. With activation of
National Guard and Reserves in the region, one of the new missions of SAF is to
help soldiers' employers prepare for the departures in addition to helping
families before during and after deployment.
Linda connects with various organizations on behalf of the Red
Cross to ensure they are aware of returning soldiers' needs as well as attending
events such as Stand Downs, during which the Red Cross provides supplies and
services like food, shelter, clothing, health screenings and counseling to
homeless veterans.
"What has changed the most is who we serve," Linda states,
reflecting on her many years of work with the Red Cross. "When I first started,
it was all about helping the individual soldiers. Today is about the whole
family, including extended family members as well as employers! The Red Cross
is providing a more holistic assistance program."
Linda wants to make sure American soldiers come home proud of what
they accomplished – not worried about how to pick up the pieces of a life left
behind.
"Because of the Red Cross, these service members come home
knowing where to go for resources that will help make and keep their family
intact and how to use their benefits, find a job and take advantage
of all that is available to them."
Linda smiles as she mentions that veterans
receive free fishing licenses from the state of Oregon; many don't know that!
Even this seemingly token benefit can make a huge difference in helping a
family return to normalcy.
Linda's story is just one of many that makes up the vibrant
history of the Red Cross and the communities we have served over the past 100
years. In 2017 we look forward to sharing more stories like Linda's that show
just how integral the Red Cross is to the community we live in and care about.