Lend a Hand. Take A Class. Save A Life.
Whether you want to help keep your loved ones safe, aid someone at work, or use your training professionally, the American Red Cross can teach you the skills you need to save lives.
The first week in June is National CPR/AED Awareness Week. Sudden cardiac arrest is one of the leading causes of death in the United States, and it can happen to anyone, anytime, anywhere and at any age. During a sudden cardiac arrest, the body's heart function ceases – abruptly and without warning.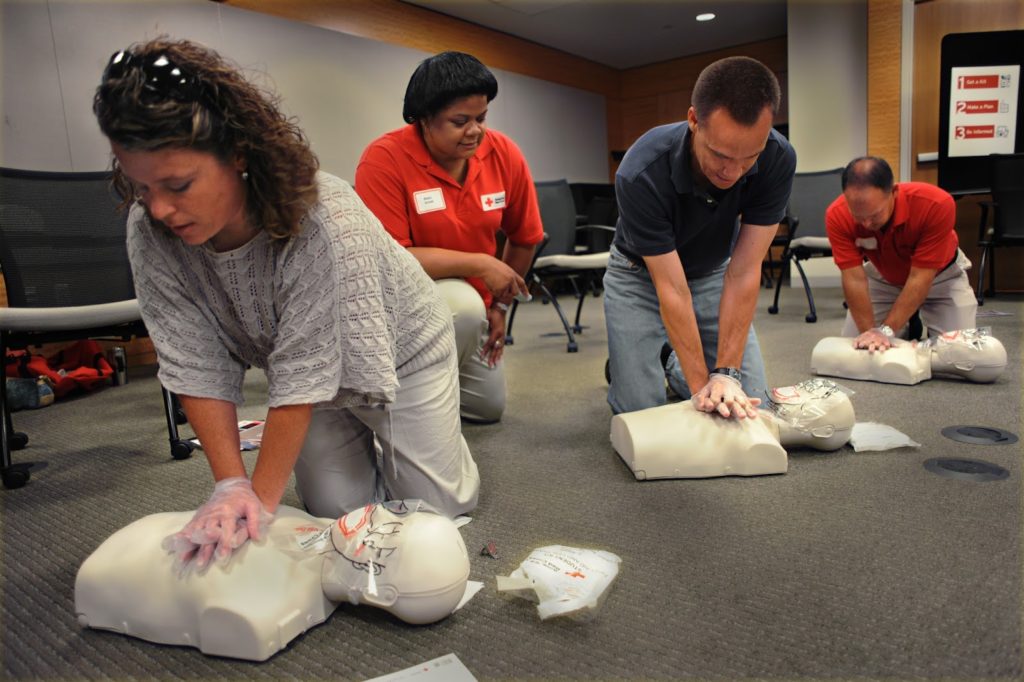 "You never know where, when or who may need it, but having that knowledge and being secure in those skills is golden," said Portland resident Vicki Trotter, who is newly certified in CPR and has already put her skills to good use.
Cardiopulmonary resuscitation, more commonly known as CPR, is administered by giving alternating chest compressions and rescue breaths to an individual if their heart or their breathing has stopped. Automated external defibrillators, or AEDs, located prominently in many public places, are portable devices that can check an individual's heartbeat and administer an electric shock to the heart if necessary.
Correctly administered CPR can keep someone alive until defibrillation (restoration of the normal heartbeat with the use of an AED) or medical help can be sought. With each minute defibrillation is delayed, a person's chance of survival decreases by ten percent, and with the average response time for 9-1-1 being eight to twelve minutes, CPR can truly be a lifesaver.
Trotter took a CPR course in January of this year and performed CPR on her daughter's friend when he collapsed. As soon as the boy fell to the ground, Trotter immediately jumped into action and directed her daughter to call 9-1-1. The operator told her to begin compressions and told her that by the six-hundredth one, paramedics would be there to help.
"Everything kicked in from the class and I heard the song, 'Staying Alive', playing over and over again in my head," said Trotter. "The song was taught to us in order to keep the right compressions per minute as it has the perfect matching beat."
Thanks to the CPR course Trotter had taken, she was able to take effective and lifesaving measures.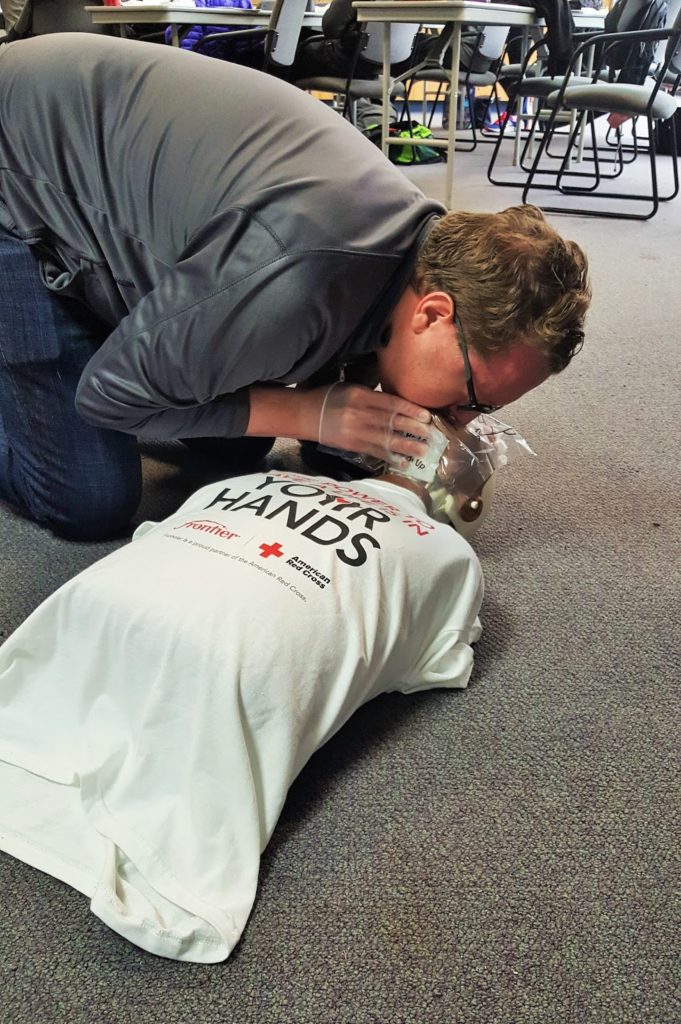 "The compressions saved him," Trotter said. "I called the hospital later that evening and the nurses told me that without the compressions, he wouldn't have made it. I will be a part of his life forever. I still have the voicemail he left me afterward, thanking me."
"The importance of CPR/AED training cannot be overstated," said Ben Litton, a
Red Cross employee who works in Health and Safety Services, which oversees CPR training.
"The overwhelming majority of people who suffer a cardiac event are first tended by friends and co-workers. The quick actions in those first few minutes can often mean the difference between life and death. Just as in any other kind of disaster, we're all much better off when people are qualified to render aid in an emergency."
Just a couple months ago, one of our local Red Cross volunteers, Chris Galiszewski, conducted Red Cross CPR training for the Baker City Sheriff's Office. These skills came in handy when an emergency call came into the department that a 22-month-old had fallen into a pond and the sheriff's office was first on scene. Because the first responders had had this training, they were able to save the child's life.
Read more about the responders' heroic actions and the training they received from the Red Cross by clicking here.
The Red Cross offers several different opportunities to become CPR-certified. One way is to attend in-person classes held at convenient locations with hands-on training from experienced instructors. Online and blended (combining hands-on training with online content) simulation learning courses are also available. Check with your employer to find out what class you need if you are taking training to fulfill a job requirement.
You can also download the free Red Cross First Aid App, which puts instant access to information on handling the most common first aid emergencies, including sudden cardiac arrest, at your fingertips. Download by searching for 'American Red Cross' in your app store or at

redcross.org/apps
.