Celebrating the Service of Susan Denavit, RN—American Red Cross Winner of the Ann Magnussen Award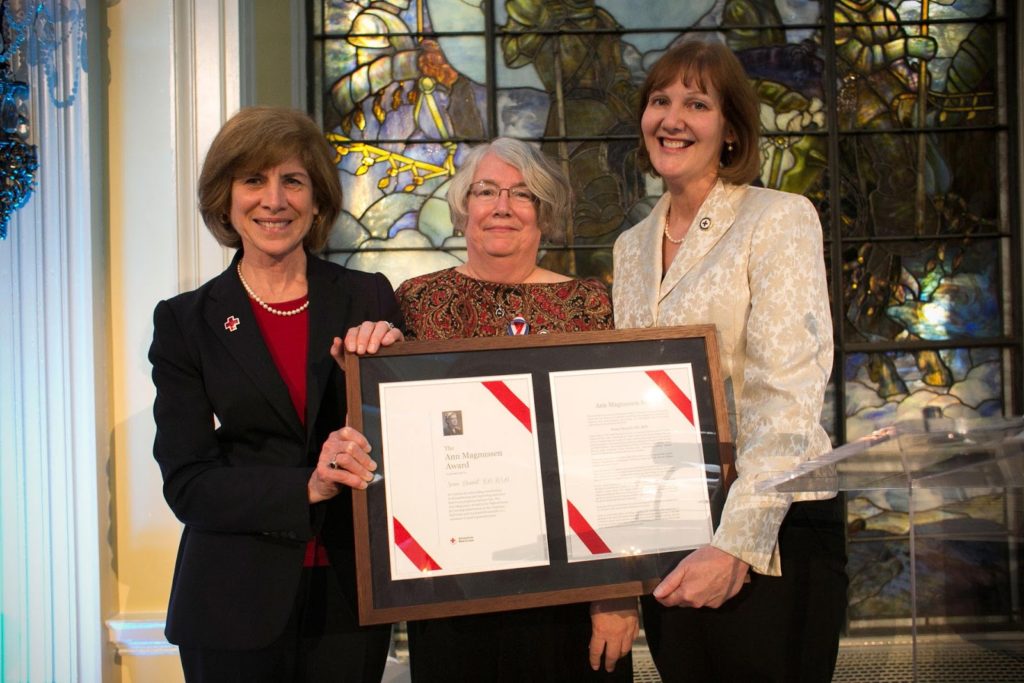 Left to Right: Gail McGovern, President and CEO of the American Red Cross; Susan Denavit, RN; and Linda MacIntyre, Chief Nurse
While I sip coffee at Starbucks, waiting on my interviewee to arrive, I begin to wonder what I've gotten myself into. I've been assigned to write a blog article about a volunteer who has won what amounts to a lifetime achievement award for nursing in the Red Cross. Being a relative Red Cross newbie, I can't help but feel in over my head. But after an incredible two-hour conversation, Susan Denavit, RN has convinced me the Red Cross can be the perfect volunteer fit for so many people, in so many ways.
Susan was awarded this year's Red Cross Ann
Magnussen
award,
which is the highest national honor given to a Red Cross nurse. Susan's
story with the Red Cross began over 30 years ago by answering a Denver
newspaper advertisement call for mass care volunteers. As a stay-at-home
mom taking care of her children, Susan was looking to use and maintain the nursing
skills she learned from attending Northern Illinois University's nursing
program. After joining the local Red Cross Denver chapter in 1987, she
immediately jumped into Red Cross action.
Since those early days, Susan has volunteered locally in Denver and
Portland and has responded to 35+ deployments, including the crash of
Continental Airlines Flight 1713 in a snowstorm. But she is also quick to say,
"We need to recognize the people helping at home as much as the national
disaster responders."
Today Susan's focus is serving as the Pacific Division
Nursing Network leader. She is
responsible for supporting regional nursing leaders and other Red Cross
business lines. Susan believes she is making a difference by being in this
leadership group. For instance, she recently participated in an International
Day of Advocacy as a Red Cross representative on Capitol Hill in Washington,
DC. She was an integral part of a team lobbying congressional members for
increased CDC funding to provide measles immunizations.
Today Susan's focus doesn't consist solely of nursing
activities. For example, she believes in growing the volunteer network at
Red Cross, whether it's for local or national responses. While Susan
encourages volunteers to find the jobs they love, she also enthusiastically
recommends they take courses outside their area of expertise by cross-training in
other groups and positions at the Red Cross.
By expanding their horizons, volunteers can transfer these new skills to
their personal and professional lives outside the organization. That's
not something many volunteer groups can offer.
"Don't think that
only one job is the one that you can do," is a repeated theme of Susan's. Encouraging words for this first-time blog writer.