Honoring Board Members, Volunteers and Accomplishments at 2017 Annual Meeting
Each year,
the Red Cross holds an Annual Meeting for each region to elect new Board
Members, thank and bid farewell to outgoing Board members, and to recognize
accomplishments for the fiscal year. This year, 2017 was no exception. The
event was held at NW Natural. The
company generously donated their facility for our use and provided food and
refreshments.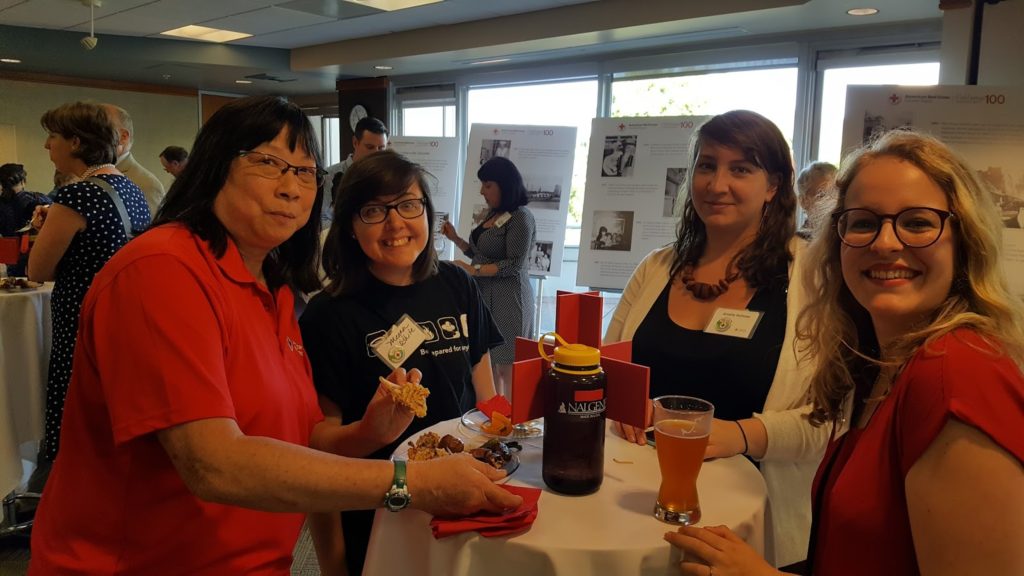 Munching and Mingling at the Annual Meeting
The 2017
Annual Meeting was a millstone marker – the celebration of our Region's
Centennial. We noted this achievement
with centennial displays, including artifacts and a local Red Cross response
timeline at the event.
A number of
changes occurred during the 2017 Red Cross Cascades' Region Annual Meeting. It was a great time to recognize and thank
newly elected and outgoing board members for their outstanding commitment to
the American Red Cross.
Jennifer Van
Houten, a senior vice president with Wholesale Banking Risk Management at U.S.
Bank, has assumed governance responsibility as new incoming Board Chair. Van
Houten has served the Red Cross Cascades Region in a variety of capacities in
the past five years, including as Vice Chair of the Board, Chair of the
American Red Cross of the Cascades Capital Campaign for two years, and Chair of
the Disaster Cycle Committee for a year.
Van Houten
directs a diverse board comprised of 19 individuals representing a variety of
companies in the Portland and Southwest Washington area. This summer, she
welcomed seven newly elected members to the group:
Kelly
Schweiger (KGW-TV)
Jay
Jewess (PGE)
Brad
Houle (Ferguson Wellman)
Laxman
Prakash (Standard Insurance)
Kimberly
Ovitt (OHSU)
Tripp
Robinson (Intel) – Previously a Red Cross board member; now an Honorary
Board Member
"Our local
board is comprised of individuals from many different industries across the
metropolitan area. These leaders represent the business community and many
industries that have the potential to be highly impacted in the event of a
large-scale disaster," said Van Houten.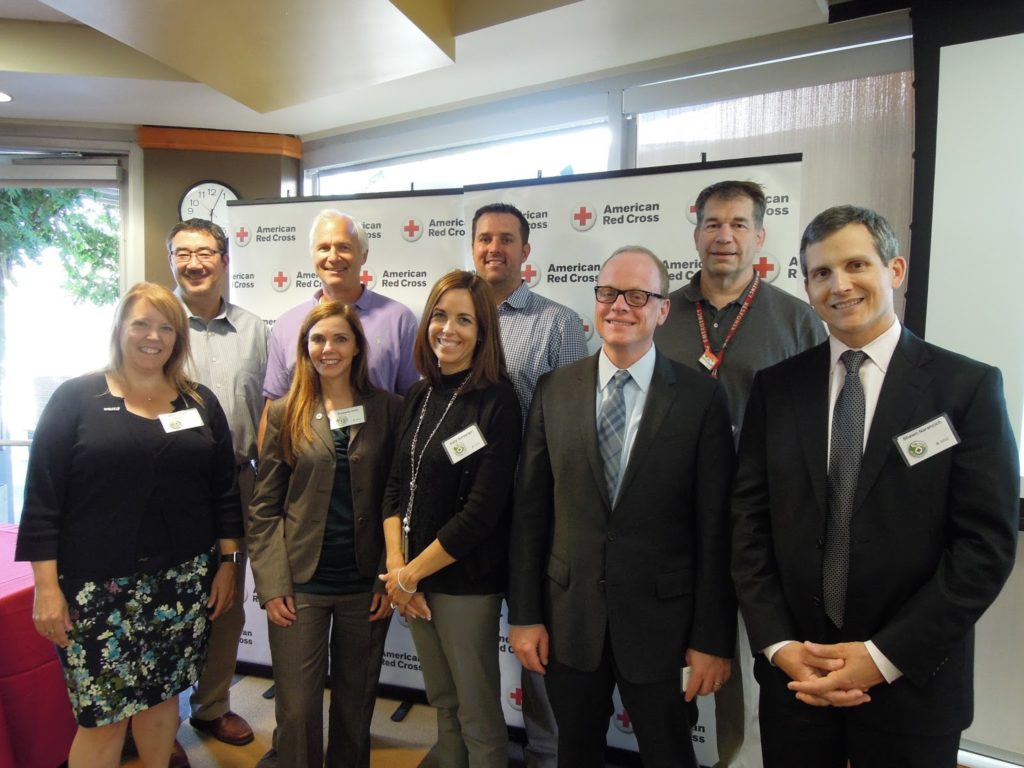 Our Dedicated Incoming and Outgoing American Red Cross Board Members
"The role of
our board members is twofold – to heighten the visibility for the Red Cross
Cascades Region from a fund-raising perspective and to help our community
prepare for the possibility of a major disaster or unanticipated, consequential
event."
Van Houten
notes that current and outgoing board members have spent many years
contributing in both capacities. "They speak at business resiliency workshops,
host employee preparedness events and help install smoke alarms in neighborhood
homes," she said. "They give their time, personal resources and
professional advice to help people and businesses in our community be safe and
prepared."
In addition
to new members, five former board members have recently transitioned out of
their responsibilities.
"We owe this group our deepest gratitude,"
said Van Houten. "The changing of the board is a time for appreciation and
recognition. On behalf of everyone on the board, we want to say 'thank you' to
this group in particular for doing a tremendous job during their board tenure."
Shawn Narancich


started his board service with the Red Cross in 2010 and has served as
Board Chair since 2015. He has dedicated more than 200 hours to Red Cross
board-related and other activities.

Louisa Awbery

joined
the board in 2015. Louisa has dedicated more than 80 hours to
board-related activities and has opened countless doors to help the Red
Cross strengthen its partnership with Fred Meyer.

Jim Meurer


joined the board in 2015 and has dedicated more than 80 hours to
board-related activities.

Dave Lamb


joined the board in 2010 and has dedicated more than 210 hours to
board-related activities.

Tripp Robinson


joined the board in 2003 and has dedicated nearly 500 hours of volunteer
service, including serving as a speaker at Red Cross business resilience
events.
Part of the
celebration included recognizing major events and achievements from the past
year.
With help
from our community partners, the Oregon Office of the State Fire Marshal, we
installed 7,344 lifesaving smoke
alarms. This is a truly incredible achievement resulting in five confirmed lives saved in Oregon
and SW Washington because of Red Cross efforts. Throughout the nation, 260 lives have been confirmed saved,
thanks to the Red Cross; and there are likely many more that have gone
unreported.
Last
fall, an explosion leveled a commercial and residential building in busy NW
Portland. Our volunteers and staff were there to help, even earning a
recognition award from Portland Fire and Rescue for our efforts to help people
affected and to support first responders. And weeks after the explosion, a fire
in a low-income apartment building resulted in the evacuation of 100 residents
who had no place else to go. Yet again, within hours, the Red Cross rallied to
help. We housed, fed and tended to the immediate needs of these people for
weeks. Their gratitude was immeasurable, and several told us they were so
deeply touched by the love of our volunteers that it inspired them to want to
give back through the Red Cross, too.
In addition
to recognizing outstanding achievements, we also recognized outstanding people,
including three volunteers who have gone above and beyond to help the Red
Cross.
Paola Landau was presented with the Exceptional
Service Award, Heidi Shuford was presented with the Volunteer Leadership Award,
and Jesus Montes-Lozano was presented with the Youth Leadership Award.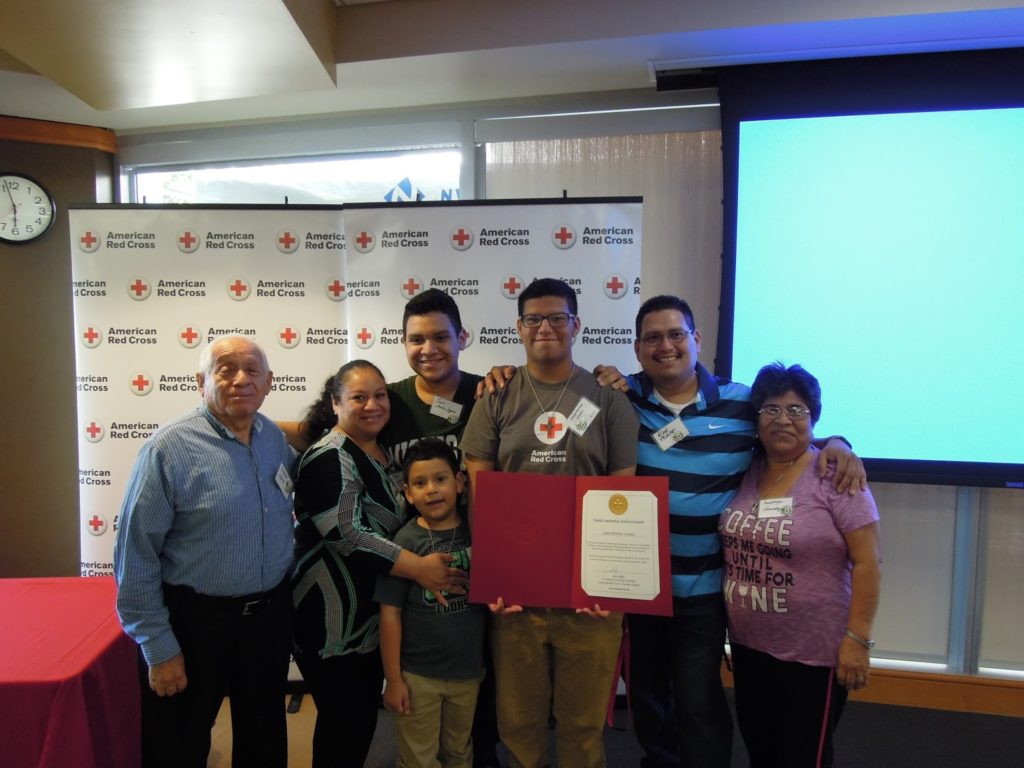 Jesus Montes-Lozano Receiving Youth Leadership Award
Volunteers are the lifeblood of the
American Red Cross. In our region, we have 2,635
dedicated, passionate, get-the-job-done volunteers serving our community in so
many ways.
Over the past
year, more than 264 volunteers deployed
463 times to large scale disasters across the country—in California, Texas,
Louisiana, South Carolina, Georgia and Florida just to name a few —leaving
their families, lives and the comforts of home behind to help strangers in
need.
This past year
our volunteers helped 1,108 families in
716 separate disasters—from home fires to wildfires, floods and
record-breaking winter storms – even a tornado. We operated shelters throughout
the region – from a major apartment fire in downtown Portland to a large gas
explosion in NW Portland and everything in between.