Giving from the Heart on Her Seventh Birthday
In August
2017, local first grader Greta and her family had just returned home from a
camping trip on Mt. Hood after celebrating the end of summer vacation. The
Eagle Creek Wildfire had just erupted only days earlier, and the family was starting to notice a difference in the air quality near the Columbia River
Gorge, where the wildfire was burning.
A few days
later, Greta returned to school where she and her classmates continued to see
the effects of the wildfire.
"We
couldn't go outside for lunch, recess or snack time because it was really
smoky," Greta said.
After
school one evening, Greta and her mother, Amy, sat scrolling through Facebook when
posts from a family friend began to appear. The posts showed pictures of the
smoke and flames as their friend worked to evacuate her mother from the danger
zone.
Greta knew
she wanted to help, but wasn't quite sure how. She and her mom put their heads
together to find the right way to help those who were being affected by the wildfire
so close to their home. Suddenly, Greta had the perfect idea: she was going to
ask her classmates to donate money to the Red Cross instead of giving her presents
for her seventh birthday.
On the day
of her party, Greta made a sign that read, "Red Cross Donations," on the front
and, "Thank You," on the back. She placed it on a table in front of a vase she would
use to collect her friends' donations.
It wasn't
easy to give up all her presents, but Greta still had a fun time with her
friends. She had invited her entire class to her birthday party with special
guest BJ the Clown.
"BJ was
really funny," Greta said with a giggle. "He called me his grandma!"
The party
was so successful that Greta was able to raise more than $300 from her friends'
donations.
"I was so
proud of Greta," Amy said. "Three hundred dollars is pretty good for first
graders!"
Amy knew
Kathleen, a woman from her athletic club, who had mentioned she was a Red Cross
volunteer and had helped respond to wildfires across the region this summer. Greta
and her mom chose to entrust the donations to Kathleen so that they could
safely be delivered to the Red Cross.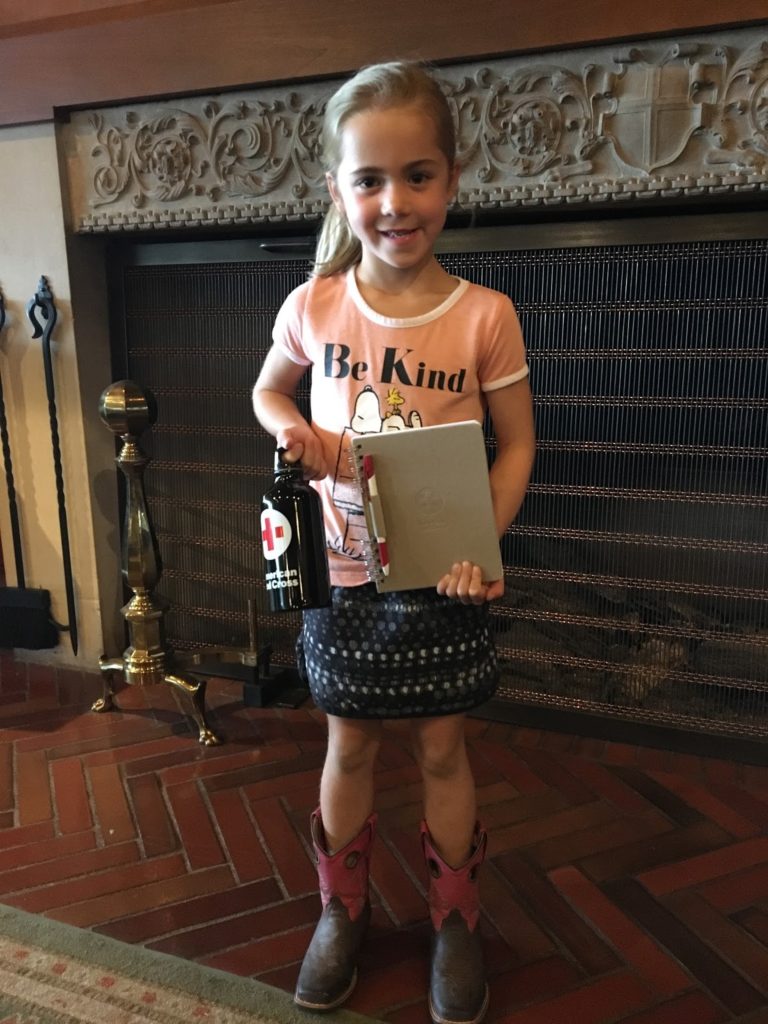 "I really wanted Greta
to be able to understand what it means to make a donation like this to the Red
Cross," Amy said. "She knows now that donating to an organization like the Red
Cross has a personal impact on people in our community."
When Kathleen
returned home after being deployed to help the relief efforts related to the Eagle
Creek Wildfire, she went to Greta's elementary school in Southwest Portland to
show Greta and her classmates how their donations would be helping people. Kathleen
showed the students items that are typically found in a Red Cross comfort kit,
which is designed to help meet people's immediate basic needs following a
disaster.
"She
brought in a Mickey Mouse stuffie, a water bottle, a toothbrush and a blankie,"
Greta said. "She told us that sometimes people forget things because they
evacuate so quickly."
After the
presentation, Greta was given a Mickey Mouse stuffed toy of her own and handed Kathleen
the vase filled with donations.
Greta felt
so encouraged by the generosity of her friends on her seventh birthday that she
is committed to continuing to collect donations for the Red Cross in years to
come. She and her mother have already brainstormed other ways they can collect
the funds.
"Next year,
I want to have a lemonade stand," Greta said. "We'll collect even more!"