Faulty Wiring Sparks Home Fire
"I've heard stories of what the Red Cross has done to help people, but you don't realize how valuable it is unless you're in a situation where you really need it. And I was in a situation where I really would appreciate it," Honbeck says. "It doesn't matter how much a person has when everything you have is destroyed."
Evelyn Honbeck was not
going to leave. Oh, no. Not from the property she'd lived on since 1976. If not
for the Red Cross, she would have slept in the barn.
The fire started
as many do, innocently enough, with a friend's deep freezer
plugged in on the lower patio. It was a relatively new freezer — about six
months old — but it shorted out somehow. And that was that.
"It got the wiring on
fire," says Honbeck, 86 years young. "Got the wall on fire. Then the drapes,
and from then on, it was history."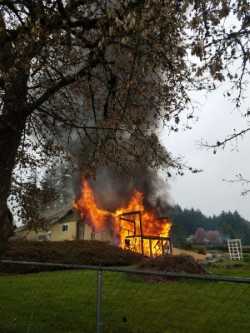 Evelyn's Home of 41 Years
In April, the blaze
destroyed Honbeck's home in rural Dayton, Oregon, about twenty miles north of
Salem, the state capital. The property sits among a checkerboard of open fields
and barns about a quarter mile off the highway, up a rutted gravel road with
scatterings of grass and weed, the neighbors few and far between.
Honbeck had stepped
outside that day for about a half hour to work on her truck. Once the fire sparked,
it spread fast, filling the basement with smoke and pressure that blew out the
door into the house. "That's when I saw the smoke coming out," she says.
At first, all she felt
was disbelief. Her neighbors were her first responders, running to the property
to make sure she was OK. "I just stood there with my neighbors and all I could
say was, 'I can't believe it. I just cannot believe it.'"
It wasn't until things
had calmed down and the firefighters had done their work that someone asked
Honbeck where she was going to stay. Her neighbors assumed she was going with
her son to his home in Independence about 45 minutes south, but she wouldn't
go. There was absolutely no way she was abandoning the property.
"Oh, no," she recalls
herself saying. "I'm staying here if I have to sleep in the barn. I'm not going
to leave the property."
A friend heard that and replied
with an "Oh, no," of her own. She called the Red Cross. Within an hour, two responders had arrived
from the Salem office with a debit card to get Honbeck through the next few
days. They gathered with Honbeck, her neighbors, and fire officials around a
neighbor's table, just talking and working on Honbeck's immediate need: a place
to stay that wasn't furnished with hay.
"It was just really nice
to have them come," Honbeck says, "because I was out there with only the shirt
on my back." She had nothing, not even the use of her car. It had been spared in the carport, but the
keys burned up inside her home..
"It just felt good to be
in a room," Honbeck says. "I didn't eat that night — I obviously wasn't very
hungry." The next day a neighbor took her around to get the essentials and work
on getting her life back in order.
Although it wasn't on the property, the hotel room Honbeck eventually settled in was only a few miles away. It was close to her home and provided a comforting refuge that first night.
Honbeck's home is being
rebuilt slowly. Her insurance company has taken over and is allowing her
to stay on the property, the place she didn't want to leave.
When asked about the Red
Cross responders that fateful day? "They were a godsend."