Saved by the Sound of the Alarm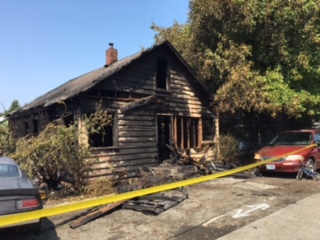 After the Fire
August 11, 2017 dawned
disastrously for Terhesa Dollarhide and her children. "The smoke alarm woke me up about 4:30 in the
morning," she recalled. Terhesa saw her
kitchen engulfed in flames and quickly got her two children out of their home. Within a few minutes the
Dollarhide home near Medford was gone.
Although much of the home was burned
down to the studs, no one in the Dollarhide family was injured. Red Cross responders Chuck and Patty Albin came
to help, providing the Dollarhides with blankets and other basics like toiletry
items so they could brush their teeth. The children received stuffed Mickey
Mouse dolls to help comfort them.
Patty said, "We gave out a
resource guide specific to the local area.
Resources in the guide include information on such organizations as the
county housing authority, churches, insurance agencies and thrift shops. We also gave Terhesa general Red Cross
information and financial assistance to help the family buy clothes, food and
other necessary items."
Fortunately, because other
family members lived nearby, Terhesa and her children were able to stay with
them. Terhesa emotionally related that
the Red Cross was quick to offer their help.
"The information the Red Cross gave me was good. There were many resources for us. The
responders continued to call to make sure we had what we needed, and I
appreciate their help."
Patty added, "Once the responders
leave, the case is turned over to someone within the Red Cross to follow
up. They call the family to make sure
they are on the road to recovery. They
offer guidance. This follow-up may last
for 45 days or longer, if needed."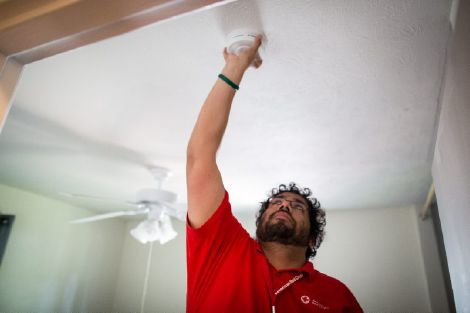 Red Cross Volunteer Installing Smoke Alarm
Steve Parks, Lead Fire
Investigator at the Grants Pass Fire Department, said the fire was
aggressive. "Because of the age and
design materials of the home, it became a big fire very quickly."
"It is very important to have a
working smoke alarm," emphasized Steve.
"It's a good idea to change the batteries when we set our clocks back in
the fall and again when we move them ahead in the spring." He added that emergency fire drills should be
done at home on a monthly basis.
The Red Cross has provided and
installed more than 1 million smoke alarms since we launched our Sound the
Alarm campaign in 2014. As a result,
more than 285 lives have been saved. To
learn more about this program and how you can receive a fire alarm, please
visit redcross.org/CascadesHomeFire.