The Home Fire Campaign Celebrates a Monumental Milestone!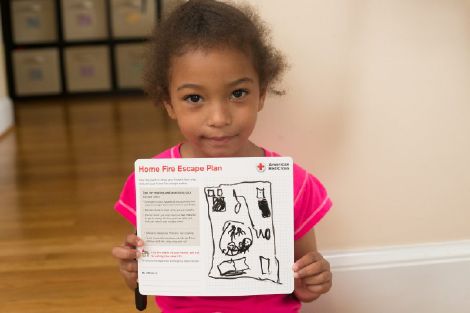 Does Your Family Have an Escape Plan in Place?
As of November 2, 2017, the Red Cross has installed 1
million smoke alarms, and 285 lives have been saved. Candace Horter, Regional Chief Executive
Officer of Red Cross Cascade Region, is "grateful to everyone who has supported
our Home Fire Campaign. Red Cross volunteers have been working hard along with
local fire departments and our community partners to reduce home fire
tragedies."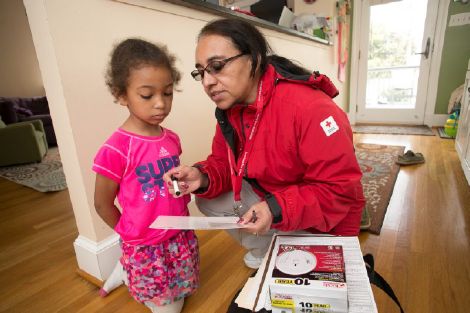 Explaining the Escape Plan
Horter explained that since 2014, Red Cross volunteers
and our 4,400 partner organizations have conducted home visits to install free
smoke alarms, assist families with developing fire escape plans, and provide
home fire safety education. This campaign
has reached nearly 895,000 kids through youth preparedness programs. It also helped create more than 340,000 home
fire escape plans and replaced more than 51,000 dead smoke alarm batteries.
The success of the Home Fire Campaign is made possible
thanks to the generous financial donations from our national partners: Almost Family, Delta Air Lines, and
International Paper. The Red Cross has
also received funding from FEMA through the Assistance to Firefighters Grant
Program. We're very grateful for this
support.
This spring, the Red Cross will issue our Sound the Alarm campaign, which is a
series of events dedicated to home fire safety and smoke alarm installations. From
April 28 to May 13, 2018, the Red Cross plans to install 100,000 free smoke
alarms across more than 100 major cities.
Our partner organizations will participate as well.
Volunteers and financial contributions are still needed. Please join us by
volunteering to install smoke alarms in your community, making a financial
contribution, or taking steps to protect your own family from home fires.
Together, we can
Sound the Alarm
about fire safety and help save lives. Visit
SoundTheAlarm.org
for more
information.