A Day in the Life of a Red Cross Responder Team in Puerto Rico
Early on Wednesday, September 20,
Hurricane Maria — a powerful Category 4 hurricane with 150 mph winds — made direct
landfall
on Puerto Rico. It was described as
"apocalyptic" for the island's 3.4 million residents.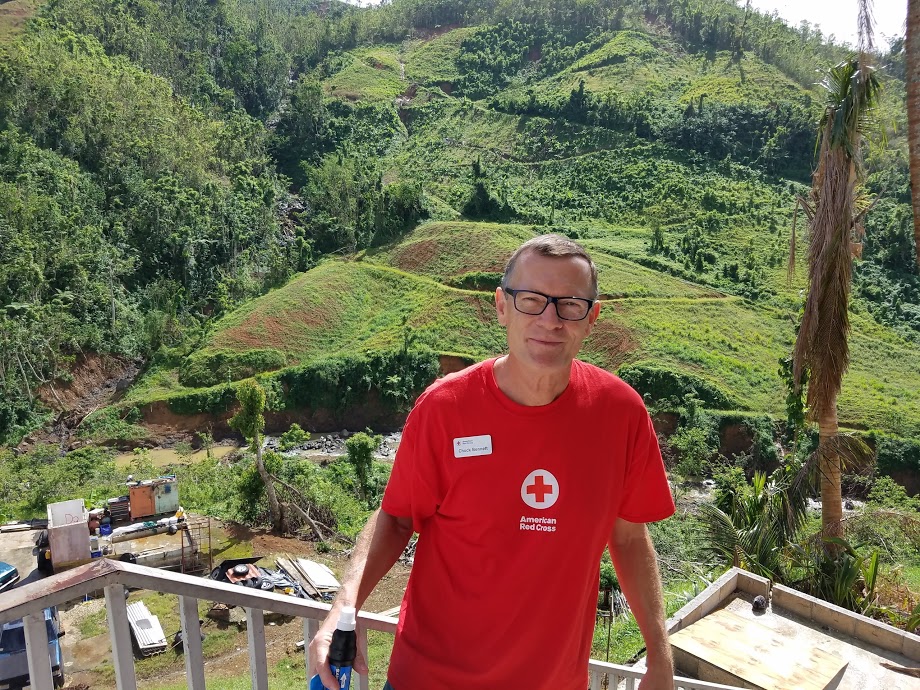 The local Red Cross sent a total of 13 responders to Puerto Rico to help. Red Cross responder Chuck Bennett, from Turner, Oregon, was one of the people who traveled to help and was assigned to go out in a team of two to an area called Mana. His partner for the day was a new responder, 22-year-old
Kimberly Moors. The vivacious Belgium
native has been living in Puerto Rico while attending the University of Puerto
Rico and is fluent in Spanish, English, Dutch and French.
The team picked up water filters,
solar-powered lights, and other supplies before heading toward the remote area
of Mana. Along the way they had to
navigate narrow, steep mountainous roads and their first of many washed-out
bridges.
Once in the Mana area, the team started
going door to door, with Kimberly knocking and announcing loudly in Spanish who
they were and what their intent was. When
Chuck and Kimberly found someone at home, they gathered together the home owner
and nearby neighbors before giving their 10- to 15-minute training session on
how to use and maintain the water filters.
After they filtered the dirty water, Chuck and Kimberly took a drink of
the newly purified water to demonstrate their confidence in the filters.
Despite many hazardous driving challenges,
Chuck and Kimberly managed to deliver filters, solar lanterns, and supplies to
about 35 families that afternoon.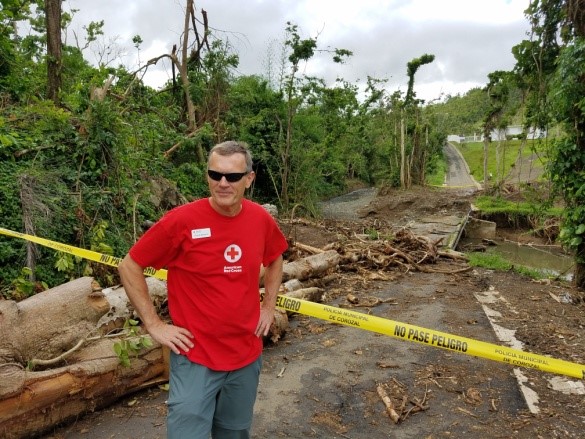 Surveying the Washed-Out Road and Bridge
Chuck says, "In every case we were met
with 'gracias mil' (a thousand thanks) over and over. Basic needs like a dry roof overhead and drinking
water, not to mention food and medical attention needed to be met for millions
after the storm. Despite the hardships, the local people had an amazingly
positive attitude. One woman we helped was
staying in a one-room shack with her two boys.
The shack used to be a four-room house built on a steep hillside, but it
had been blown away during the hurricane."
Another woman told the team about a nun, Sister
Louisa Rodriguez, who lived a few miles away. The woman was very worried about Sister
Louisa because the nun was 85 years old, in poor health, and living without
power or water. The woman drew a map for
Chuck and Kimberly, and even though it was getting late and out of their
assigned area, they knew they needed to check on her.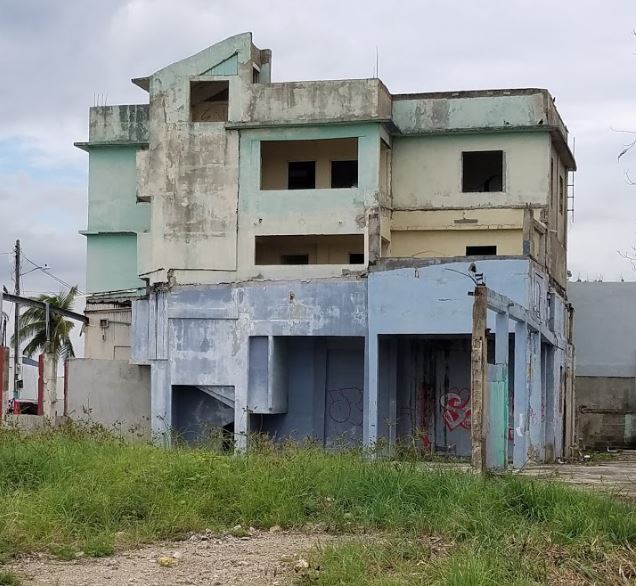 Damaged Apartment Building
As Sister Louisa emerged from her home,
she shuffled down her steep driveway to greet Chuck and Kimberly. "You are an answer to my prayers," she said relieved and smiling. The team learned Sister Louisa
had lived in the U.S. for 40 years, including Oregon during the 1960s.
After Sister Louisa invited Chuck and
Kimberly inside of what was left of her home, it became clear that she was living in darkness every night (sunset is 6 p.m.) and with no running water. Plastic bottles filled with dirty water were
stacked in the kitchen to wash dishes and in the bathroom to flush the toilet. Chuck said, "The water filters we gave Sister
Louisa and her neighbors would give them sustainable clean water to drink and
wash with. The Red Cross also provided
solar-powered lights that could be used for many hours every night and would last
for a year or more. Sister Louisa's attitude mirrored that of all the citizens
we served that day—extremely grateful and remarkably positive."
Chuck added, "Our heads told us we should
get down from the mountains before dark, but our hearts told us we needed to
spend some time with this remarkable woman, so we lingered longer."
It was dusk when the team started their
journey back to San Juan, and soon a rainstorm and complete darkness set
in. The roads are so narrow and winding that
even in daylight, passing oncoming traffic is a risky challenge. With heavy rain, no street lights, no lane
markings, and washed-out bridges, Chuck and Kimberly had serious white-knuckle
driving. They finally reached the
suburbs of San Juan about 7:30 p.m., grateful to find something to eat and to change
into dry clothes.
According to Chuck, "The day was full of adventure and challenges. But it was rewarding beyond measure because
we got to serve these wonderful people."