The 21st Annual Red Cross Hero Awards: Celebrating Our Local Community Heroes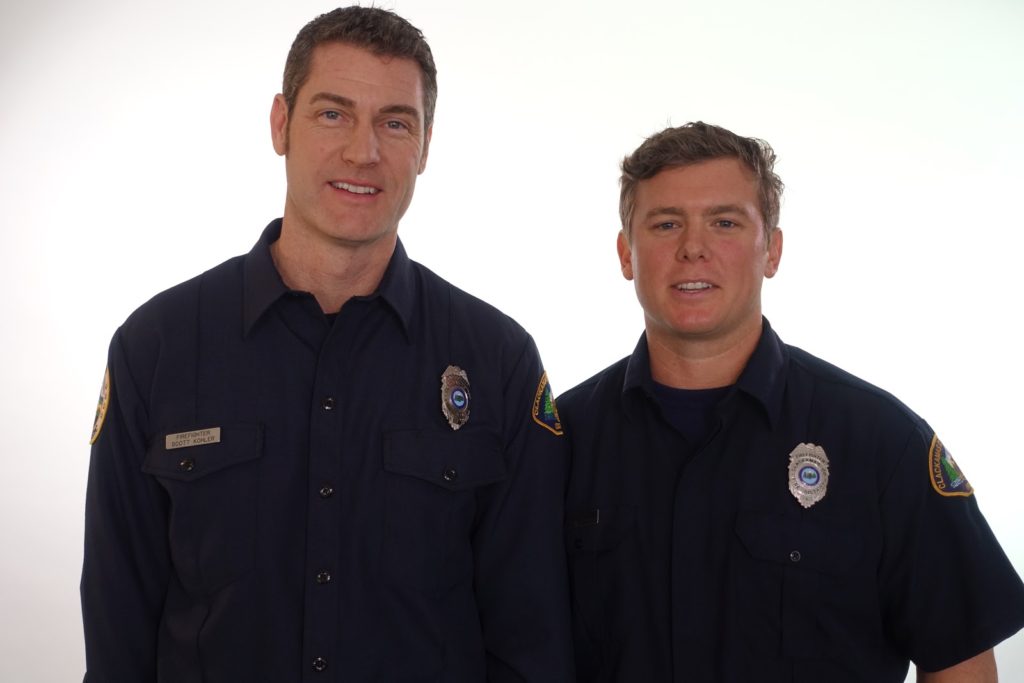 L to R: Firemen Scott Kohler and Matt Towner
In a morning full of surprises, nothing
quite beat the looks on firefighters Scott Kohler and Matt Towner's faces when
they reunited with a woman they had saved from a burning home "so hot," they
said, "that the carpet beneath our feet literally melted." Kohler and Towner
were honored as First Responder Heroes
at this year's Hero Awards Breakfast.
In September 2017, Scott and Matt – along
with crews from Clackamas Fire District #1 and Portland Fire and Rescue –
responded to a two-alarm house fire in Happy Valley, Oregon. Dea Hammons, visiting from Kansas City, was
trapped upstairs and unable to escape. Although it took only seconds for Scott
and Matt to reach her, at that point there was no longer anywhere to exit the
building other than through her window on the second floor.
"We were cut off," said Matt. "The fire
was happening so fast. The carpet was
melting from the heat and we saw the fire coming over the ceiling. The only way out was through the window, but we
couldn't get a ladder in time. We had to use our bailout method. It's meant for firefighters to escape, not
exactly to help victims of fires. It was unorthodox."
As they waited for a ladder truck to arrive,
Scott climbed out the window, hanging on to his bailout rope and bracing his
knees and shins against the house. Then Matt
helped Dea roll onto Scott's lap. After
Matt used his own rope to exit from the window, the two firemen kept Dea
balanced on Scott's lap while they hung suspended waiting for the ladder to arrive. Capt. Kyle Olsen knew their
location and had dispatched Andrew Brian, the Apparatus Operator, with a ladder
just in time. Moments later the house
was completely engulfed in flames.
Matt said, "Part of the reason the rescue
was successful was because Dea stayed so calm and cooperated. While we were securing our ropes, she waited
on the edge of the bed until we said 'we gotta go now' and she did what we
asked. Sometimes people get panicky,
especially in extreme heat and fire." The temperature of the ceiling fire was
somewhere between 700 and 1000 degrees.
Dea added, "I had made my peace. Before they showed up, I figured I was gonna
die. This was it."
Thanks to the firemen's brave actions, Dea's
life was saved. Deflecting praise, the firefighters
credited their fire department for giving them the "tools and training to be
successful."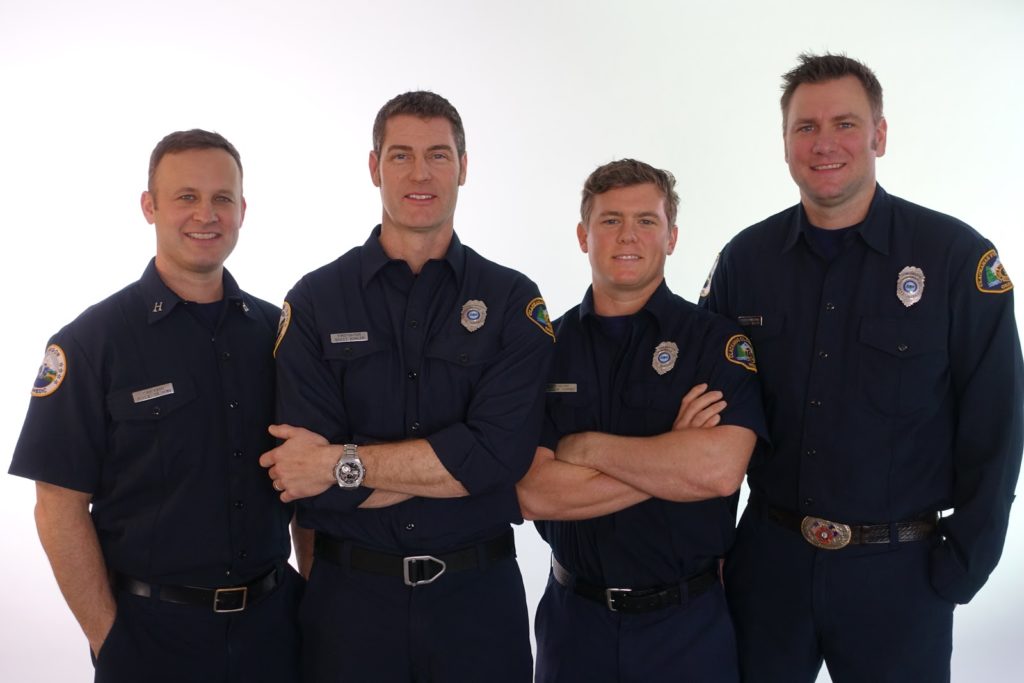 L to R: Capt. Olsen, Fireman Kohler, Fireman Towner, and Fireman Brian
The surprise reunion between the firemen
and the woman they rescued nearly brought the house down at the Hero Awards
event.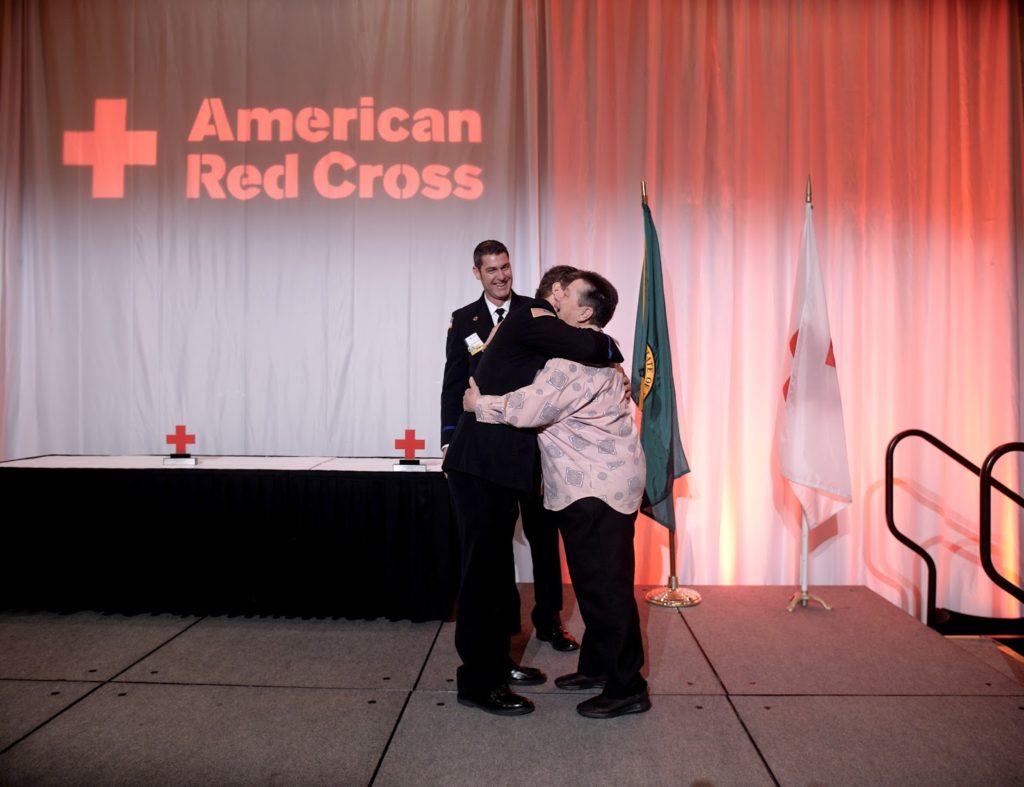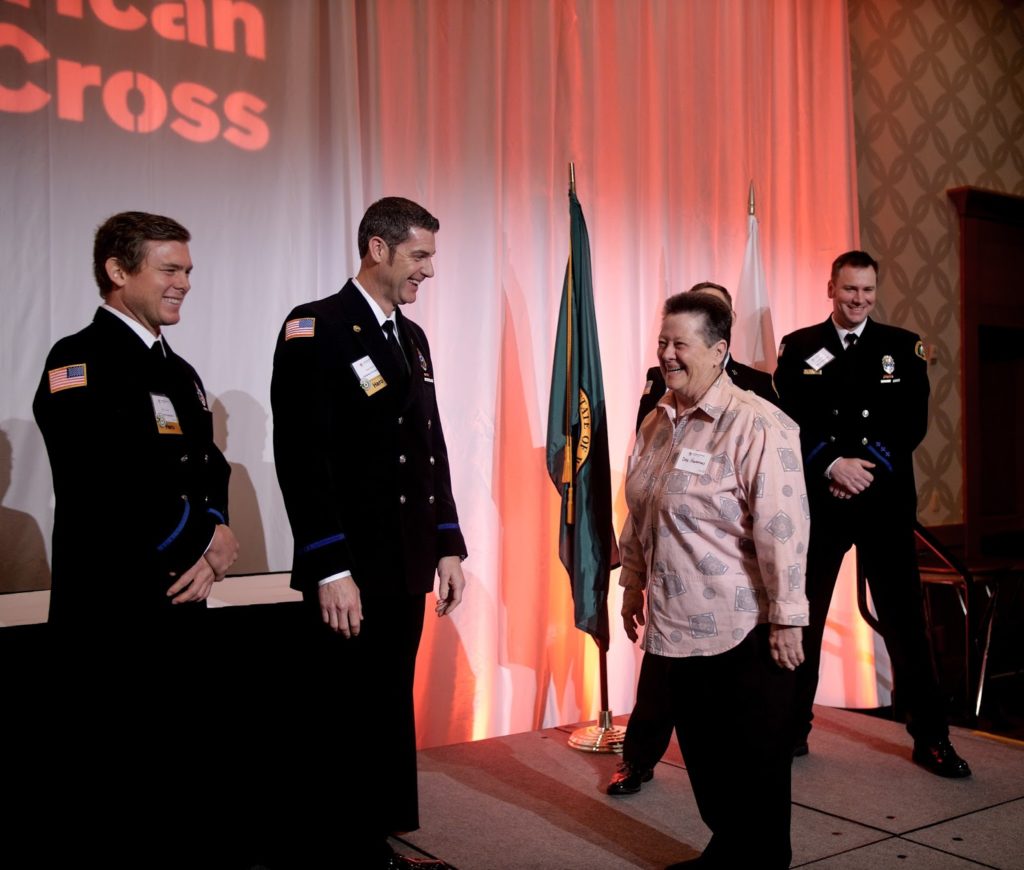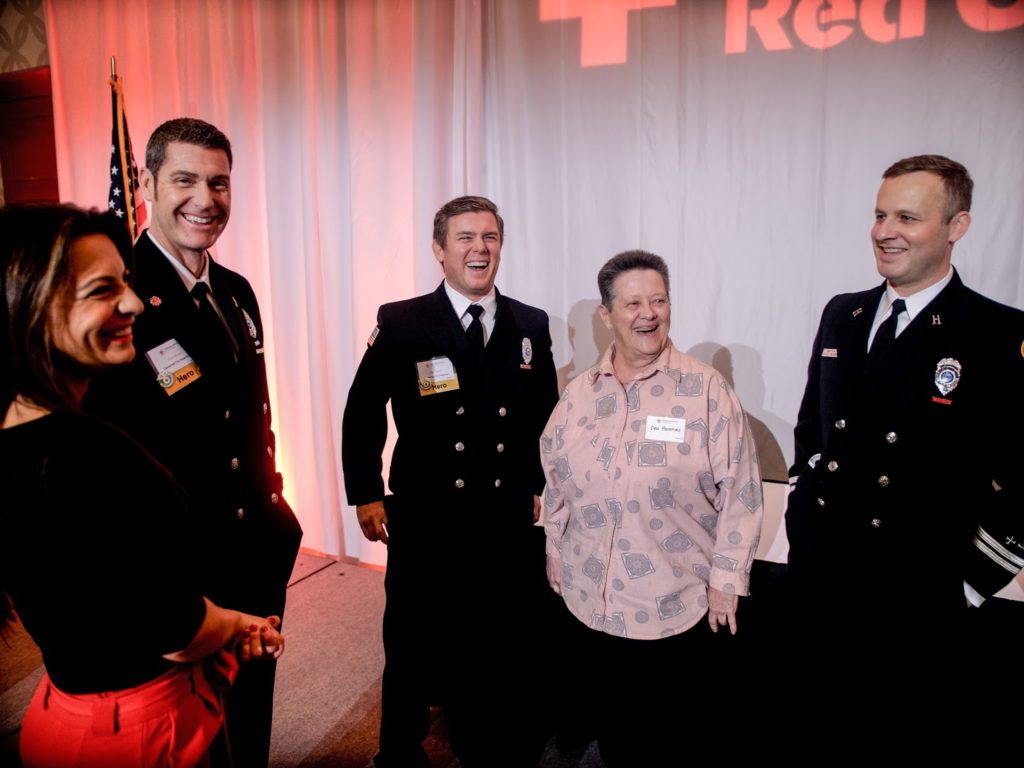 How
Do You Spot a Hero?
Heroes tend to show up in unexpected
places and in unexpected ways. They show up at front doors to install smoke
alarms. They offer comfort to victims of home fires. They transport animals away
from danger; stage volunteer blood drives; and save lives with their quick
thinking and with tools as simple as a rope, a telephone, or a horse trailer.
They are ordinary people who commit extraordinary acts of bravery.
This year, The American Red Cross honored
a number of other incredible Hero Award winners at its 21st Annual
Hero Awards Breakfast held on March 9th.
A Morning
Full of Surprises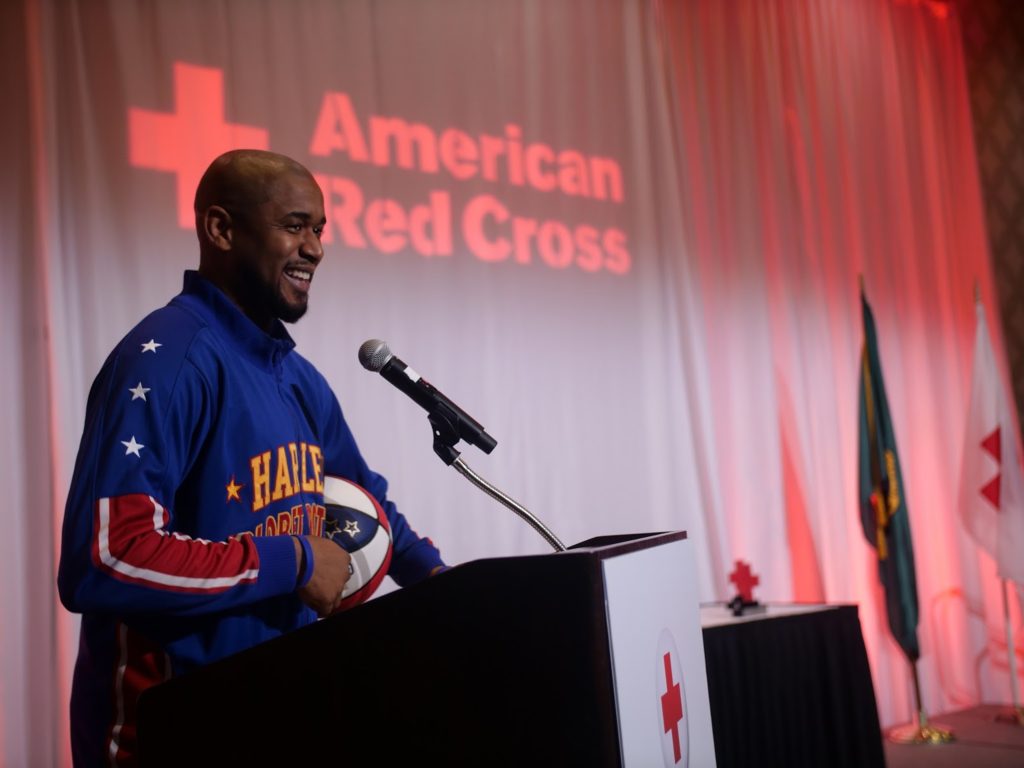 Harlem Globetrotter, Scooter Christensen,
showed up to open the event with a few basketball tricks. Known for his ability
to spin a basketball (the longest ever, according to the Guinness Book of
Records) on his nose, no less, Scooter said he came to the event to honor a
teammate from New Orleans who lived through Hurricane Katrina and a coach
affected by recent hurricanes in Houston.
"The Globetrotters are partners with the
American Red Cross," he said. "It's the perfect marriage. We are two
organizations that put smiles on people's faces."
The morning's local Hero stories inspired
Scooter in more ways than one: "I came full circle to understanding my teammate's
and coach's stories – and how the Red Cross helped them in times of need," he
said. "And now, having heard stories from this morning, I plan to go home to my
family and make sure that they have a safety plan."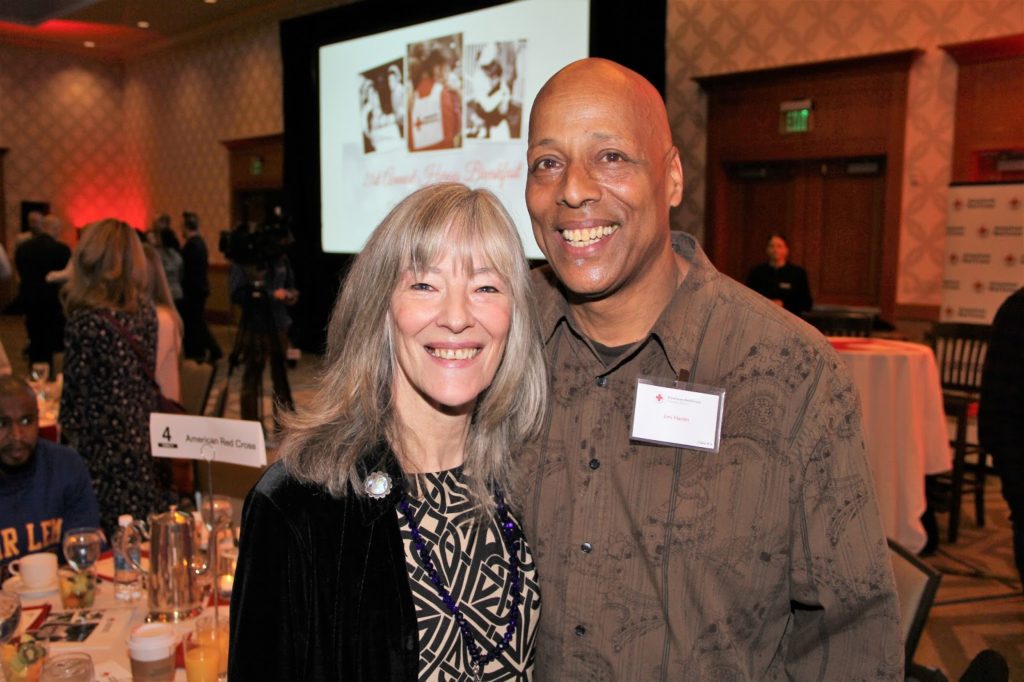 L to R: Stevie Mercer and Jimi Harden
Stevie Mercer and Jimi Harden surprised
the audience with a detailed account of their home fire. This brave couple knew
what to do in the event of a fire, thanks to Red Cross volunteers who set up
their smoke alarm. When Stevie and Jimi
needed it most, they remembered they had less than two minutes to get out of
their home, which caught fire in 2016. They survived the blaze and
credited the Red Cross for their quick life-saving decisions.
Said Stevie, "Today's event drives home
the fact that we are all in this together and just how important it is for
everyday citizens to make a difference."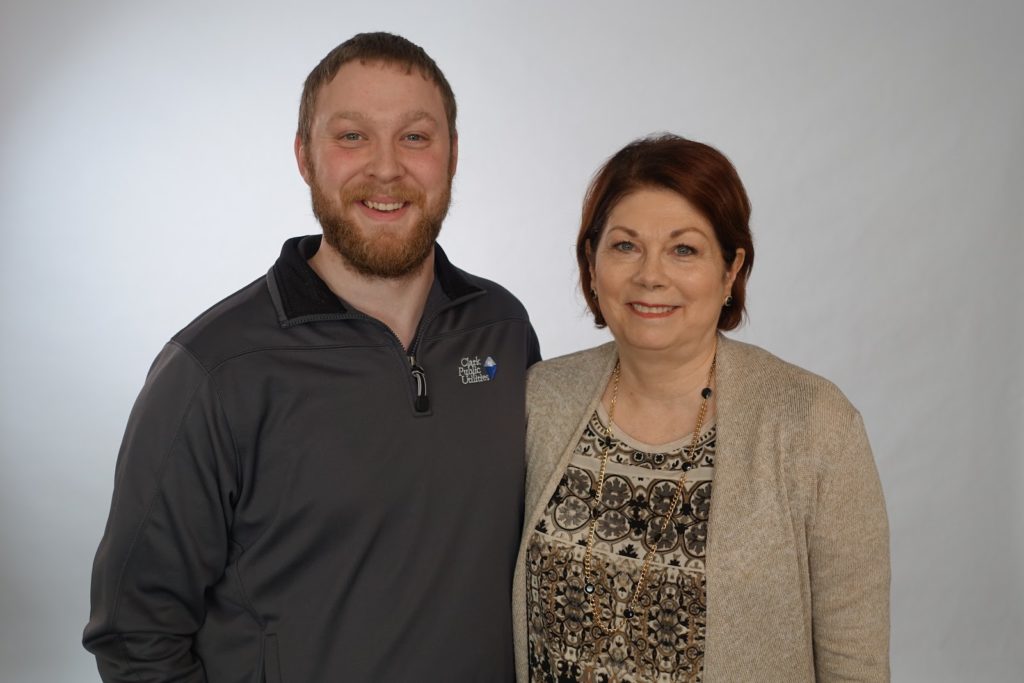 Josh Vincent and Laurel Faught
Josh Vincent, a customer service rep with
Clark Public Utilities, was honored as the Adult
Good Samaritan Hero. During a
service call he realized his customer, Laurel Faught, needed medical attention. He called 911 for her and kept talking to Laurel
until help arrived. Emergency responders
said without Josh's concern for Laurel and calling for help in time, she would
have died.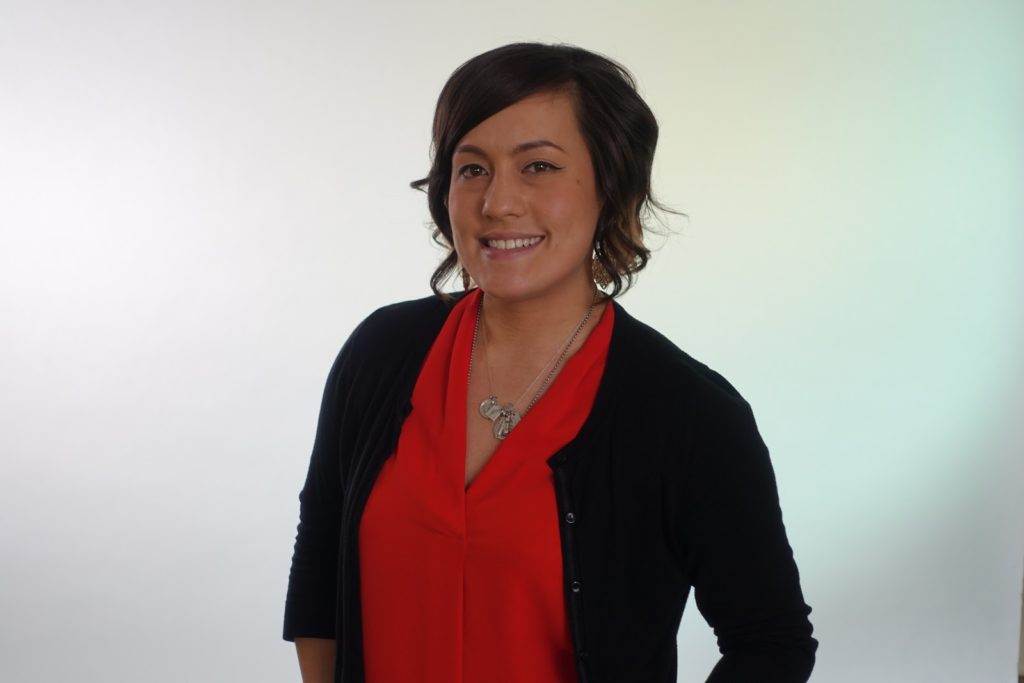 Crystal Mai Purdy of Lincoln Memorial Park and Dignity Memorial received an award as a Military Hero for her work serving
veterans after deployment and in their final years of life. She works
tirelessly to help lay veterans to rest with proper military honors. Crystal spent her early years growing up in
Japan and has always admired the way the Japanese people honor and revere their
elders. Crystal strives to bring that
same dignity to our vets, and especially to those that have become
homeless.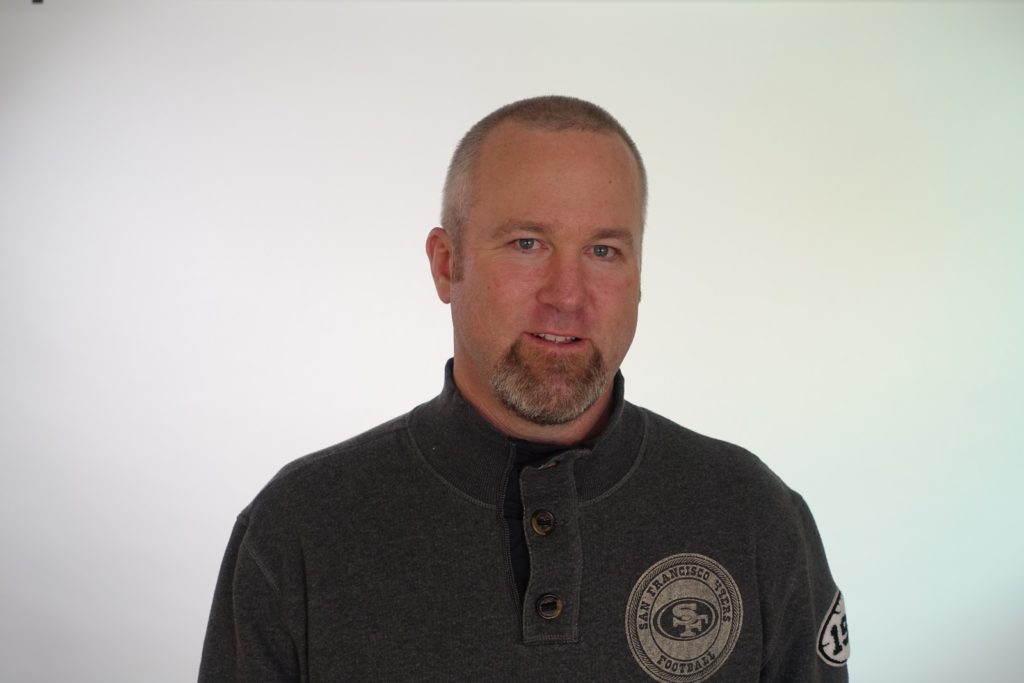 Brandon Parsons received the Give Life Hero Award for organizing a
blood drive as his way to "give back" after his accident on a construction
site. His injuries were so severe that
his right leg was amputated. Brandon
needed multiple surgeries and 29 units of blood to survive. He says he's grateful to the donors who gave
blood before he needed it and continues to "pay it forward" for other people in
need.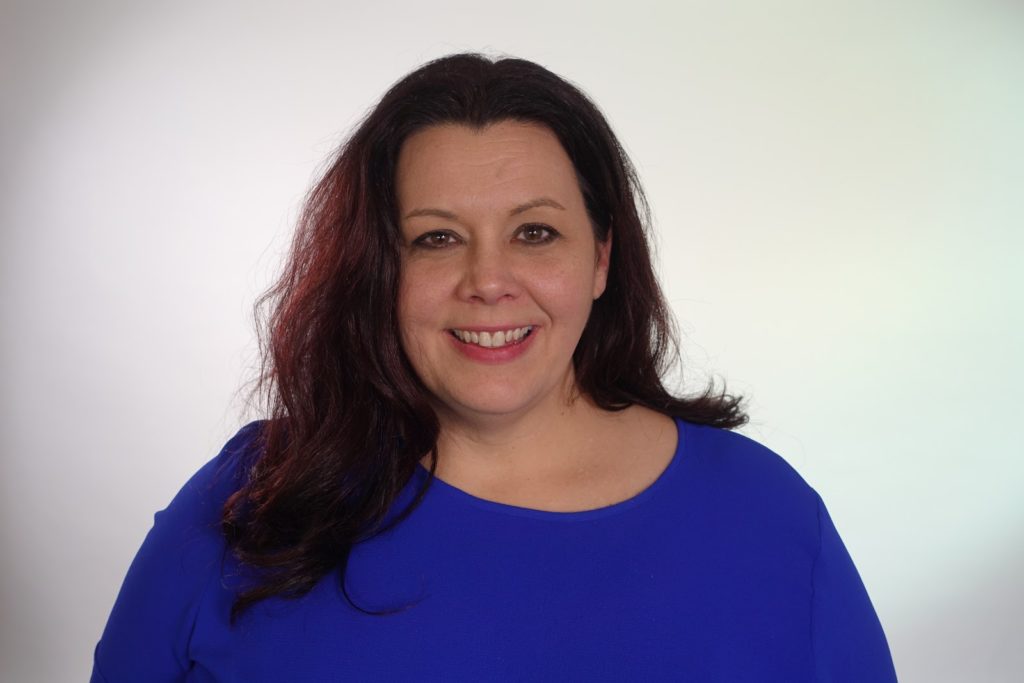 Kim Mosiman of Sound Equine Options was
honored as a Community Hero. During
the September 2017 Eagle Creek wildfire in the Columbia River Gorge, Kim
mobilized her vast network of animal owners and volunteers to coordinate a
rescue effort for hundreds of livestock, particularly horses and other large
animals that were in the path of the massive wildfire. She credits her team of volunteers for saving
and sheltering so many animals in the crisis.
She said one memorable moment was when one of the volunteers opened the back of
his truck and told his dog to round up the animals scattered in a field. Firefighters
told the man his dog had only five minutes.
No one thought the dog could do it.
But he did. The dog corralled all
the animals into the truck in time, sparring their lives.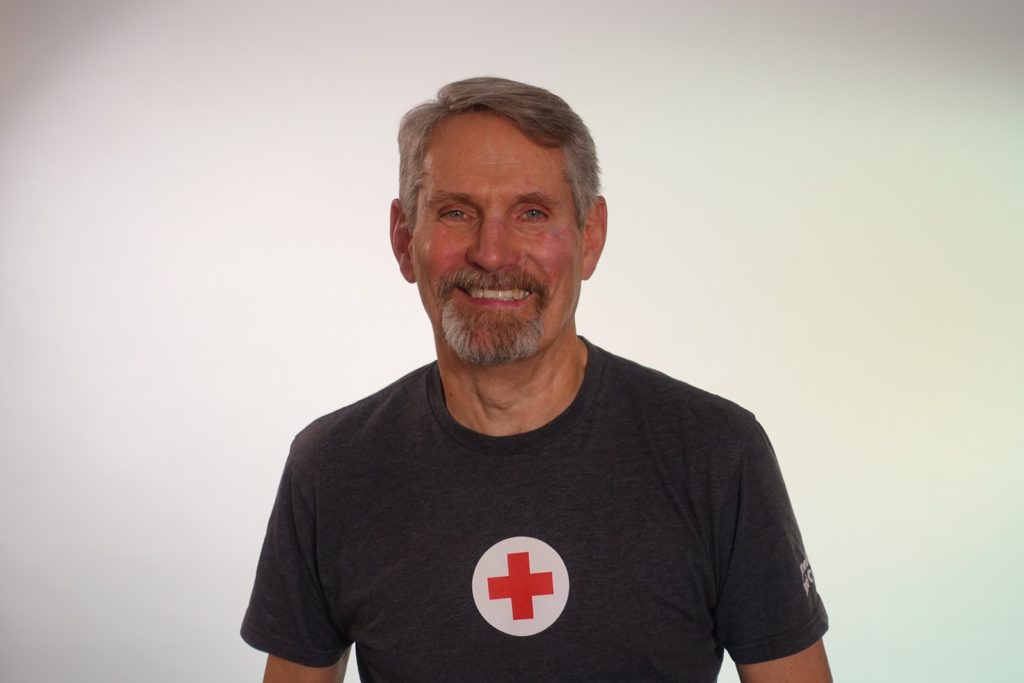 Jack Crowell is an extraordinary Red Cross
volunteer whose skills and contributions are numerous. He was given the Voluntary Service Hero award for helping
make the Warm Springs Indian Reservation in Central Oregon safer through smoke
alarm installations and delivering home fire safety education. With this
objective in mind, Jack reached 470 people in the Warm Springs community in one
year, which is nearly 16 percent of the total Warm Springs population.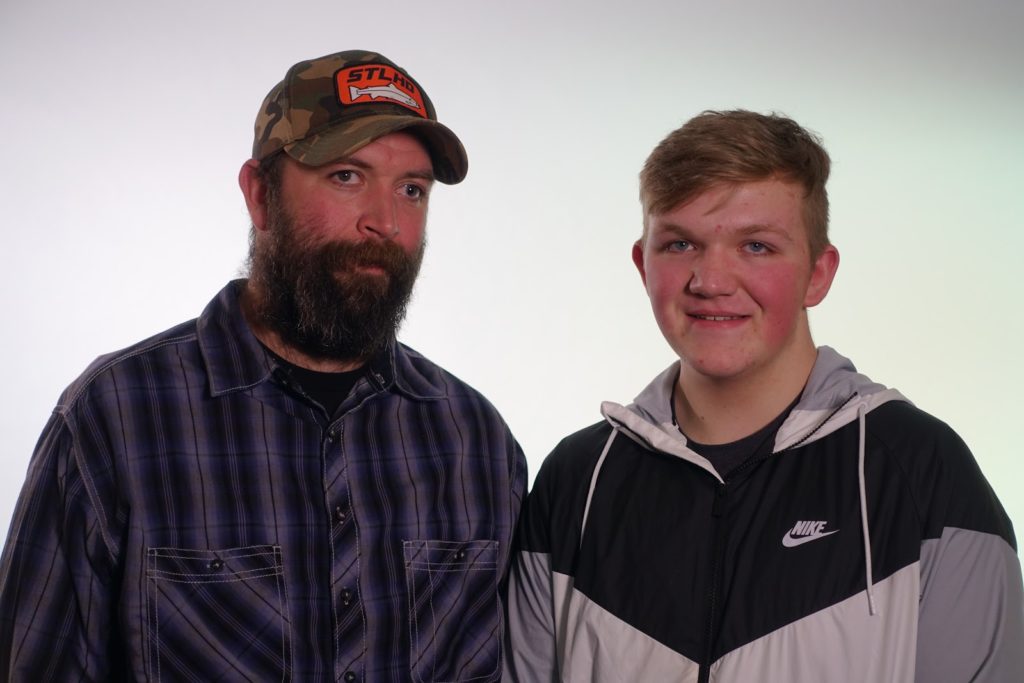 Father and Son
Zach Rodgers received the Youth Good Samaritan Hero award for
performing CPR on his father, Ryan, when he suddenly went into cardiac arrest one
night in 2017. Zach knew what to do,
"for a reason," he said. Zach was honored because without his quick thinking
and actions, his father would not be here today.
In addition to these Hero Award recipients,
the American Red Cross recognized its more than 3,000 heroes in the Cascades
region who proudly wear a Red Cross vest. These Red Cross heroes respond day
and night to help an average of three families displaced by disasters every
single day. They open disaster relief shelters and provide resources to help
people recover after their lives have been torn apart by fire, flood, tornados and
other disasters.
For most of us, saving someone's life is
an unexpected event. For the 56,000
disaster workers mobilized across the nation in 2017 – 92 percent of them volunteers
– saving lives is not so unexpected. They will tell you it's a mission in which
life-saving is the most important, desired outcome.
To all the recipients of this year's Hero
Awards: Well Done! Thank You!
To watch their Hero videos and see more photos from the event visit, https://spaces.hightail.com/space/6MrPKCBhff