Meet Tim Foskett, Local Descendant of Red Cross Founder, Clara Barton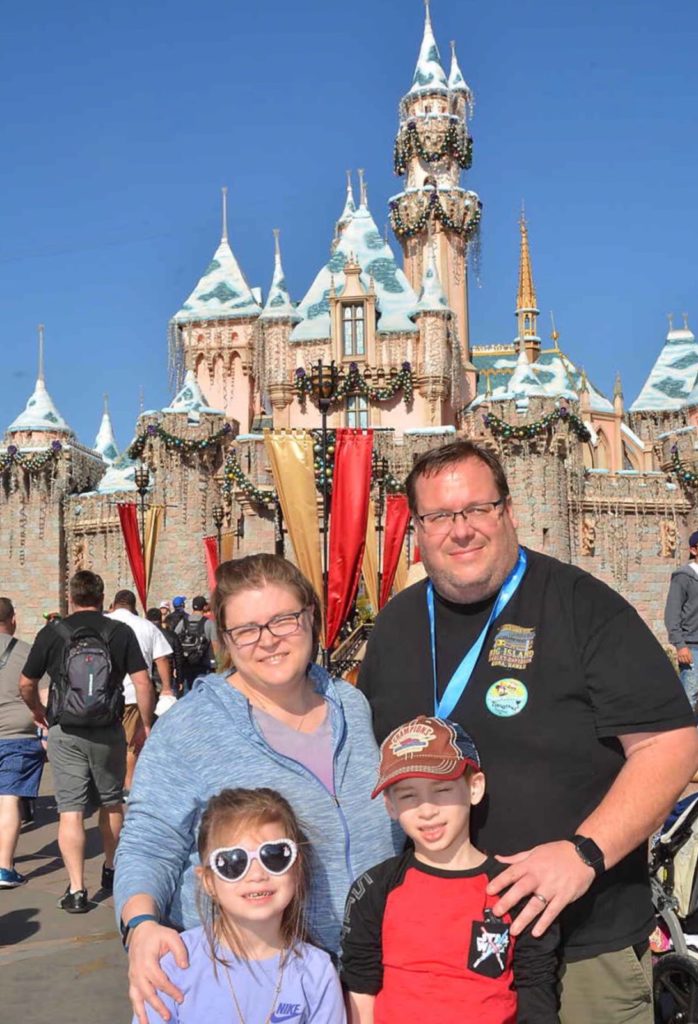 The Foskett Family on Vacation
Last
December the Red Cross was the beneficiary of a special fundraiser featuring the talented and
funny Harlem Globetrotters basketball team.
The event, known as Pass the Bucket, collects money from event-goers to support Red Cross disaster relief services. It was staffed in part
by volunteers from Dick Hannah Dealerships. However, it soon came to the attention of Red
Cross organizers that one of the Dick Hannah volunteers has a unique connection with the Red Cross. He's Tim Foskett, a local descendant of our beloved Red Cross founder, Clara Barton.
"Clara
had a big heart and loved everybody. She
believed you should treat everyone the way you want to be treated yourself," says
Foskett.
According
to Foskett, his relationship to Barton is one of the "favorite fun facts" he
has about himself. While his exact
relationship to Barton has been lost to time, he estimates that he is her
fourth or fifth great nephew on his mother's side of the family. Barton never
married or had children herself, but Foskett's grandmother, Ruth Barton, was Clara
Barton's second or third great niece. Born in 1916, just four years after Clara
Barton's death, his grandmother provided him with his closest family link to their
famous ancestor, and she spoke of this special heritage often.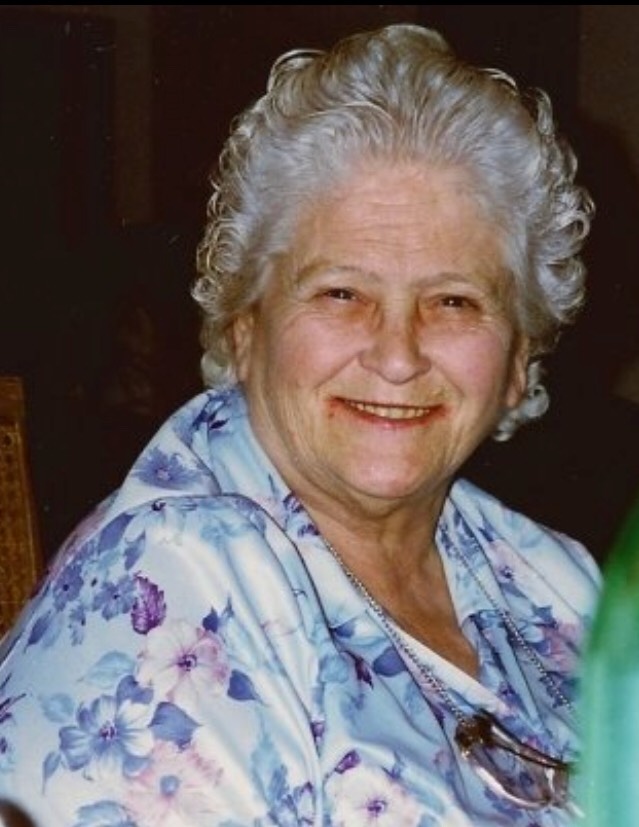 Grandma Ruth Barton
When
asked how his relationship to Barton has impacted his life, Foskett described his
family's focus on providing service to their community. His grandmother,
especially, placed a strong emphasis on community service, and she instilled
the same commitment in other family members. She often reminded her
grandchildren of the importance of giving back.
"She also praised us for serving others by telling us, 'Clara would be proud
of you for carrying on,'" Foskett remembers fondly.
Foskett
himself shares much with Clara Barton, including her Dec. 25 birthday and a
lifelong devotion to serving others. In recent years, this service has been
centered on serving as a board member of his son's Little League. However, he started working with the Red
Cross at an early age. By the time Foskett was 12 or 13, he was not only Red
Cross CPR and first aid certified, but he had also become a certified
instructor. Now as an adult, Foskett is
a disaster responder for the Red Cross.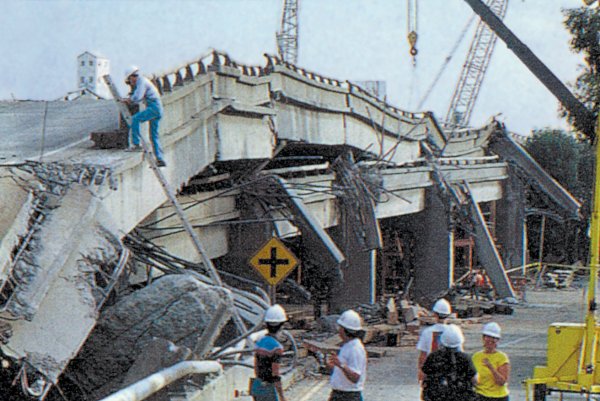 Overpass Collapse at Cypress and 32nd
(photo: U.S. Geological Survey)
While
living in Hayward, California, in 1989, Foskett happened to be in one of the
lucky last cars that made it across the Cypress viaduct in Oakland before it
collapsed during the 6.9 Loma Prieta earthquake. This catastrophic quake shook California from
its epicenter in the Santa Cruz mountains up through San Francisco and Oakland,
60 miles away. Sixty-three people died, forty-two of them at the Cypress viaduct. Another 42,000 people became homeless.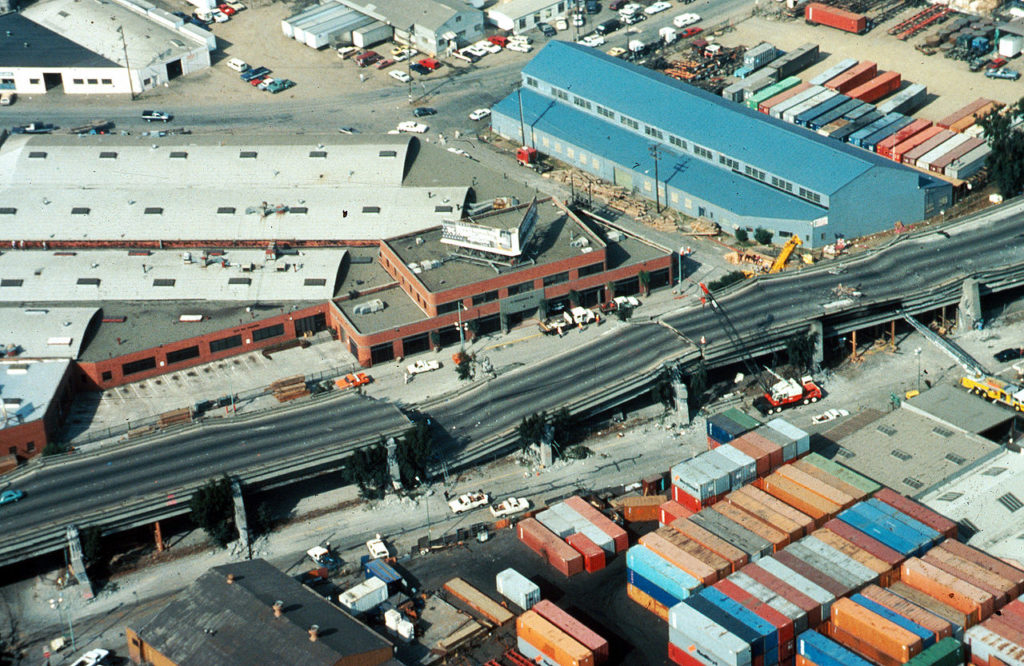 Aerial View of the Buckled and Collapsed Freeway (photo: U.S. Geological Survey)
The situation was harrowing for everyone, but
Foskett was able to assist rescue workers at the site as a Red Cross volunteer. He was assigned to a Red Cross Emergency
Response Vehicle (ERV), which contains blankets, water, food, toiletries, masks
and comfort kits that responders deliver to people in need.
People
joke that California has four seasons:
earthquake, fire, flood, and drought.
Foskett survived the 1989 earthquake season just in time for the Oakland
Hills firestorm of 1991. Wind generated by this fire was so strong that it blew
ash and debris across the bay into San Francisco. At the fire's peak, it destroyed someone's
home every 11 seconds. Foskett helped
first responders again, this time at the hilltop fire lines on Broadway Terrace
and Skyline Blvd. More than 1,500 urban acres
were destroyed, creating an eerie aftermath.
"It looked like a moonscape—gray ash everywhere and nothing but empty [home]
foundations," remembers Foskett.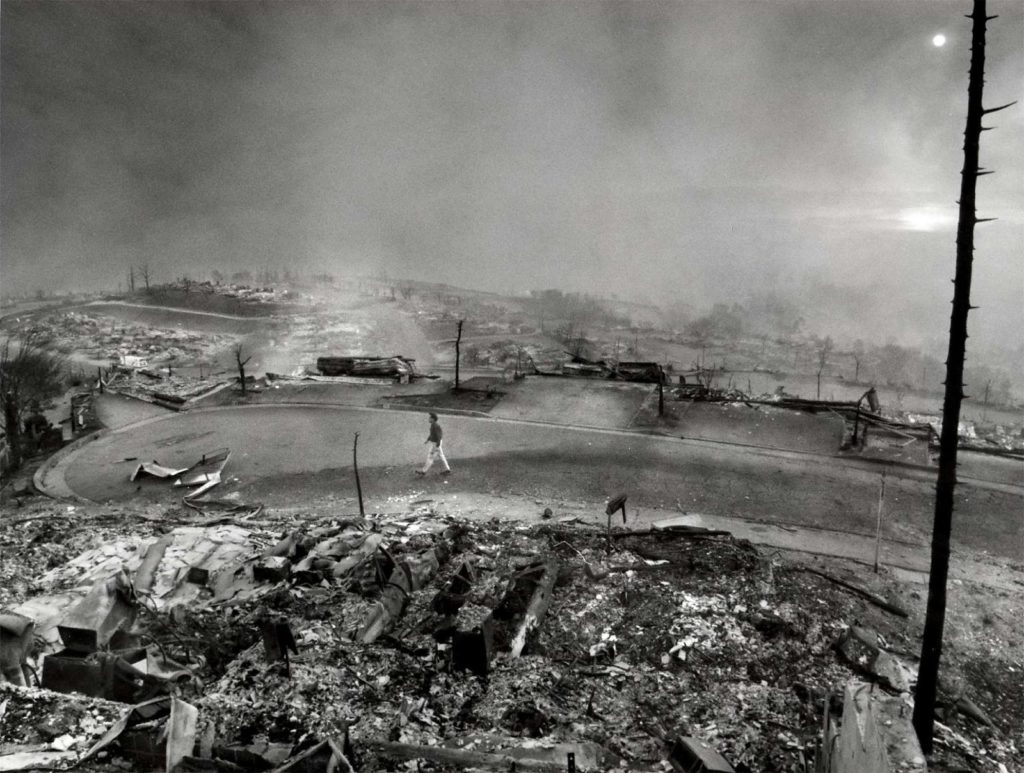 Lone Walker in the Charred Urban Remains of the Oakland Hills Fire (photo: San Francisco Chronicle)
But
Tim Foskett is not the only member of his family to continue in Clara Barton's
tradition of service. "It has always been an important facet of my family
members' lives," he said. "My sister is a regular blood donor with the Red
Cross, to the point of setting blood volume donation goals for herself and
gaining great satisfaction at reaching those goals." While Foskett attributes some of his family's
emphasis on community service because of their ties to Clara Barton, he's also
quick to add, "I would like to see everybody volunteer. It should be a priority for all of us."
When
asked how he thinks Clara Barton might feel about the work of the Red Cross today,
Foskett speculated, "She would be amazed at the size of the organization and the
scope of its work. It is always the Red Cross you hear about, providing aid everywhere,
in every type of emergency."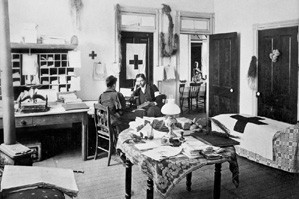 Clara Barton's Office