Portland Woman's CPR Training Saves Toddler's Life While On Vacation
Story by Patricia N. Griffiths/Red Cross Cascades Region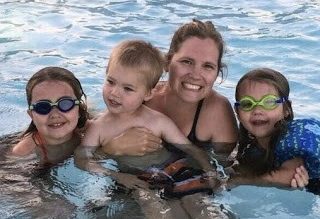 Cries for help stopped the summer fun at a community pool in Southern California on July 5, 2019. A man carrying the limp, wet body of a small boy, took a few steps, then put the boy down on the concrete pool surround. One of five lifeguards raced to them.That was when Natasha Cohen, a Portland, Oregon teacher who was on a family vacation in California, stopped slathering sun screen on her children, and hurried after the lifeguard to provide assistance.
"I could see the boy's eyes were glassy, and he was foaming at the mouth," she said. "Essentially, he was gone." When the young lifeguard also saw this, she froze. In an instant, Cohen realized she needed to become the first responder herself.
Five more rounds of CPR resulted in success – the toddler took his first breath and started crying. Cohen recalled the deep sense of relief that she and everyone at the pool felt. Just at that point, the paramedics arrived.She started CPR. "I did several rounds. I just kept telling myself, 'he'll be OK, it'll work,' over and over" Cohen said. The boy vomited. Cohen turned him onto his side, then flipped him on his back to resume compressions and breaths.
Not until a few weeks later did Cohen learn that the three-year-old boy had made a full recovery. In a card that Cohen cherishes, the boy's mother stated, "Thank you, thank you, thank you for being in California at that pool at that time. I can never express how grateful I am." To make sure this never happens again, the mother added, the toddler's entire family is signing up for CPR training.
Like the boy's mother, Cohen has also become an advocate for being prepared. For starters, she is telling everyone she can about her three "take-aways" from the near-tragedy:
Please never take your eyes off your children in the water.
Even though there are lifeguards there, they aren't perfect. Watch your kids.
Urge everyone to get CPR certified. Anyone can be a first responder. You need to be ready.
Being trained in CPR enabled Cohen to save a life that day. But, in a way, this outcome had been set up years before, when she was in high school and first took CPR training through the Red Cross. Now, as a teacher, she is required to keep her skills and certification up to date with regular training.
Because of this, Cohen said, "It was a happy ending to a scary situation."
The Red Cross offers numerous adult and pediatric CPR/AED classes every week in a variety of locations. In six hours, you, too, can be prepared to save a life. Find a class near you.
For immediate information requiring CPR and other first aid, download the Red Cross First Aid app. We strongly encourage you review this information right now, so that you, like Natasha Cohen, can be ready to help at a moment's notice.