Near Personal Tragedy Sparks Mission to Save Lives
Story by Patricia N. Griffiths/Red Cross Cascades Region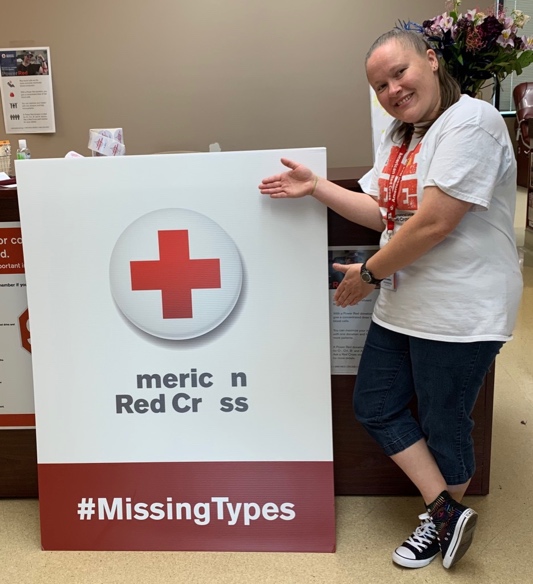 In the summer of 2006, Lynnadele Schoeneberg was rushed to the emergency room at a Vancouver, WA hospital for a minor foot injury. An event that would change the trajectory of her life.
The treatment was routine: labs were run and Schoeneberg was discharged home. Shortly after that, the doctor called her parents to rush her back to the hospital.
"We found out I had sickle cell anemia with only 50% chance of survival," Schoeneberg said. The following week she spent in the hospital Intensive Care Unit, receiving blood transfusions, and fighting for her life. She was so ill that she could only eat popsicles all week. Still, she maintained a cheery outlook.
"I had my own personal Christmas tree in August!" she said, jesting about the IV pole decked with bags of blood and hoses to which she'd been tethered. While attached to a lifeline of blood, Schoeneberg decided to learn about it. She found out that there is a universal blood type that most people can accept for transfusions.
But, not her.
Extensive testing ensued to determine that she had a rare B+ blood type. She needed that specific type to survive. Fortunately, the hospital had it. By the end of the week, miraculously, she had beat the odds and survived.
That week was also the start of her newfound mission: helping to save other people's lives by volunteering at the Red Cross Blood Services donation center in Vancouver, WA.
"When I see people donate blood and plasma, it warms my heart that they are helping other people," Shoeneberg said. "Also, I could need help again."
She started to volunteer in 2007, racking up about 400 hours per year, or nearly 5,000 hours as of the summer of 2019. "When I do my outreach for blood services, I tell them my story, then they say they will donate to save other people," she said. "It could be that they could save me again."
Schoeneberg has a close connection with the donors as well. A majority of them are 'repeat people,' she said, who come in regularly. "I get to see 'my donors' on Fridays."
Schoeneberg explains the significance of donating blood to each donor. A donation of whole blood is packaged into a bag that is valued as three units, with each unit measured slightly less than a pint. That donation is precious, Schoeneberg said, "because one bag could be saving three peoples' lives."
She also explains the blood donation process to donors. When a donor gives blood at the Red Cross Blood Donation Center in Vancouver, WA, it is packaged and sent to the Red Cross Regional Blood Processing Center in Portland, OR, where it is tested, processed, sorted, and stored. The final product is shipped to hospitals locally and around the nation. (More information about how blood is processed can be found here). She explains that the Red Cross makes that donation more personal by enabling donors to track the destination of their blood.
"If you put an app on your phone, you can see where your blood goes!" Schoeneberg said.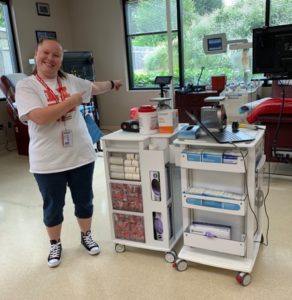 Although she started by helping people donate blood, her enthusiasm soon bubbled over into recruitment. At a local VA hospital and at blood mobiles, she encourages people to donate blood. At the Clark County Fair in Washington, Schoeneberg also recruits people to volunteer for Red Cross Disaster Services.
Her efforts have not gone unnoticed. She received a Red Cross President's Award in 2018 and a national award for an outstanding volunteer in 2019.
After 11 years, her zeal for her mission has not dimmed. "Other volunteers and staff ask me why I volunteer. It's because I am giving back," she said. "I would not be here today if not for those transfusions."