Volunteer Shauna Garofolo Answers When Emergencies Call
Story by Dori Cooper/Red Cross Cascades Region
Red Cross volunteers are essential to the successful operation of the Red Cross. In fact, the organization is 90 percent led by volunteers.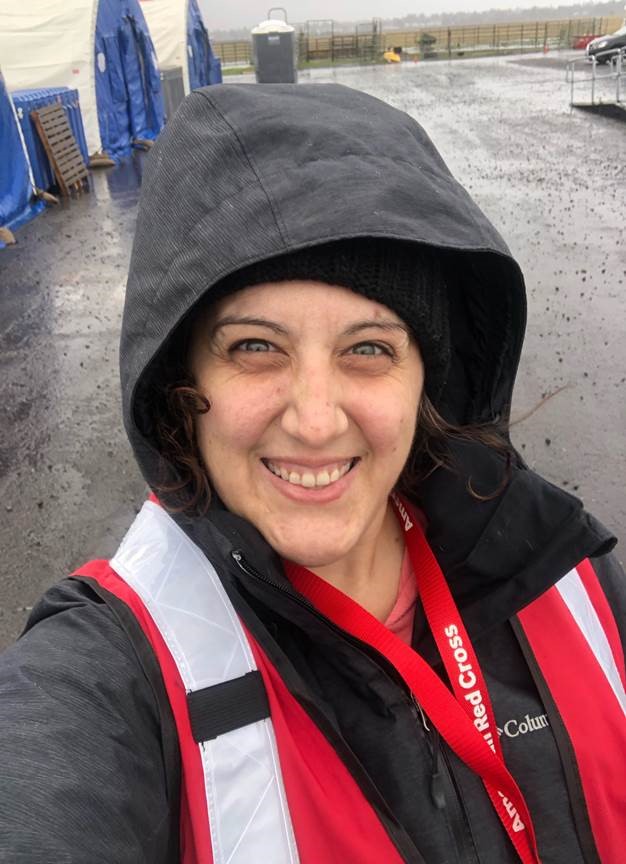 One volunteer, Shauna Garofolo, represents the broad spectrum of work that volunteers do. Living in the Cascades Region, Garofolo grew up in Florida, and saw mass devastation due to hurricanes.
"I joined the Red Cross because I saw the Red Cross respond and wanted to be a part of it," Garofolo said.
One of the hats Garofolo wears as a volunteer is serving as a Regional Duty Officer (RDO). The RDO is the on-call operations lead for the Cascades Region, ensuring a timely and appropriate response to emergencies that occur throughout the region.
It's volunteers like Garofolo who receive the initial request for assistance from first response agencies and individuals that have experienced a disaster. The RDO then coordinates the mobilization and deployment of initial Red Cross responders to the disaster scene. Garofolo also provides ongoing technical assistance and deployment of additional support resources as needed. All of which, she can perform remotely from home.
Garofolo also serves as a Disaster Action Team (DAT) volunteer.
DAT volunteers help local families cope with emergencies, both big and small. Home fires and other disasters can occur at anytime, any place. As a DAT volunteer, Garofolo provides emotional support, financial assistance, and information to help families begin the process of recovery.
"I love doing both," said Garofolo. "Because I get to assist people both directly and indirectly."
"I initially chose to be a DAT volunteer because it meant that I could be of aid to someone at one of the worst times in their lives," Garofolo said.
Garofolo possesses two Group Activity Positions, also known as a GAP. Volunteers can be certified with a GAP through training and deployments to support disasters. Her Mass Care-Sheltering GAP allows Garofolo to assist inside a shelter when there is a major disaster like a hurricane, wildfire, or blizzard. Her Mass Care-Feeding GAP certifies her to help assemble meals for people affected by a disaster or for first responders during a disaster
Getting deployed for the first time – to the Camp Fire in California – Garofolo knew it would be tough but was dedicated to be there to help those in need.
"When I arrived at the shelter in Chico, CA, I was shocked and overwhelmed by the over 700 people still there, two months after the fire. Nothing can fully prepare you for what you experience and witness," Garofolo said.
There were three separate shelter buildings, one for families, one for women and one for men. There was also a dining hall where people could go for their meals.
Garofolo was assigned to be in the women's shelter during overnight shifts where she assisted an elderly woman, who was alone at the shelter and whose home was destroyed in the fire. The woman had informed volunteers that she had no family in the area and no one to care for her.
One night she had a health situation and needed immediate attention but was not happy about anything volunters could do to assist her. But Garofolo said that never affected the care provided for her.
The next day, with help from the Disaster Health Services team, volunteers were able to get the woman transferred to a facility that could provide increased care. Soon after, the volunteers were able find her daughter, who had been unable to locate her mother and had reported her missing. Her daughter was so grateful for all of the hard work team members did in going the extra mile to care for and identify her mother.
"Because the Camp Fire almost completely destroyed the city of Paradise, the people that lived there were not able to return to their homes or their city and most had to relocate to other surrounding cities," Garofolo said.
"The people in the shelters all had different situations but Red Cross caseworkers were there every day assisting people with their recovery."
Garofolo is one example of more than 3,000 volunteers throughout the Cascades Region who support the mission of the Red Cross.
"I would absolutely recommend others join the Red Cross," said Garofolo.
If you'd like to volunteer visit redcross.org/volunteer.