The Red Cross Disaster Manager Certification: A Conversation With Dianne Mekkers
Mekkers is only one of two people who hold the certification in the Cascades Region.
Story by Hannah C. Wood/Red Cross Cascades Region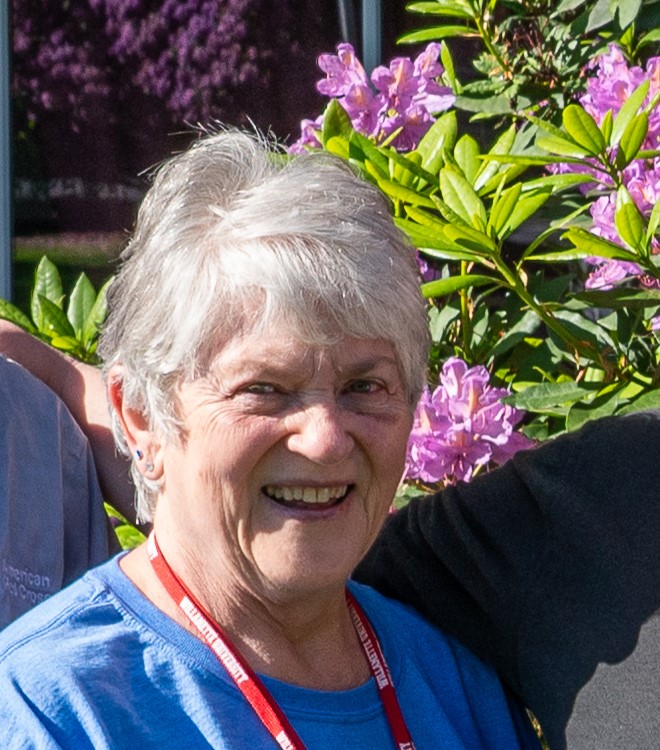 The disaster manager certification is a specialist training for Red Cross employees and volunteers. It aims to set a level of excellence for the Red Cross disaster preparedness programs.
According to Curtis Peetz, Cascades Region Deputy Regional Disaster Officer, the certification "provides an opportunity for our disaster workforce to demonstrate their knowledge and experience to manage a disaster program. Our disaster workforce should seek the certification because it provides an organizational standard of excellence."
Those who complete the certification are expected to share their knowledge and help mentor and develop less experienced disaster workforce members, said Peetz.
So far, only two people in the Cascades Region hold the Disaster Manager Certification and Dianne Mekkers is one of them. We chatted with Dianne, based out of the Red Cross Salem, Oregon office about her work, what people should do to prepare for disasters, and what it took to earn the certification.

How long have you worked for Red Cross and what is your area of work?   ​
Dianne: I have worked for the Red Cross as a Disaster Cycle Services volunteer for 15+ years in a variety of roles. I currently deploy nationally through the Division Response Management Team as a Logistics Assistant Director. I am the Cascades Region Emergency Management Liaison Lead, and am the Volunteer Partner for Michelle Hamrick in the Northern mid-Willamette Valley area. I am also a trainer and have co-managed seven Disaster Academy events. 
What was the process to sit for the certification? And, what did the testing involve?   ​
Dianne: There are two levels of certification. Both require the submission of a packet of material that reflects the individual's Disaster Cycle Services (DCS) training, experience, and Red Cross involvement. It includes a brief narrative on six topics that demonstrate leadership experience and letters of recommendation from internal and external managers/partners. Region and Division leadership then must indicate their support for the certification and submit to Red Cross headquarters where a review board makes the decision to authorize the certification.   
All disasters are very challenging, of course. But, from your training, what were considered to the most difficult aspects of disasters to deal with?   
Dianne: I think the most challenging aspect of any response is forming a team of workers who likely don't know one another, have different skills and abilities, are working under stressful conditions, and who need to perform at a level of excellence. It is challenging, but also the most rewarding to see people rise to that expectation.
What types of disasters are most common in the Pacific Northwest?  ​
Dianne: Most common are residential fires, and in recent years we've seen a lot of weather-related disasters and, of course, wildfires.
What can people do to support others who have been affected by disasters – from a local level to a national or international level?   
​Dianne: The Red Cross can always use more volunteers in every activity. We need people who are willing to drop their lives to respond to a house fire or go work in a shelter for a few days or a couple of weeks. We need logistics workers to get supplies where they are needed, and government operations and community partner liaisons who build relationships with our partners, and the list goes on. We need willing folks who want to serve their communities.
How can people be better prepared for disasters? What kind of resources and equipment should they have?  
​Dianne: In this region, people need to have whatever they think they will need to sustain themselves and their family for two weeks. That generally means hydration, food, medication, and other life-supporting items. People should also think about the documents they would need to rebuild their lives after a disaster and safeguard them.
When you're not working in the Red Cross Salem office, what do you do in your free time?   ​
Dianne: I spend time at the beach, read, travel, do genealogy research, and spend time with friends and family.
To learn more about disaster readiness and volunteering, visit https://www.redcross.org/local/oregon.