Volunteer Spotlight: Through Humor and Compassion, Volunteer Linda Morris Finds her Calling with the Red Cross
Story by Julia Green/Red Cross Cascades Region
Standing in their living room in Oregon, Linda Morris and her husband watched as Hurricane Maria devastated Puerto Rico in October of 2017.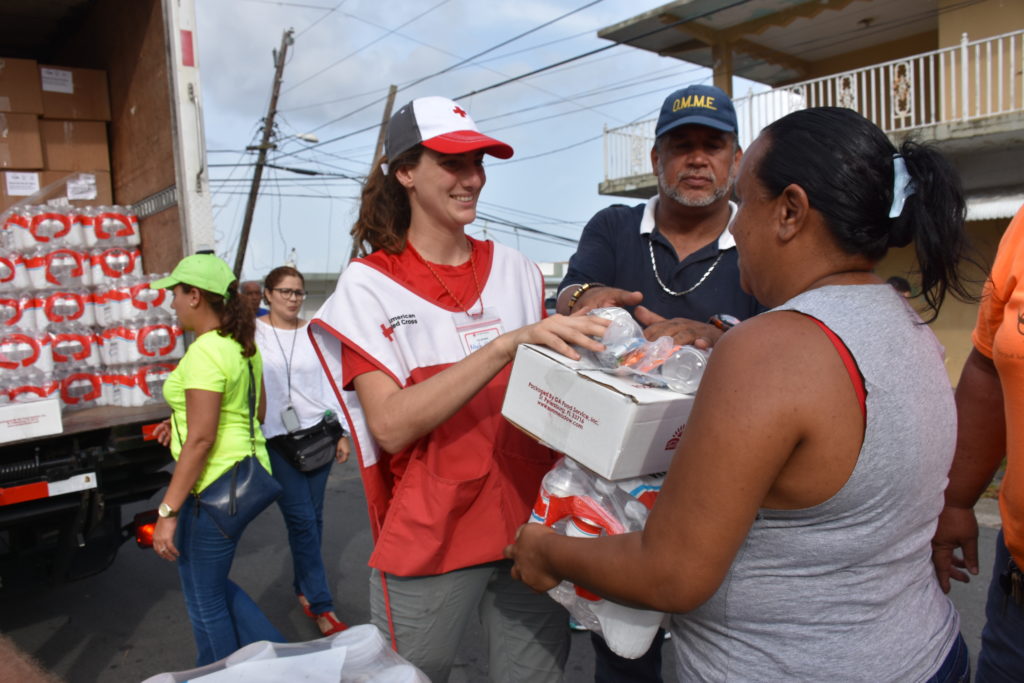 As images of the Category 5 hurricane's destruction flashed onto the screen, Linda's heart was hit with a feeling that she could not shake. In words that she described as "not her own," Linda turned to her husband and told him that she needed to go down there to help.
Two months later, Linda was deployed for the first time as an official disaster responder for the Red Cross to the wildfires in Ventura, California.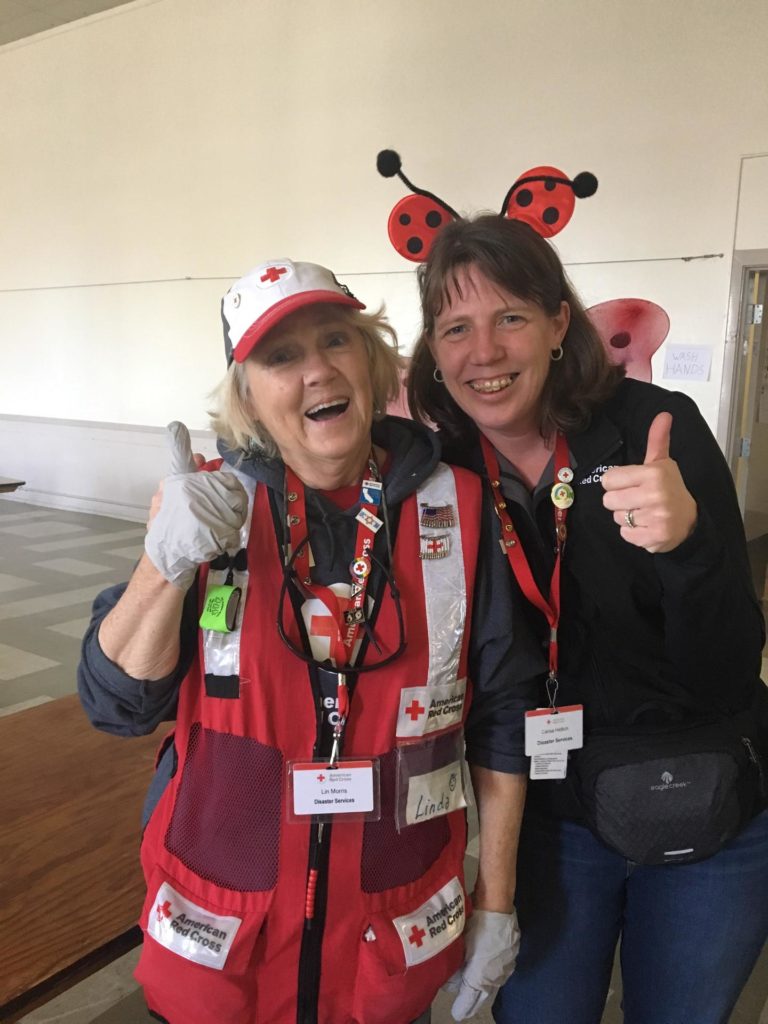 Less than two and a half years later, Linda has been deployed eight different times and most recently returned from the Kincade Fire in Santa Rosa, CA this past November. Linda left Santa Rosa on the anniversary of the Paradise Fire, which she had deployed to the previous year.
In the first days of evacuations for the Kincade Fire, the Red Cross opened or supported 16 different shelters. The fire raged for 11 days during extreme high winds and low humidity, burning nearly 78,000 acres — an area more than double the size of San Francisco.
In total, the fire forced more than 180,000 residents out of their homes.
In Santa Rosa, Linda was stationed in the kitchen and dining room at the Veterans Memorial Auditorium at the Sonoma County Fairgrounds that acted as the temporary home for approximately 300 displaced locals. Linda described the atmosphere of the shelter as "incredibly sad" at times, yet she always did her best to remain light-hearted and silly.
The environment in the shelter was understandably tense sometimes.
"In the dining room there were some restless younger folks who taunted each other, trading insults," Linda said. "They ran for their lives ending up in the shelter with little or nothing and their nerves were shot."
Still, Linda did her best to remain a positive light for those with whom she came into contact. Coming from "a long line of prayer warriors, caregivers, and jokers," Linda is always the first to crack a joke or deliver a one-liner.
"I was always on the move as there's always something to do and someone to assist. Often times, they needed water, fork, or just some more jokes. Soon there were many folks calling out my name and I'd come running. It was hilarious," Linda said.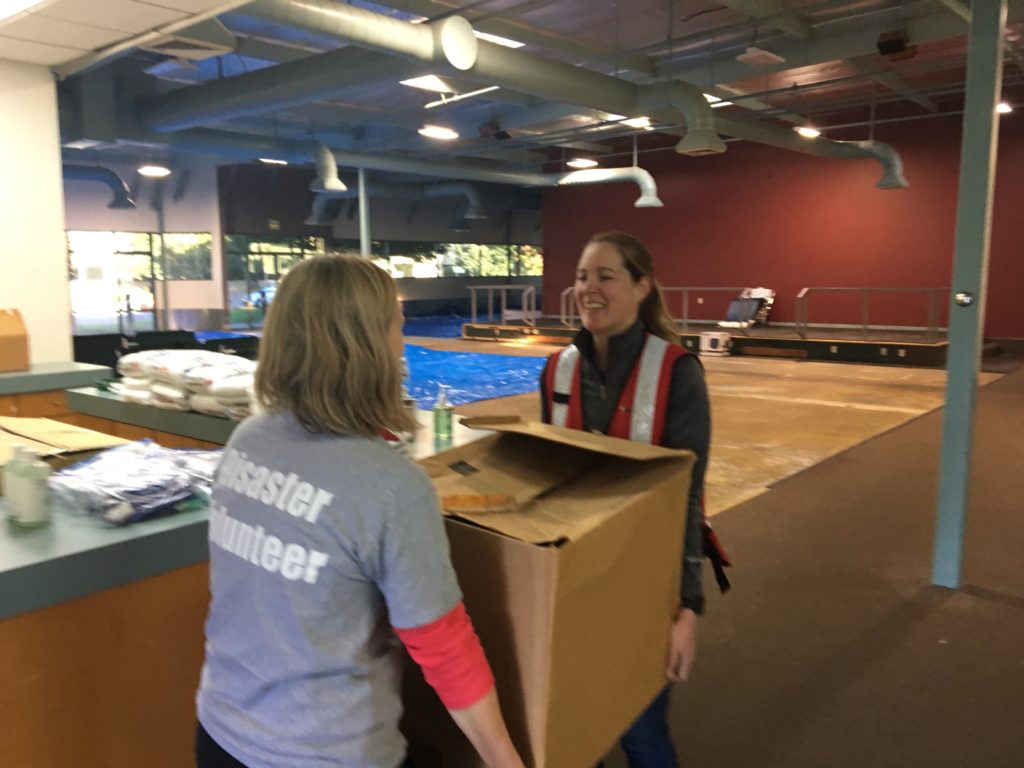 "It doesn't take long for the jokers to seek you out," she shared.
By the end of her deployment in Sonoma, Linda had befriended many of the locals as she got to see them at least three times a day for meals.
Through her various deployments with the Red Cross, Linda has learned how resilient people can be. "We bounce back even when we lose everything…from volcano lava flow to floods to fire. It's really the people who need comforting," Linda said.
Comforting people seems to come naturally for Linda.
In Santa Rosa, Linda emphasized her duties included food preparation, coffee/tea/water and snack setup. She was constantly wiping tables, chairs and all various contact surfaces, and did not want anyone to get sick.
"Donations kept pouring in with people bringing clothes, blankets, so much. The day before we closed the shelter, a man arrived in a huge truck and told us he came from Costco and spent $700 on food, supplies, toys, diapers, a little bit of everything. It took a while to unload it all, it was wonderful and the people were very happy."
Linda emphasized the importance of financial donations to the work of the Red Cross. "All of this is only possible because of donors. Without them, we wouldn't be able to do any of it!"
Linda truly gives her heart and soul to the Red Cross and lives its mission in her daily life. Not only does she deploy to natural disasters, but Linda also participates in pillowcase presentations, empowering young students to prepare for natural disasters and collect necessary supplies. She actively recruits volunteers for the Red Cross and continues to spread her positivity and humor with all she meets.
"We humans are so resilient and I see it on every deployment from the Hawai'i volcano to the California wildfires to the eastern floods and hurricanes. I hold [all of my deployment experiences] near and dear to my heart and think about all the amazing and resilient people I've met. It is incredibly rewarding, words cannot describe. It is my calling."