For 76 Years, We Have Celebrated March as Red Cross Month
Story by Harriet Vanderbilt / Red Cross Cascades Region
"I request that during that month (March) our people rededicate themselves to the splendid aims and activities of the Red Cross" President Franklin D. Roosevelt-first Presidential Proclamation of March as Red Cross Month, 1943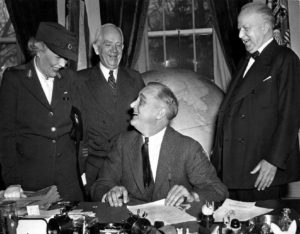 For 76 years, the president of the United States has proclaimed March as Red Cross Month. This month, we recognize our lifesaving mission and honor our volunteers, who represent over 90 percent of our workforce in this charitable organization. We ask others also to be a hero for those in need.
Every 8 minutes, Red Cross volunteers help a family affected by a disaster in the United States. From severe storms or wildfires that ravage a community, to a home fire that displaces a family, volunteers respond promptly to help people in need. They supply food and shelter as well as emotional support and assistance with future planning.
"During Red Cross Month, we honor the volunteer heroes who help families overcome life's emergencies every day," said Gail McGovern, president, and CEO of the American Red Cross. "These champions are our neighbors-ordinary people who make an extraordinary difference to ease the sufferings of others."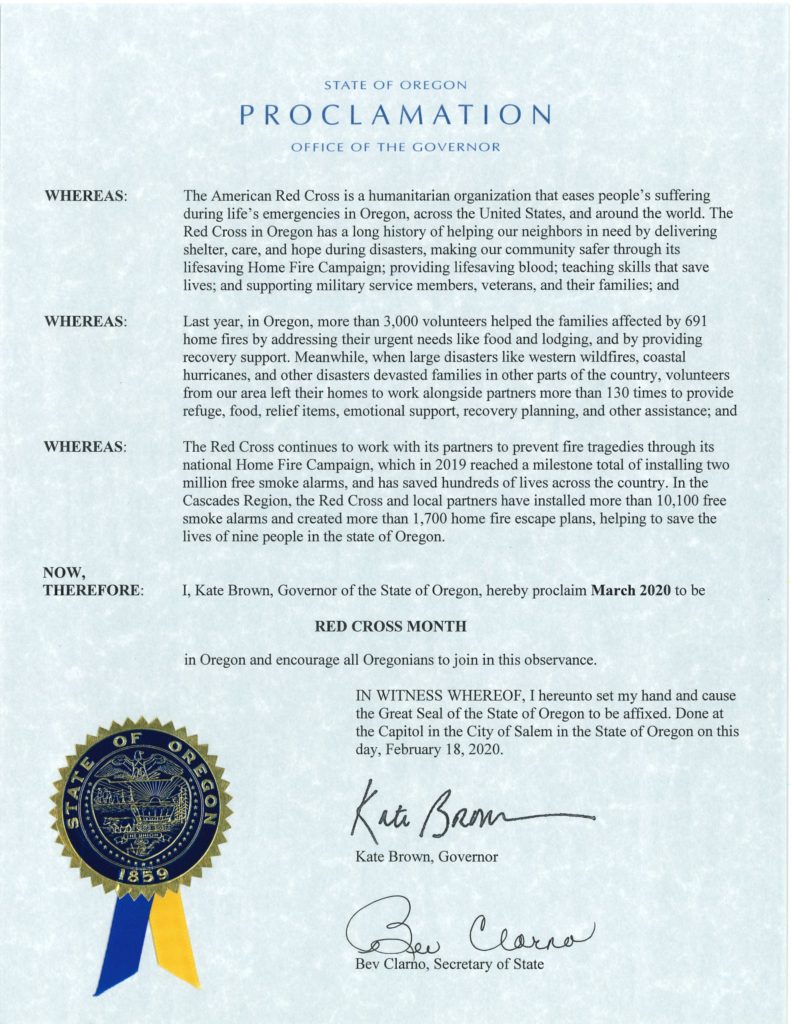 "All are welcome" to become a volunteer, to learn lifesaving skills, to give blood, or to make a financial donation. The Red Cross is proud that an average of 90 cents on every dollar we spend is invested in delivering care and comfort to those in need. All our volunteers "are ordinary individuals with the innate desire to do extraordinary things."
The need to help people is constant. The Red Cross shelters, feeds and provides emotional support to victims of disasters, supplies about 40 percent of the nation's blood supply, teaches skills that save lives, provides international humanitarian aid, and supports military members and their families.
Red Cross volunteers wear many hats. Many volunteers respond to local and national disasters. Others sponsor blood drives and assist at bloodmobile blood drives. Volunteers are wanted to help support Services to the Armed Forces by assisting patients at military hospitals and at Veteran's Administration facilities.
Some volunteers find fulfillment by teaching a first aid/CPR/AED class or a babysitting class. Others choose to become an International Humanitarian Law instructor. Still, others help by supporting the International Tracing Services that help unite families overseas.
The birth of the American Red Cross is grounded in history. Now found in 187 countries around the globe, this network sprouted in Switzerland. The roots of the Red Cross date back to 1859. Henry Dunant was part of the newly formed International Committee of the Red Cross that adopted the symbol of a red cross on a white background-the inverse of the Swiss flag.
In 1881, Clara Barton founded the American Red Cross. During World War I, the Red Cross grew rapidly, going from 100 local chapters in 1914 to more than 3,800 chapters by 1918. The organization recruited 20,000 nurses for military service. In 1948, the American Red Cross launched the nation's first blood program.
"We are the Red Cross. Sleeves Up. Hearts Open. All In."