Red Crosser Proud to Put Her "Boots on the Ground" in South Texas
Story by Harriet Vanderbilt / Red Cross Cascades
When Katelyn Dzialowy was asked if she wanted to deploy to Texas to support those impacted by a recent hurricane, she jumped at the opportunity.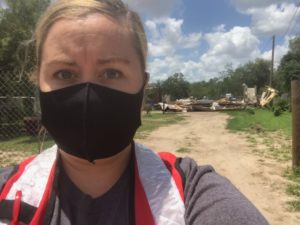 Due to COVID-19, Katelyn, a Senior Volunteer Recruitment Specialist, was the only Red Crosser from the Cascades Region to go. "I was thrilled to answer the call."
Hurricane Hanna slammed ashore near South Padre Island the evening of July 25th.
Surrounding areas were hard-hit with wind and water damage. The Red Cross was quick to respond to the needs of those victims impacted by the storm. Katelyn left for South Texas on July 28th.
"I was based in Weslaco, in Hildago County," Katelyn said. "The majority of the damage was in the area near the Mexican border. I worked with some 20 team members to support recovery efforts."
Due to the COVID pandemic, many usual protocols were changed. "We made the best of the changes," Katelyn shared.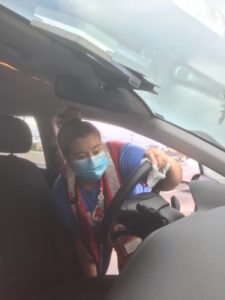 Instead of sharing a hotel room, or being housed at headquarters, each volunteer had his or her own room.
"I shared a vehicle with my volunteer partner. When I drove, my partner was supposed to be in the back seat, on the passenger side. It was really hard to work that way!"
When cars were shared by other teams, they were sanitized first. Partners were cohorts; if one became ill, the other did not work that day. "Masks were required at all times."
Katelyn quipped that makeup and hair styles were two things that became unnecessary. "The combination of the humidity and the masks made getting ready each day very easy!"
All meetings usually held at headquarters were instead done "on my computer, using Microsoft Teams, in my room."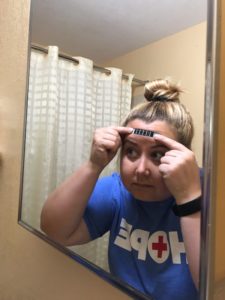 The way in which teams carried out damage assessment was also different because of the pandemic.
"We usually go inside home to assess. Not this time," stated Katelyn. "We relied on the client's word, knowing that most of them are doing their best in a terrible situation. They were so grateful that we were there."
"There was one home that had completely lost its roof. We were able to see each room, what was left of the furniture, everything." Katelyn went on to explain that "we worked to get the bits and pieces of what was left of the roof off and then put on a protective tarp."
Often, finding areas to do damage assessment was done either by using a list of addresses or by using maps of hard-hit areas. In some cases, those who were impacted were able to call a 1-800 number to have a team assess their home or business. Individuals and families, including pets, were housed in hotels. Meals were a la "to-go", packaged in bags.
"It is so rewarding to see how gratifying this work is! Helping people out is why I embrace boots on the ground! Being able to give assistance to these clients means so much. I know that I am providing some measure of relief for them."