Oregon Wildfire Response is a 'Team Effort' As Volunteers Put Collaboration at the Forefront
Story and photo by Axl David / Red Cross Cascades Region
Inside a nondescript office building in Salem, Oregon, Jenny Legaspi is working tirelessly to embody a phrase we often say at the Red Cross: We can't do it alone.
At the State of Oregon Emergency Coordination Center (ECC), representatives from countless response agencies huddle together to ensure a smooth response and recovery effort for the Oregon wildfires.
Legaspi is one of several Government Operations workers representing the Red Cross at the ECC.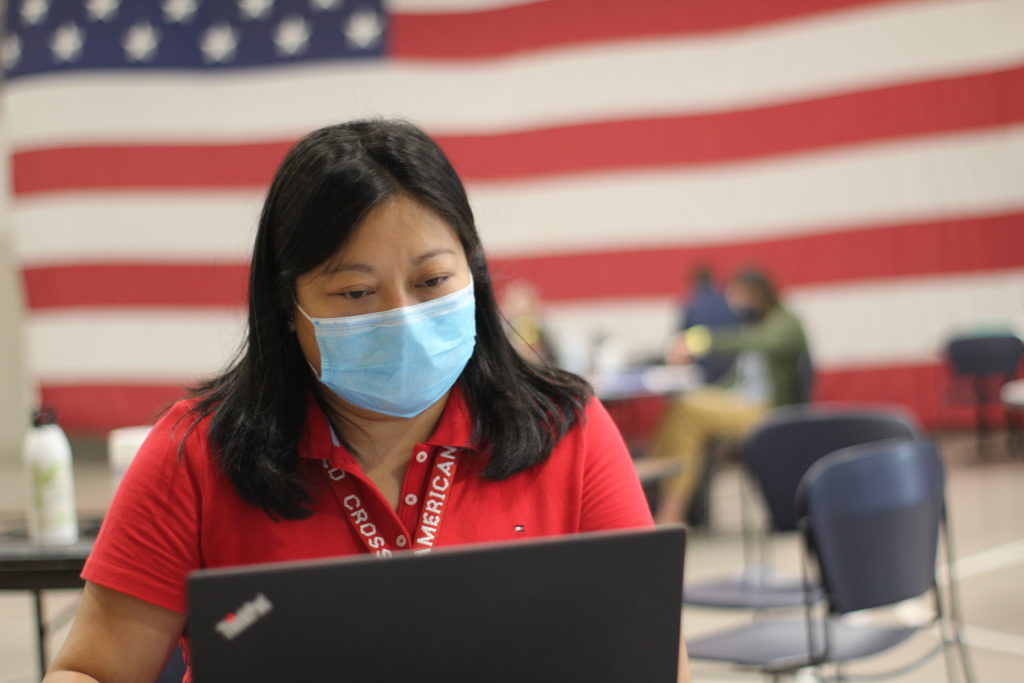 "It's important that we're connected with our partners. We can't do it all by ourselves," said Legaspi. "My priority is to work with state and federal partners in support of Red Cross services."
As with many other aspects of the response, things look a little different this time.
Legaspi is in a large assembly room with tables spaced apart, and everyone is wearing a mask. Many meetings are now taking place via video conference, even with those in the same building.
Among the myriad of state and federal agencies represented at the ECC such as FEMA and the Oregon Department of Transportation, there are also several familiar nonprofits you'll see in the field alongside Red Cross workers. Representatives from Salvation Army and Team Rubicon are also present.
"I believe working with our partners is a very important part of what we do," said Legaspi. "Everybody pitches in to help, and the Red Cross is a part of that team."
As one of many behind-the-scenes volunteers supporting the response in Oregon virtually or working in an office building, Legaspi doesn't always see the immediate impact on those affected by the wildfires.
She doesn't witness the smile from a child as they're handed a juice box or the look of relief from a homeowner as volunteers unload clean-up kits from the back of a truck.
Despite that, she knows that seamless coordination among the responding agencies is a critical function and she's happy to take on that role.
"To me, it's very powerful to see all of the organizations here," said Legaspi. "I don't have to be on the front lines to know we're making a difference."