Red Cross Volunteers from Ohio, Deliver a Warm Meal to those Returning to their Homes in Oregon
Story and photos by Lynette Nyman / Red Cross Cascades Region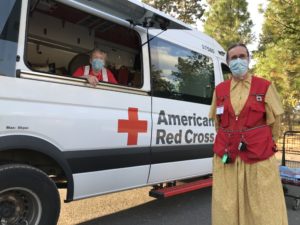 In the two weeks since the start of Oregon's wildfire disaster, the American Red Cross has provided tens of thousands of meals to people staying in shelters and hotels across the state.
Now, as more neighborhoods are marked safe for return, Red Cross volunteers are beginning to head into those communities to distribute food and a bit of comfort where it's needed.
"Oh my gosh, you guys are amazing," said Angela Horton who was at a meal distribution site in Butte Falls, Oregon on Saturday. She was there with her husband Ross and daughter Peyton. After being evacuated for 10 days, the Horton's were forced to toss food that had gone bad, making the hot meals delivered to their neighborhood especially appreciated.
Butte Falls, a small, scenic logging town northeast of Medford, was spared the destruction from wildfires, unlike those that burned through the communities of Phoenix, Talent and others on the other side of the mountain ridge. But clean up and the remnants of a major wildfire remained.
Red Cross volunteers Rachel Brubaker and Joyce Monnin set up their mobile feeding truck, that they drove from Ohio to Oregon, alongside local community members helping people restock their food supplies.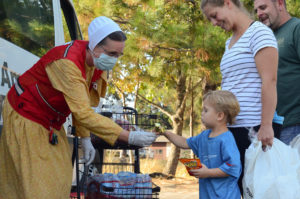 Rachel and Joyce handed out jumbo-sized burritos and chips and salsa donated by a local restaurant in Ashland as well as water, apples and lollipops.
The blaze felt 'apocalyptic,' mostly from the sounds of fire cracking, said Kyle Ziolecki, who fled with his wife Stacy Equitz-Ziolecki and their son Zander as they grabbed some lunch.
But now, many days later, with the blue skies clear of smoke, they along with their neighbors were eager to welcome each other home with some relief after such a scary and challenging time.
Rachel and Joyce are just two of dozens of Red Cross volunteers out in communities bringing help, hope and a warm meal to neighborhoods as they start their recovery journey.