When it Comes to Wildfires, 'Ain't Nothing Sacred'
Story and photos by Lynette Nyman / Red Cross Cascades Region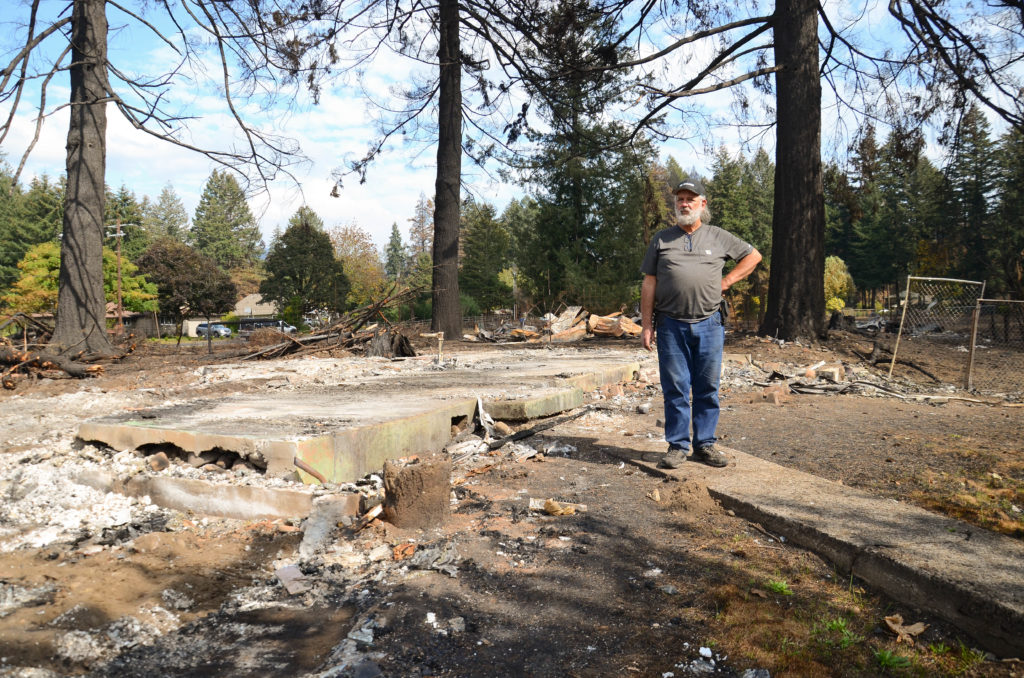 Michael Chauran is a man of story.
But when asked if he'll write about his experience with the recent Oregon wildfires he pauses.
"It might be a bit too personal," he says.
He knows that being too close, or in this case 'up to our butt in ash,' can make it difficult to write about. At least for now. And yet, like before the wildfire, he spends his evenings jotting down what he's done and how he's felt each day. Although, now he's starting from scratch as the notebooks he kept since the 1950's were torched in the Beachie Creek Fire.
As we survey the remains of his home in Mehama, Oregon, two weeks after his evacuation, he points to where his notebooks had been stored for decades along a wall.
In the forty minutes he had to grab any belongings, he passed on the notebooks, believing he'd return to a house still standing.
"I really truly didn't think our home would burn," he says.
It was a call from his son that warned him. And with his wife, whom he calls Sweet Baby, they picked silver, cash, and other items, rather than his history on paper.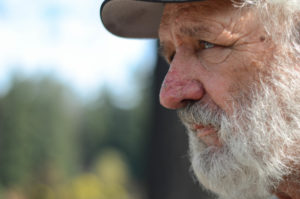 I met Michael at a Red Cross relief distribution site in Lyons, just steps away from Mehama and the Santiam River.
Not one to accept anything unless truly needed, he stopped to see what could be helpful as he starts rebuilding his life.
He selected what I call a classic 'clean-up just about anything kit' as well as a special wildfire kit that includes a screen sifter for searching through ash.
Once the relief supplies were put in the back of his truck alongside his grandma's sausage stuffer and grandpa's corn sheller, I followed along to his 40 acres.
Everything is gone. Or so it appears.
"The cattle survived in the maple trees. No singed hooves. Not a hair burned," says Michael.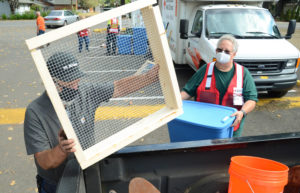 When I say everything is gone, well, except for the cattle that they've relocated to another pasture, I mean everything.
The old one-bedroom house built in 1892 by the homesteaders before them. The home where Michael and Sweet Baby lived. The chicken houses, that Michael explains, used to be found on homesteads throughout the Willamette Valley. And a friend's old Jeep (a sore point he says) – he'd just got it running again the Sunday before the fire.
And then there's what he calls 'the heartbreak': the hand-forged axe that was hanging on a wall. It belonged to Linnie, a long-gone friend and the inspiration for his published book, "Conversations with a Granddaughter."
Digging through the ash with his hands has yielded no remains of the axe.
"It's so gorgeous. The lines of it. You just want to chop something with it," he says.
Back in the day, it was used for straightening hand-split shakes for roofs. The handle burned for certain but the head, he believes, survives somewhere deep. And yet, he's realistic, on the edge of stoic. "There ain't nothing sacred," he says.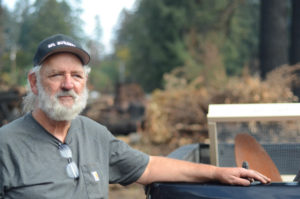 While we're there on his land, a Red Cross volunteer delivering lunches to people in the area stops and offers Michael a meal. He turns it down, saying he's got plenty of food where they're staying in Salem.
His tone holds the history of a man who has seen the winds of life shift, just like the direction of a wildfire.