"That's what we do": The Albins' story of sheltering their neighbors
Story by Greta Gustafson, photos by Axl David / Red Cross Cascades Region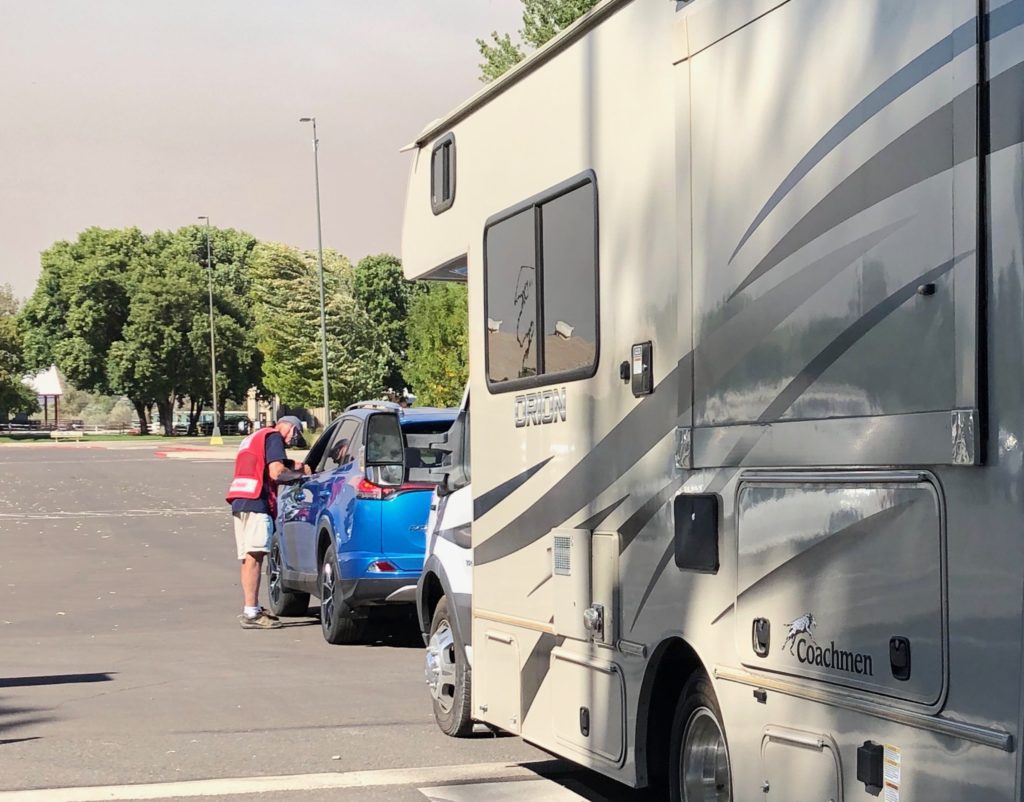 At 11 am on Tuesday, September 8th, Patty and Chuck Albins' phone rang.
It was the call they were prepared for, but never expected to get in their small town of Medford, Oregon – a request to open an evacuation point for evacuees of the Almeda Fire.
"We said sure," said Patty. "That's what we do."
Patty and Chuck moved quickly, working with only two other local American Red Cross volunteers to open an evacuation point at the Jackson County Expo for those fleeing the fires within the hour.
First, people from the city of Talent began showing up, and then those from Phoenix – as the fire continued to move north, more and more people poured in.
"They just kept coming," reflected Patty.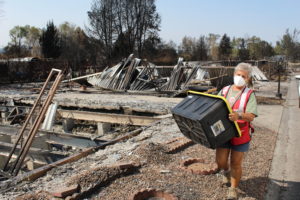 With the winds whipping, and fires breaking out all over the state, it quickly became clear to the Albins that they were going to need more than just an evacuation point, but a place where people could stay the night.
With resources stretched thin, Jackson County stepped in and opened a shelter, with support from the four Red Cross volunteers on site.
For each passing hour, Patty and Chuck did all they could to make it through the next. Chuck was manning the front gate, standing on the pavement for 15 hours, welcoming people to safety.
"Their first contact with anyone after this was the Red Cross, out at this front gate," said Patty, describing the vital role Chuck played in those first critical days.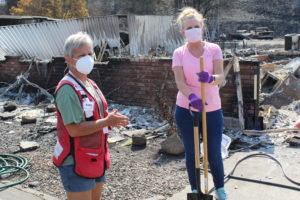 Patty was inside, helping alongside others, to answer the thousands of questions from those who had just fled the fires in an uncertain situation.
"I can still see the woman, and she reminded me of my mother, she was probably in her 80s. She got out of the police car. Police cars came in with their lights flashing because they had to go out again. They opened the door, she got out and the officer said 'she doesn't have any shoes; I need to go,'" said Patty of the unimaginable need of the people coming in.
The Albins continued to work through the night and into the next day, supporting the thousands of people who poured into the Jackson County Expo. By Saturday, Red Cross volunteers from across the country arrived to support the Albins' community.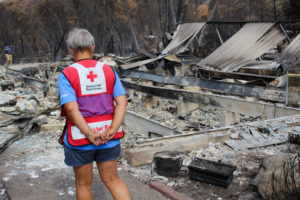 Patty and Chuck often travel across the country themselves to help after a disaster.
"Whenever we are in Louisiana or North Carolina or California people say are you from around here and we say no we are from Oregon. And people are amazed that somebody would have traveled that far to help them," said Patty.
"That's how I feel right now that there are people from Washington to Florida here right now to help us."
Since they started responding to this disaster three weeks ago, the Albins haven't stopped. More than two weeks after that harrowing first night, they continue to distribute supplies in the hard-hit neighborhoods of Phoenix and Talent.
"These people needed to be taken care of," Patty said of what keeps her going.
"The Red Cross is here, this is what we do."