In the Aftermath of Wildfires, the Devastation Becomes More Clear
Story and photos by Lynette Nyman / Red Cross Cascades Region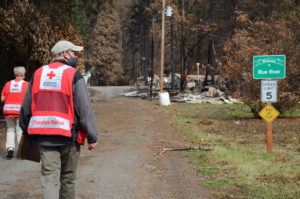 When the Holiday Farm Fire blazed through the McKenzie River Valley in Oregon people fled to the east and west.
Either direction meant away from their lives as they knew them, especially for the people of Blue River. What was once a logging town, more recently has become a center for world-renowned white-water rafting and a 'bedroom' community for Eugene. 
For weeks, the road from Eugene to Blue River has been unsafe and closed for weeks while firefighting crews contained the blaze, and others cleared trees and power lines.
So, those who've returned to this community are those who fled east or took the hours long way around, the way I'm taking.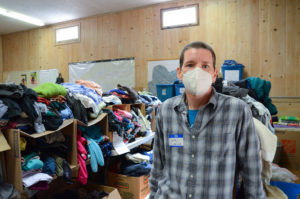 It's a beautiful drive through the Willamette National Forest until the charred mountains come into view, revealing the scope of the disaster for this community of around 1,000 people along the Upper McKenzie River. 
My first stop is the Upper McKenzie Community Center that's serving as a food, clothing and information hub. A local resident arrives.
Kathy, who's normally a nurse, says to grab a box or two. Once inside, tables of sorted community donations offer canned goods and other dry goods supplies. A propane generator supports cold items like milk and butter. A former Red Cross volunteer John Carlile is coordinating this outreach.
"The fire is still crawling up the northeast," he says. He's especially concerned about the impact this disaster will have on people who were already facing a depressed economy and food insecurity.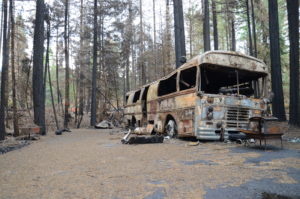 Just west I swing by the Holiday Farm RV Resort to meet with Michael Swezey.
"I love this park. And the people who make the park," he says.
The park has 43 lots and 45 people lived there all year.
Except for Michael, people are dispersed far and wide. He was staying at a Red Cross hotel shelter in Eugene, but he was determined to go home.
The fire's fickle nature spared his RV, but "my best friends lost everything," he says, including a buddy's vintage Wanderlodge nicknamed 'Roam Sweet Roam'.
"Brett's just heartbroken. He was very proud of his old bus," he says and adds that many were under-insured or not insured at all.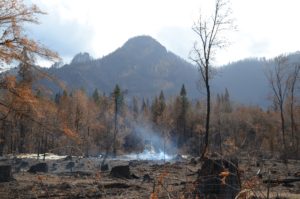 The RV park is the beginning of the Holiday Farm Fire burn trail. The smells of char and pine, the sounds of chainsaws and river rushing fill the valley. Except for several homes, anything with an address is gone in Blue River. This includes the small town and its community essentials like the post office, library and health clinic.  Frankly, it's stunning that any home still stands.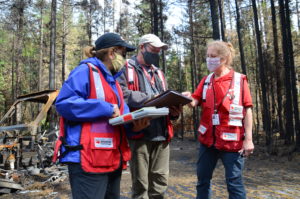 Red Cross disaster assessment teams confirm what I see. They're making their way down the valley, checking for residences that burned or survived.
The work is hard: finding an address is next to impossible for many homes. The relief workers, in this case, volunteers in two teams of two, split the address list and leapfrog each other to quickly cover neighborhoods.
In some instances, all four work together to assess what they're seeing amid the ash. 
"It's easier when families aren't here," says Phil Doolittle, a Red Cross volunteer from Vancouver, Washington. Mostly he goes into his 'engineer zone' to move along relief and recovery efforts. "But sometimes you'll see something that gets you," he says. For him, it was a kid's bicycle he encountered on another fire disaster.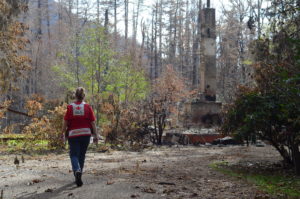 Leaving Blue River, my thoughts flash to Patty Baines, a wildfire evacuee, and former housekeeper, I see her every day at the hotel shelter where we're both staying. Early on, she told me about the fire at her door and rushing out her son, dad, and dogs, how she held Rudy Tooty like a football and then secured her hands on the wheel in a 'death grip' all the way to Eugene.
"2020, we thought it couldn't get any worse," she said.