Amid the Aftermath of Devastation, Blue River is Rising
Story by Harriet Vanderbilt / Photos by Liz Miller / Red Cross Cascades Region
The rustic riverside town of Blue River, Oregon is a special community. Like so many communities that have faced unfathomable devastation from the recent wildfires, the resilient people living there are rising like a phoenix despite the long road to recovery they face.
The town and its residents are determined to emerge from this catastrophe stronger, smarter and more powerful. With the help of American Red Cross volunteers like, Liz Miller, we have no doubt that they will. Liz, who deployed from California to support this disaster recovery effort understands the phrase "rise like a phoenix from the ashes" all too well.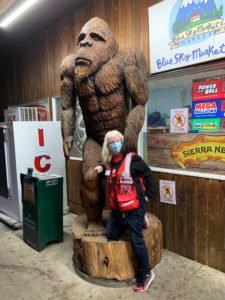 This is her story, in her words:
During our last event, as I was walking across the parking lot, I saw an elderly man walking back toward his car. As I neared him, I asked how everything went and if he was able to get some help.
He angrily replied 'No, they can't help me since I don't have a smart phone, internet or an email address.'
By now, the man was close to tears, as he started once again toward his car.
Wait a minute. I'm a Red Cross nurse, and I never give up, I said. Don't worry. I will get to yes, and I will get you the help that you need before you leave here today. Trust me when I say that I will help you. I will find a way. Please come back with me.
So, he turned around, and we walked back together to my nursing area. There, we were also joined by mental health volunteers, who were interacting with the gentleman earlier and were trying to help him when he left. Angrily, he again stated that he didn't have a smart phone, internet or email address.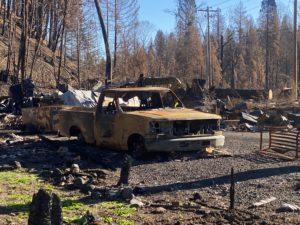 I told him that there is always a way. We just had to find it.
We went on to explain how the smart phone, internet and email systems worked. He learned how these wireless devises operated to give users connection to other places, regardless of where the user lived.
All of a sudden, he got it! His face instantly relaxed and the pain left his eyes. In a split second, everything clicked! The mental health nurse gave him her phone to use. Together, they called 1-800-RED-CROSS, and she helped him to complete his processing.
Afterward, as he was once again heading toward his car, I walked with him asking how it went. He was calm, the pain in his eyes was now replaced with hope. Happily, he told me that after pushing about 27 different buttons, he actually got to talk to a human being! They were going to mail him everything he needed. They were going to help him!
This wonderful man kept thanking me over and over again while we walked to his car.
I know in the scheme of things, this might not be a big thing. It's quite small compared with everything else going on. However, to him, this was his whole world, and we were there to offer him hope.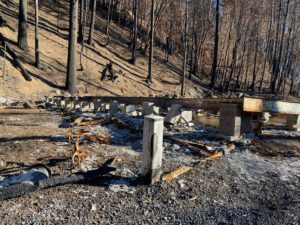 He was drowning and holding on to the only lifeline he knew — us! I was holding on tightly to the other end of that lifeline, too, and I wasn't going to let go. Trust me when I say that!
After all, I am a Red Cross nurse, and I will work to get to yes. I will find a way. You can trust me when I say that.
To the job director of the Oregon wildfire disaster response – Thank you for giving me the opportunity to help this man, to watch the pain in his eyes disappear and to watch it be replaced by hope. I will never forget that moment.
Those you helped will never forget you, Liz! He and his Blue River community will never forget how the Red Cross volunteers helped their phoenix rise that October day.