Red Cross Volunteers Show Resilience During a Fire Season Like No Other
Story by Julia Green / Red Cross Cascades Region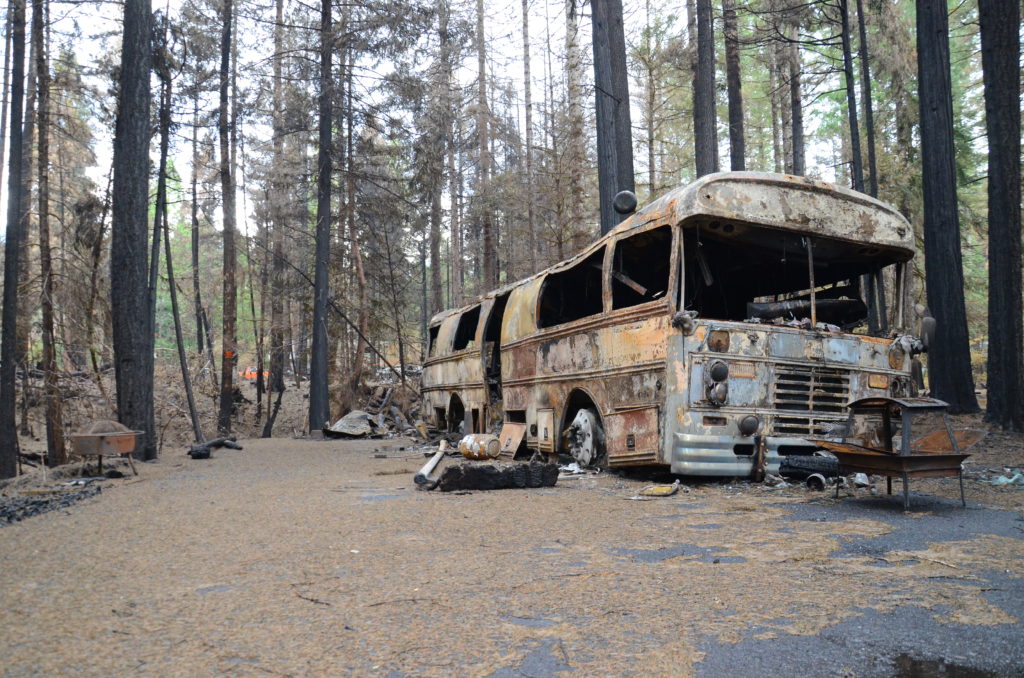 ---
It's early September in Oregon, and Rebecca Marshall has worked as the Regional Disaster Officer of the Red Cross Cascades Region for six months.
In her role as leader of the Cascades Region disaster team, Rebecca routinely sends out email updates to her team, and on Monday, Sept. 7, 2020 she sent out a message that read:
"The National Weather Service is predicting what they are calling a 'Historic' windstorm to hit a big part of Oregon starting this evening. Coming over the mountains, we could see gusts as high as 75 MPH. Here in the metro area, they could be 50 MPH gusts."
A windstorm on its own can be damaging, but at the tail-end of summer and with two wildfires burning freely in Oregon at the time, the Beechie Creek Fire by Detroit Lake (0% contained) and the Lions Head fire ​on the Confederated Tribes of Warm Springs Reservation​ (31% contained), the impending storm had Oregonians bracing for what was to come.
"The fear was that the wind was going to whip up existing fires or create new ones," remembered Rebecca.
"How do you set up a non-congregate shelter for every part of the state where this massive windstorm is going to hit?" continued Rebecca's email. "You don't. BUT– you can make some plans– and we are doing that now."
The disaster response team was already working to prepare shelters in case of fire evacuations and for anyone with homes damaged by fallen trees. Portland General Electric (PGE) was preparing to shut off power to communities along the Highway 26 corridor.
Rebecca's email concluded, "​Pray for strong branches, strong power poles, and weak winds and wimpy fires. That is all for now."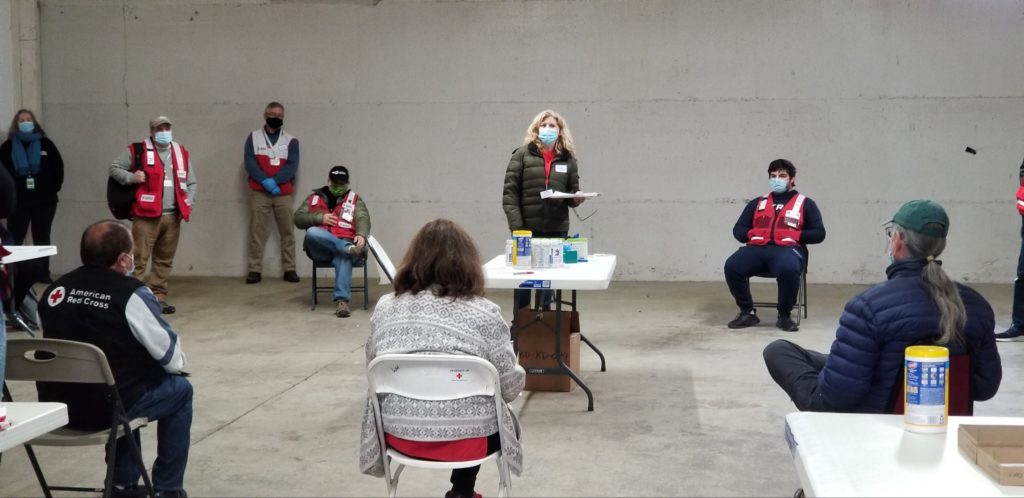 On Tuesday, a day after that initial email went out, the disaster team's worst fears had come true.
Overnight, the wind had whipped up the existing fires and knocked down numerous power lines throughout the state. Before sunrise, new fires had ignited in the dry late-summer forests and vegetation and smoke was setting in all over the state.
The Holiday Farm Fire, ​named after the Holiday Farm RV Resort on the McKenzie River Highway near Rainbow, had already forced 90 families (about 233 people) to flee their homes.
As the team monitored the massive size of the disaster and organized over a video call early in the week, Rebecca remembers, "We were all looking at each other with our mouths open…this is what we were afraid of."
The Red Cross had implemented its disaster relief plan and put together a team of people heading the operation. Rebecca, now acting as the Disaster Site Director, began organizing non-congregate shelters in Springfield and Eugene.
Dozens of other volunteers jumped in and began the work of helping those evacuated from their homes find a safe place to shelter.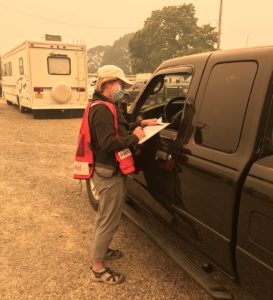 The Beechie Creek Fire had now forced 75 families to evacuate and Santiam Pass was closed. In keeping with the COVID protocols to help keep people safe, dozens of hotels were turned into non-congregate shelters, providing each family with their own room. The disaster team worked quickly to organize lodging in order to best serve evacuees.
On Tuesday evening, Rebecca sent out another update email to her team:
"The Santiam Pass is closed to traffic. We have power outages all over the state too which could inhibit our virtual deployments. Through all of these challenges, we are working to help serve the client. Don't forget to breathe. Things will be tense for a while, but together, we got this! I'll try to keep the updates coming because things are changing pretty rapidly. If you think you can help in any way, now would be the time to do so."
At the same time, the Chiloquin Fire, or the Two-Four-Two Fire, in southern Oregon was steadily growing in size and covered more than 10,000 acres with just 5% containment by Wednesday.
The fires continued to move rapidly, causing the needs across the state to constantly shift. As Red Cross employees and volunteers carried out disaster relief operations, some did not know if their own homes were still standing.
"It rattled even the veteran volunteers," said Rebecca.
One Red Cross Cascades Region board member and volunteer, MaryJane Rose, was originally asked to help open a shelter at Clackamas County Community College on ​Sept. 8 as evacuations were ordered in Clackamas County​. Thinking she would only be deployed for a day or two, MaryJane packed a small bag.
By 1 a.m., the college's parking lot was full of people forced to flee their homes. Volunteers handed out water and snacks while temperatures were taken before letting people into the shelter using CDC guidance for safety.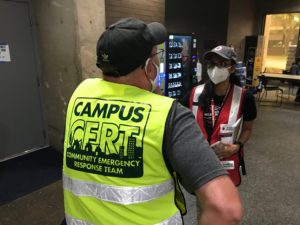 With volunteers working to get to the shelter to help, the Red Cross team at Clackamas Community College worked with the college staff to organize essential needs including cots, blankets, meals, and snacks.
"It's an amazing sense of teamwork," reflected MaryJane. The team kept the unifying mission of the Red Cross in mind: to prevent and alleviate human suffering.
"It always works! I'm in awe of how it happens," said MaryJane.
As the team inside the shelter worked quickly to provide resources to evacuees, the air thickened with smoke outside. With fires encroaching further into populated areas in Clackamas County, law enforcement officials issued further evacuation notices.
It soon became evident that the shelter itself would have to be evacuated. The focus then shifted towards the shelter's evacuation plan and effectively communicating that information to evacuees.
The team was prepped to move the shelter to the Oregon Convention Center in Portland. With the help of TriMet and ​Willamette University​ buses and vans, those without vehicles were transported to the second shelter with ease.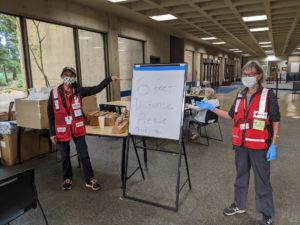 "Like the calvary they came in that day," said MaryJane. "There were lots of elderly people, some with wheelchairs, and we assured them that they were going to be okay. It was an amazing sight to see and something I will never forget."
At the convention center, a crew of volunteers had already begun to set up cots. As soon as people started arriving, names were checked and temperatures were taken all over again.
MaryJane remembers coming back to the mission of the Red Cross during this chaotic time.
"We all knew someone who had been evacuated. This was our home, and we were not used to something of this enormity."
MaryJane's "short" deployment turned into a month-long assignment, working two weeks on the ground and another two weeks virtually.
Reflecting later, MaryJane has no regrets. "This is why we do it!" she said.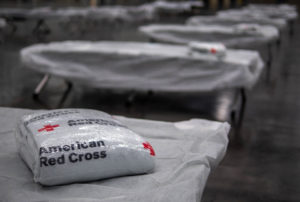 By September 10th, three days after Rebecca Marshall's initial email to her team warning of the windstorm, over 500,000 people were under some sort of evacuation warning (more than 10% of Oregon's population) and more than a million acres of land had burned.
Rebecca remembers working with volunteers whose own homes were in ashes. "They said things like, 'This is what we do!' or 'Staying busy helps!'" which later brought Rebecca to tears.
It was a true showing of human resilience in a time of extreme disaster.
Another time, Rebecca recalled helping one evacuated elderly woman who was in need of a change of clothes. Rebecca provided her with some donated clothing and supplies to help freshen up. It was a small gesture that provided her with some basic needs and dignity in a time when she was most vulnerable.
"Little gestures really help," said Rebecca. "You often don't know if you can do something until you do it."
Now, three months since the windstorm, Red Cross staff and volunteers continue to support the disaster response virtually. They are working alongside state and community partners who are helping to connect evacuees with long-term housing and resources to get back on their feet.
"If there's one thing to feel good about, it's about making a difference," said MaryJane. "You can always make a difference working with the Red Cross, whether it's giving blood or deploying to help during a disaster."
MaryJane hopes that we never see a disaster like this again in Oregon, but she believes that the Red Cross Cascades region did a phenomenal job handling the disaster relief.
She was pleased that many of her fellow Red Cross board members volunteered themselves without hesitation.
"This organization has been around for years and years, and there's a reason! People just continue to give and give and give."