An Extraordinary Lifesaving Act Buys Precious Time for One Family
Story by Ali Hargrave / Red Cross Cascades Region
On December 17, 2019 at the Laurelhurst Club in Portland, OR, many employees were working hard to get the space ready for the DCA Facility's Winter Celebration.
Amongst the flurry of the many moving pieces of the planned event, a fellow employee collapsed and became unresponsive.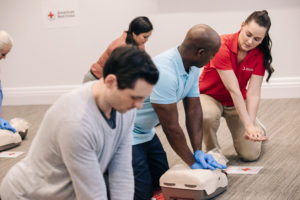 "I had just taken my jacket off and set my things down when I heard a large thump on the floor and then I saw Larry lying on the floor," said Becky Lillie about the moments before she and a couple other bystanders rushed to his side to check on him.
"It's a regal moment when something like this happens because you train for it, but you never stop to think you could be using these skills to save a life," said bystander Jeff Lewis.
With many in the room momentarily paralyzed by shock and uncertainty, Jeff watched as Becky and a few others dropped to their knees to deliver lifesaving efforts.
Becky Lillie was one of the first to hurry to the man's side. When Becky found no pulse and no signs of breath, she immediately began CPR, chest compressions and mouth-to-mouth.
After some time performing these recovery acts, she found a faint pulse and the man began showing some signs of struggling to breath until EMS arrived on scene.
In times like these, the window for lifesaving aid is brief, but fortunately Becky reacted instinctually. Because she hurried to his aid without a moment of hesitation Becky was able to give this man, in the words of bystander Jeff Lewis, "about as great a gift you can give to anyone – a little bit more time."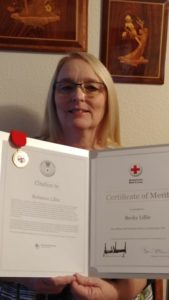 "A little bit more time" ended up being an extraordinary gift to Larry. He unfortunately, passed away a few months after this event at the Laurelhurst Club.
However, because Becky reacted swiftly, Larry was given another opportunity to reconnect with loved ones in a profound way. Jeff recounts that day and the time Becky was able to give to Larry as "a tremendous gift" that Larry and his family are forever grateful for.
Becky herself said "it is very, very important to me that he was able to get an extra 53 days with his loved ones, and I was happy that I was able to help with that. I consider that to be a real gift."
Following the event, Jeff nominated Becky for the Red Cross Lifesaving Award, a Certificate of Extraordinary Personal Action, for her efforts and success in reviving this man's life.
This was Becky's second time performing lifesaving CPR. She has taken Red Cross CPR classes since the 1970s and considers the action second nature.
Thank you to Becky and those who assisted her in saving a man's life this day in December 2019. The Red Cross is excited to give this award to such a deserving citizen.