Funds, Food, and Warm Hearts – Hop Valley Brewery Supports the Red Cross Oregon Wildfire Relief Efforts
Story by Patricia Griffiths / Red Cross Cascades Region
An apocalyptic orange sun cast in ash-gray skies did not spook two Hop Valley Brewery employees from venturing outside on September 9, 2020, in Eugene, Oregon. The foreboding sky was caused by the Holiday Farm Fire, which had burned in excess of 105,000 acres in the two days since it started.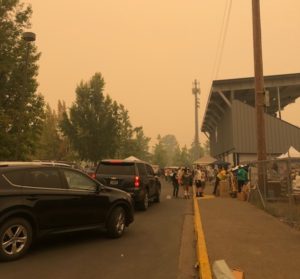 Because the fire was only 25 miles from the brewery headquarters, the employees were close to Red Cross temporary evacuation sites, such as Thurston High School in nearby Springfield, where they quickly went to offer their help.
One of the employees, Megan McKenna, Director of Marketing at Hop Valley Brewery, painted the scene.
"It was very emotional. You could see people pulling up in their vehicles. Their cars were packed; dogs were in their cars," she said. "There were stories of harrowing evacuations. It was a really scary time."
Her reaction was resolute. "We rolled up our sleeves, and were ready to help." On that day, they listened to people and consoled them.
But, on the next day, McKenna decided to ratchet up support. They went to their management team, and pitched the idea of all-out community support in the time of need. "The management team was all in!" she said.
Within three business days, the campaign to support the Red Cross was underway.
In conjunction with Maletis Beverage, the distributor for Hop Valley Brewery, the company pledged to give $2 from each case of beer sold to the Red Cross to fund wildfire relief efforts in Oregon.
By the end of October, the campaign had raised more than $107,000, which was donated to the Red Cross Cascades Region.
But, the effort did not stop there. McKenna explains that the brewery coordinated with the Red Cross to identify other needs they could fulfill.
"The first ask was for meals," she said.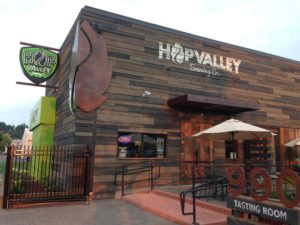 Providing meals is something Hop Valley Brewery could do. It has two pubs, one in Eugene and the other in Springville. Although both pubs were closed due to the pandemic, they re-opened full-steam-ahead to provide hot meals to wildfire survivors and front-line firefighters. The Hops Valley Brewery employees received time off to volunteer, and they, in turn, recruited family and friends.
"Everyone came in! We had hardy home-cooked meals: soups, mac'n'cheese, burgers, warm sandwiches. We also partnered with Abby's Pizzas to provide even more meals," she said.
Then, the brewery staff engaged in "extreme table service," by delivering meals to Red Cross evacuation sites and later to each hotel room where evacuees were lodged for the next two to three weeks.
In total, Hop Valley donated about 1,500 meals, 1,000 to evacuees and 500 to firefighters.
But, the wildfire was working against them.
"The air quality was in the 600's some days. Over 150 is hazardous. It was really hard to breathe. We were wearing masks with COVID, but it doesn't help with smoke. It was cloudy ash. It was hard to see, to breathe," she said. "At end of the day, we would have wicked headaches with smoke. I truly don't know how the Red Cross workers managed! They were out all day. Hats off to them! It was pretty awful."
"Folks were streaming in at a high rate. People were stunned, in shock. They had just lost their home, lost someone in their circle," she said. "Seeing the kids was hard… the people just sitting on the sidewalk zoned out, staring ahead." But, she added, "It was inspiring to see how much people were helping."
Against this backstory, the Hop Valley crew not only provided those being supported by the Red Cross with food but some much-needed levity. When they delivered the food in company-branded clothing, people would cheer up right away.
"People are so appreciative and so thankful. There were a lot of beer jokes…where's the beer?" she said. "I would have loved to have provided them with one! There were a lot of smiles."
She summed up the spirit of determination she had observed: "The smoke cleared and rebuilding begins. Oregonians are strong and we are thrilled to support and help our neighbors."